HP has gotten together with Beats, which is founded by the famous Dr. Dre to bring improved audio to a notebook a much welcomed improvement. That's right, a notebook. HP is releasing the limited edition ENVY 15 Beats notebook which claims to have great audio… when combined with the Beats headphones.
The Beats vision is actually pretty cool, stating that most people today aren't wearing headphones that are capable of doing music justice (I would agree), and now they want to bring this vision to the notebook which Dr. Dre is calling the new stereo".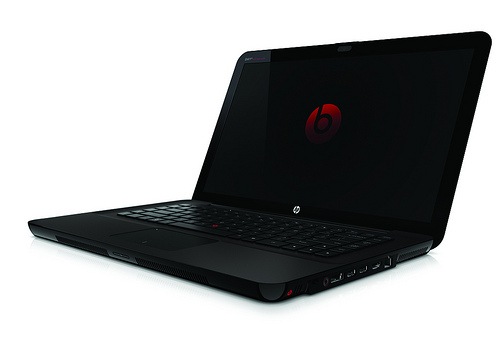 The information is a bit short on technical details at the moment, but it would appear that the ENVY 15 Beats edition will come bundled with the Beats studio high definition headphones which have active noise cancelation. I've used these headphones before and can attest to them having superior quality to most that the average headphone-wearer is used to. I'm no audiophile, but I can hear a noticeable increase in audio quality even over my Sony monitor headphones, and the noise cancelation works well (great because I always have the fan running here in Hawaii!) If you love music, quality headphones make the experience that much more enjoyable.
You might wonder though, Why can't I just buy the headphones, won't my computer sound just as good?". The answer to this question lies in the fact that HP should be putting a higher quality sound card in the HP ENVY 15 Beats edition, which will likely be be better quality, and produce more clear sound, than most standard notebook and desktop sound cards. The sound card is just what it sounds like (see what I did there?), it is tasked with handling audio output on your computer. And just like having a higher performance video card will increase your video performance having a higher quality sound card will increase the performance of the audio. Hopefully the inclusion of a high quality sound card in the HP ENVY 15 Beats edition coupled with the Beats studio headphones will result in improved audio performance over what most laptops, and even desktops can provide, over the benefit that you'd see from the headphones alone.
I say hopefully because if at $2,299 all you are getting is a bundled pair of headphones, some software, and a different paint job… you would feel pretty ripped off.
In addition to the bundled headphones, the notebook itself as includes some additional audio focused software: Native Instruments' Traktor LE software and Audio 2 DJ.
Check out the HP ENVY 15 Beats edition website, which will be released on October 22nd in the US.
Advertisement