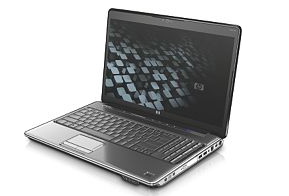 HP's new Pavilion dv6t is a 16-inch entertainment notebook that's relatively affordable. Launched at CES 2009, the dv6t offers a bigger display than you'll find in the dv5 and adds a number pad. The dv6t is available now from $679.99.
The first thing you'll notice about the Pavilion dv6t is it's large, 16:9 display. The base configuration display has a resolution of 1366×768. An HDMI output is provided so you can sync up with an external display or HDTV.
You can custom configure the Pavilion dv6t with a full range of current-generation Intel Core 2 DUo Processors, up to the powerful T9400 processor (2.53GHz). Base models come with 2GB of RAM, and you can max out with 8GB of RAM if you opt for 64-bit Vista.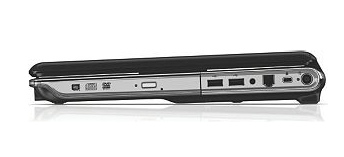 The Pavilion dv6t comes with Intel Graphics Media Accelerator 4500MHD, which is fine for those who won't be playing any video games or playing back Blu-ray discs. But if you're at all concerned about video performance we highly recommend the NVIDIA GeForce 9200M GPU with 512MB of graphics memory.
The NVIDIA graphics option is a must-have if you're going to add Blu-ray to your dv6t. Blu-ray prices are finally reasonable and you can add a BD-ROM for just $150. The dv6t can be outfitted with an integrated HDTV tuner for $75, which can really turn your notebook into a media center.
A 160GB hard drive is standard with the dv6t, but for $40 extra you can double up and get a 320GB 5400RPM drive. If you plan on editing a lot of video, opt for the 250GB or 320GB 7200RPM drive. If you need to truck around as much content as possible then go for the 500GB drive.
A VGA web cam, optimized for low light is standard equipment. A fingerprint reader is a $25 option.
The dv6t comes with a 802.11g wireless antenna, but just about every router sold nowadays runs on 802.11n. For $25 you can upgrade to an 802.11n wireless card and for an additional $25 you can add Bluetooth.
The Pavilion dv6t's form factor and outward appearance are similar to HP's more expensive HDX 16t, but the dv6t isn't nearly as well suited for high-end entertainment as the HDX 16t. If you really want to enjoy high-def video we recommend the HDX 16t over the dv6t and selecting the 1920x1080p display ($175 option).
The dv6t weighs about seven pounds, which is too heavy to carry around everyday. If mobility isn't a primary concern and you plan on keeping your notebook at home, a 16-inch notebook is a good choice.
Advertisement