Apple released macOS Sierra 10.12 in September 2016 with a lot of interesting new features. It's not a huge update with major changes. macOS Sierra packs some interesting new features, especially for those who also own an iPhone with iOS 10 or an Apple Watch with WatchOS 3. Here's our list of the 10 most interesting new features available on a MacBook to those who update to macOS Sierra 10.12.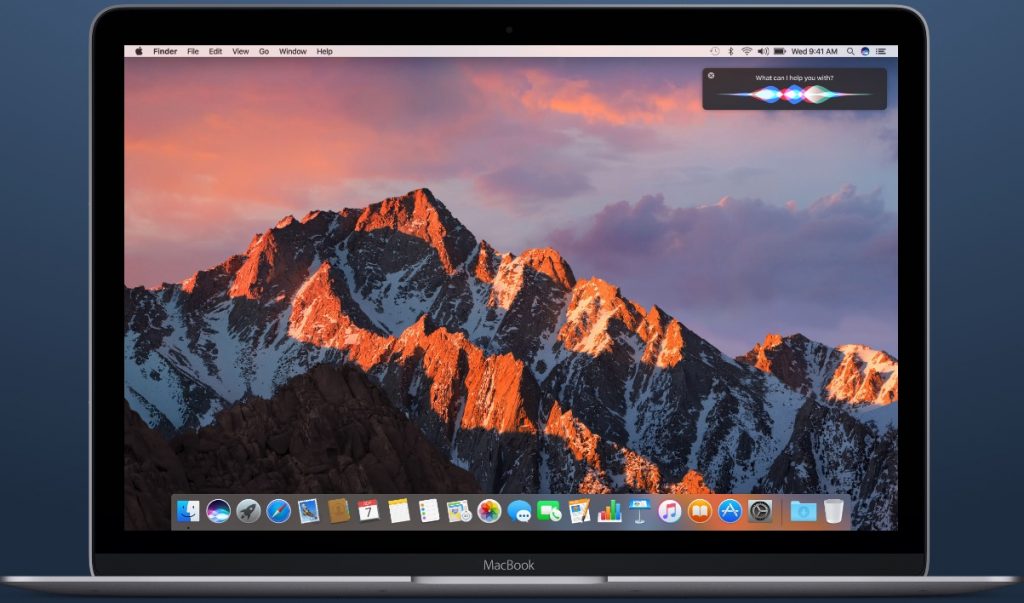 The new version of macOS Sierra retires the OS X name. The new name follows the convention used on the phone or tablet and the watch and so it's now called macOS. This year's version takes its name from a chain of mountains in California.
The user must have iOS 10 for the features below that work with iOS on an iPhone or iPad. They'll need watchOS 3.o for the feature that works with the Apple Watch.
macOS Sierra Siri Integration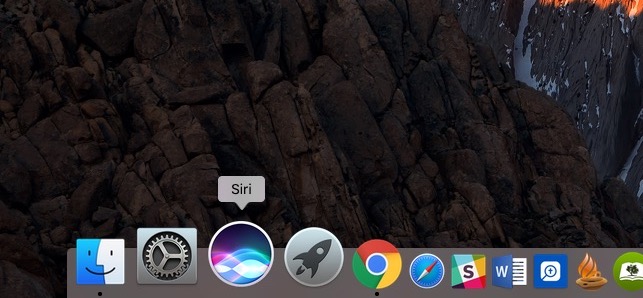 The Siri integration makes it possible to get the same kinds of voice control you get in iOS, only on your Mac. There's an icon in the Dock as seen above. It also shows up in the menu bar on the right of the screen as seen below. Click it and do something like ask, "What's the weather like outside?"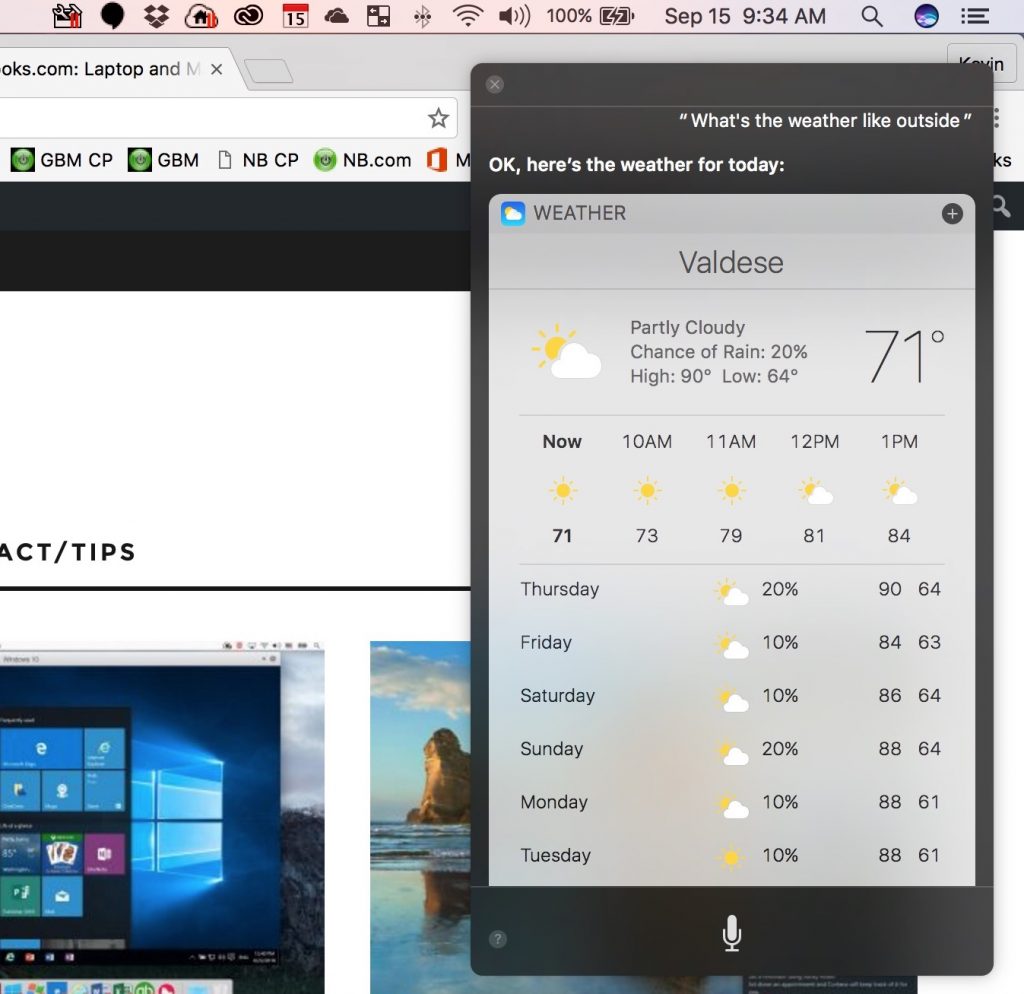 To use Siri open your System Preferences app (the Gear icon on the Dock or from the Apple menu in the menu bar). Click on Siri from the bottom row and you'll see the dialog box below.
Make sure the Enable Siri box has a check in it. Turn on or off the menu bar icon, depending on your preference, by putting a checkmark in the item at the bottom center. Some people would rather use a menu bar icon than a Dock icon to open often used apps.
Users can choose their Language, the Siri Voice style, the Mic Input, and a preferred Keyboard Shortcut to start Siri. The Voice Feedback option turns on the responses Siri gives users. In some offices or other settings, voice response may not fit the environment.
Here's a list of some of the things Siri can do on a Mac.
Adjust the volume
Increase/decrease the screen brightness
Play music in Apple Music
Make a call
Find your media files in iTunes
Get weather from local areas and anywhere
Change settings
Put the computer to sleep
Get stock quotes
Get sports scores and schedules
Apple Music Subscribers Get Simplicity
As mentioned above, Siri lets users play music through Apple Music. That's one of the best improvements in macOS Sierra and the new version of iTunes that comes with it. In addition, the software gets a redesign which makes it a little simpler. Many hoped Apple would rewrite iTunes, but they didn't. Until they do, the new look helps a little by making Apple Music easier to use for subscribers.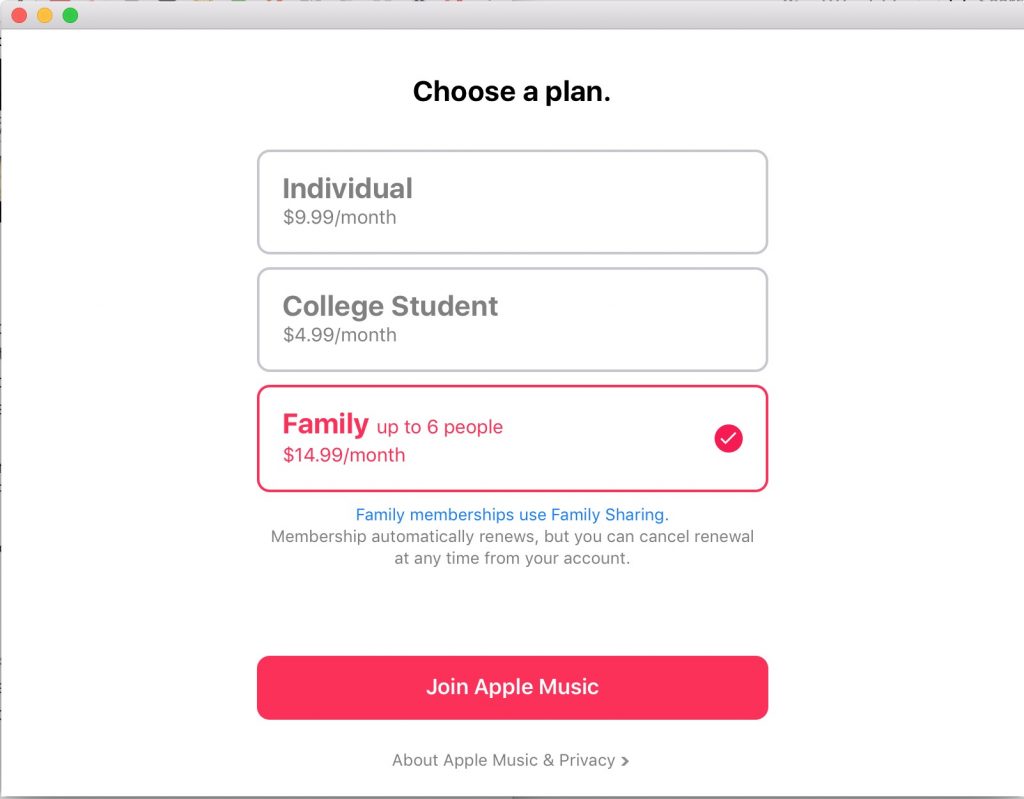 To take advantage of it, you'll need a subscription. Students pay $5/month. Individuals get it for $10/month and families of up to 6 people can use it for $15/month.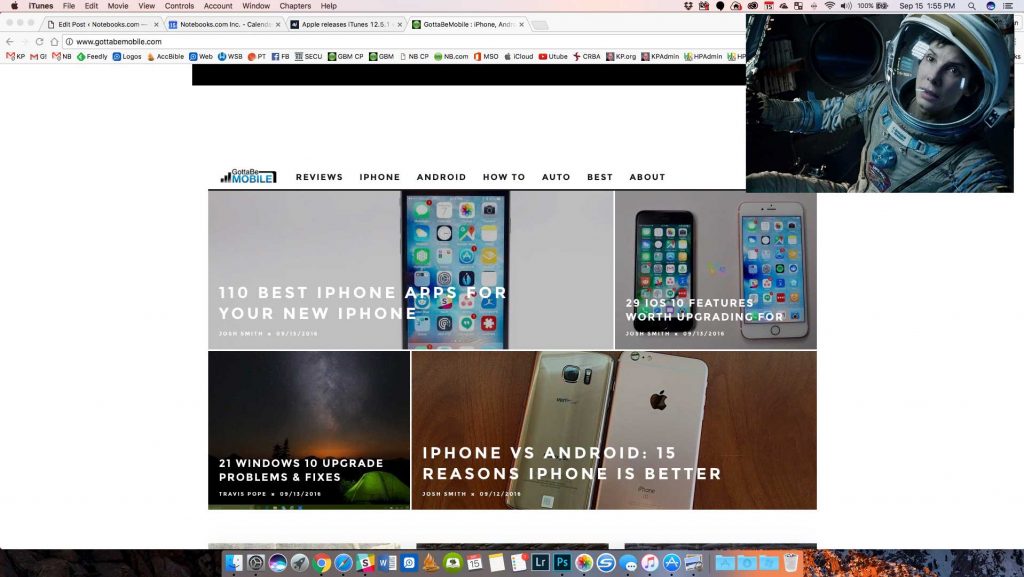 The new iTunes also brings with it a cool Picture in Picture feature that lets you watch your movies while working on your Mac. The above shows my browser with the reduced size video image superimposed over the browser. I created the above in Photoshop to give you an idea of what it looks like. macOS Sierra won't let you get a screenshot of a copy protected video playing in the box.
Auto Unlock with Apple Watch and macOS Sierra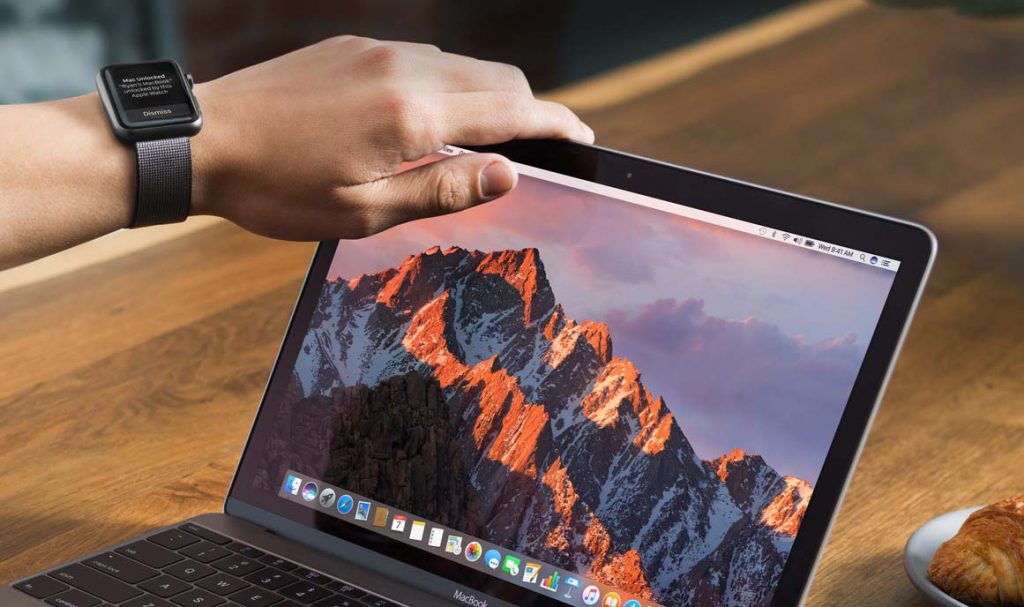 If you own an Apple Watch, soon you'll be able to unlock your Mac when you're nearby wearing an Apple Watch. It won't come in the first release of macOS Sierra. A later update will add it sometime in Fall 2016. Users won't need to type in a password or wiggle the mouse to unlock the computer. The Mac will sense the user's watch within a short distance and unlock, so long as the user sets this up with their Apple user information.
Universal Clipboard Shares with iOS 10
iOS and OS X started getting alone a couple of years ago, but Apple added something to what they call Continuity. The Universal Clipboard will let users copy something on their iPhone or iPad and it becomes available on their Mac.
To use the Universal Clipboard, connect both devices to the same network. Now copy something on your iPhone or iPad. Open a program on the Mac like Notes and, when you paste using COMMAND+V or the Paste command from the Edit menu, it should paste the text copied on the iPhone or iPad.
Apple Pay on a Mac
Using the Safari browser adds Apple Pay to the Mac. Surf to a website that supports it, like the online Apple Store. Choose a product and add it to your bag (on Apple.com) and then choose to pay with Apple Pay if it shows up as an option. For example, the image below shows Check out with Apple Pay.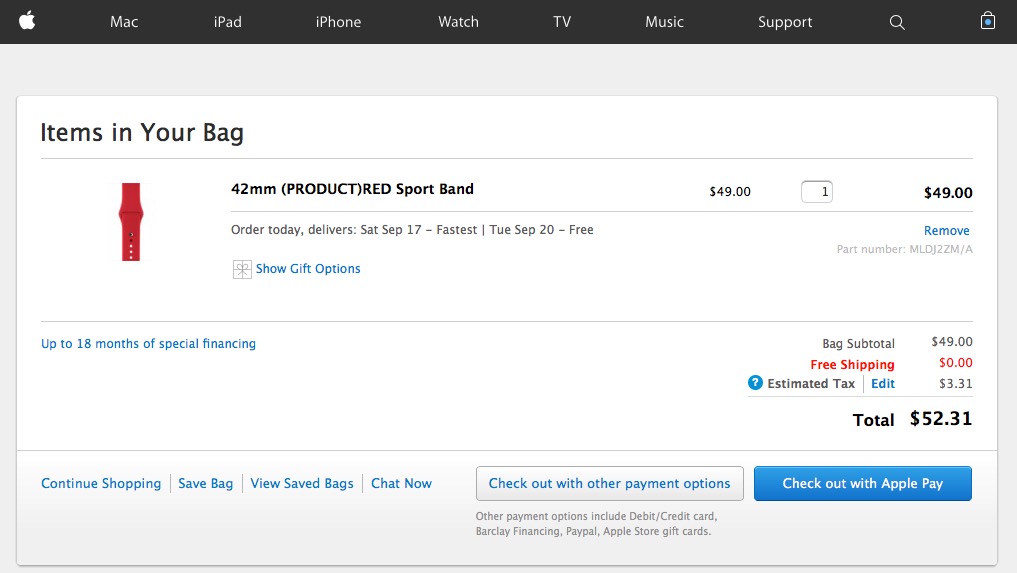 Click on the button to use Apple Pay and it shows the Apple Pay button (see below).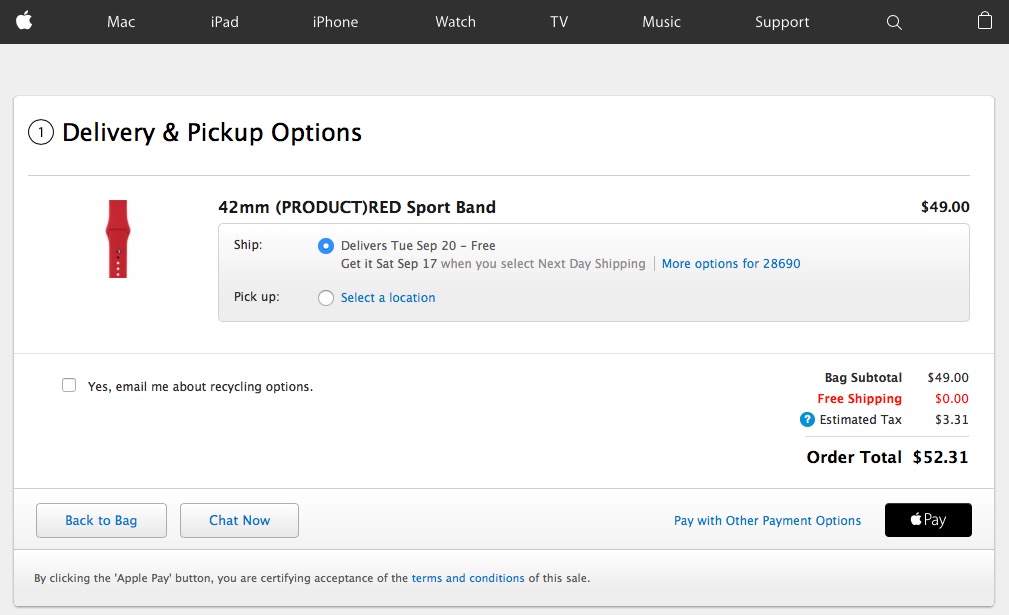 Click it and it takes you through the steps to use Apple Pay. It will ask you to authorize it with your iPhone or Apple Watch. Let's hope sites start supporting this soon.
Messages Gets Some Fun
On iOS 10 Messages got some really fun new features that may appeal to the younger crowd more than old people like me. We get app integration so users can add content from some of their phone apps. There's also a neat drawing animation that lets me draw a note on my phone and send it. The user sees, not only the resulting drawing but an animation showing me drawing the picture or writing words. We also get what they call invisible ink that only shows up when the recipient chooses to see it. These work on iOS 10 using an iPad or iPhone.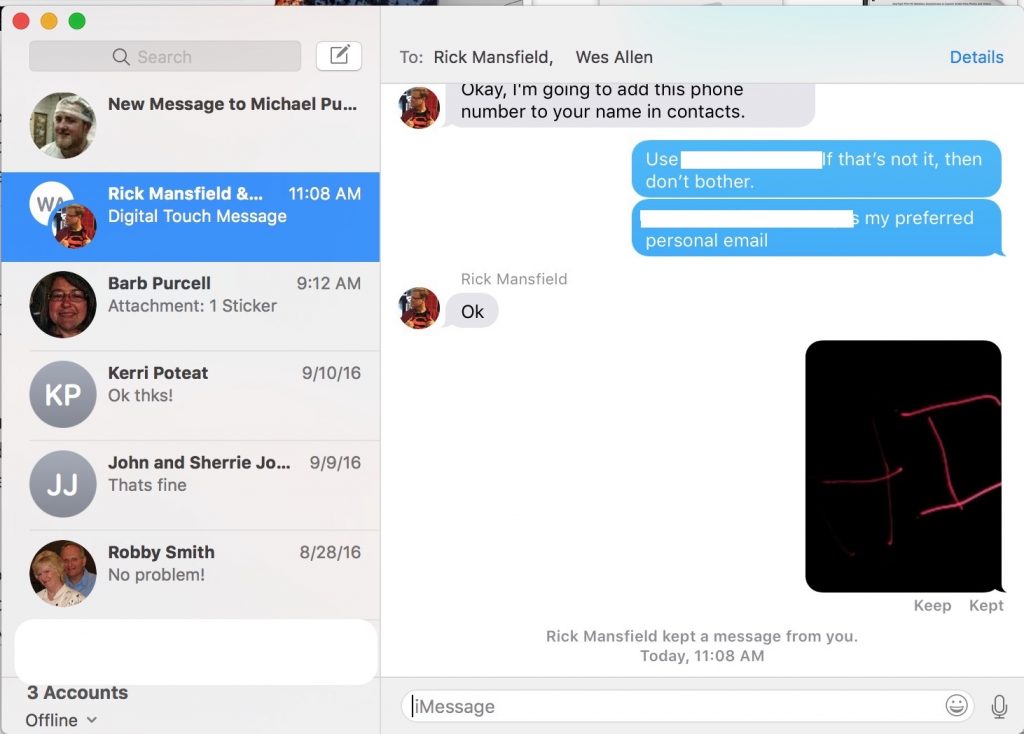 The user can't originate some of these cool new features on their Mac with macOS Sierra, but recipients can see them. If you want to add a cool large emoji, you can, even on a Mac. Click the emoji button at the end of the text entry box in Messages.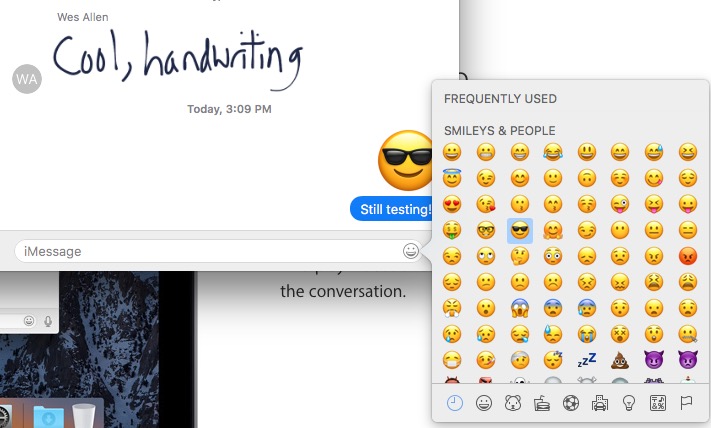 Optimized Storage Saves Space and Presents a Challenge
Want to free up some space on your MacBook Air, MacBook or other Macs? Maybe you've got a 64GB Air or a 128GB MacBook, but it's almost full thanks to all the music and videos you downloaded in iTunes or all of your Photos. Apple will help free up some space for you with Optimized Storage.
iCloud Drive will offer to let you sync your Desktop and Documents folders when you first install the upgrade to macOS Sierra. If you choose to let it sync, those folders will move to your iCloud Drive. You won't really notice any difference, especially with the Desktop. All the files will still show up on your screen. macOS Sierra will remove those files from the drive and they will sync to iCloud so you can download them when you need them. This only happen when the drive gets full.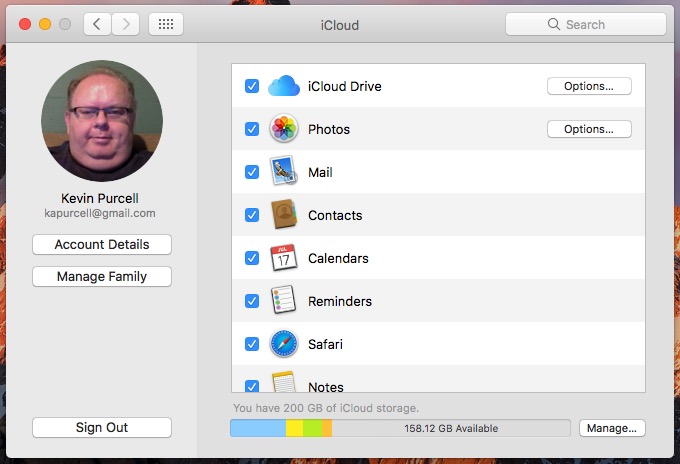 The syncing of files in your Documents folder can cause some problems if programs store their files in the folder. One of my programs didn't work properly until I moved the folder to another location. This happened because the developer didn't update it yet to take advantage of the change. It wants the files stored on the local drive and not in iCloud, so be careful if you have a similar app or program.
Thanks to this new feature, iTunes will remove things like TV shows or movies after you watch them if macOS Sierra decides it needs the space. The user can still download them again. Photos does a similar thing with images. You see them in your Photos app, but they don't download till you want to use them.
Users can control all of this and even turn it off. Open System Preferences from the Apple menu or the Dock icon and go into iCloud (see image above). Put a checkmark in iCloud Drive and then click on Options. Turn on or off Desktop & Documents Folders in the list.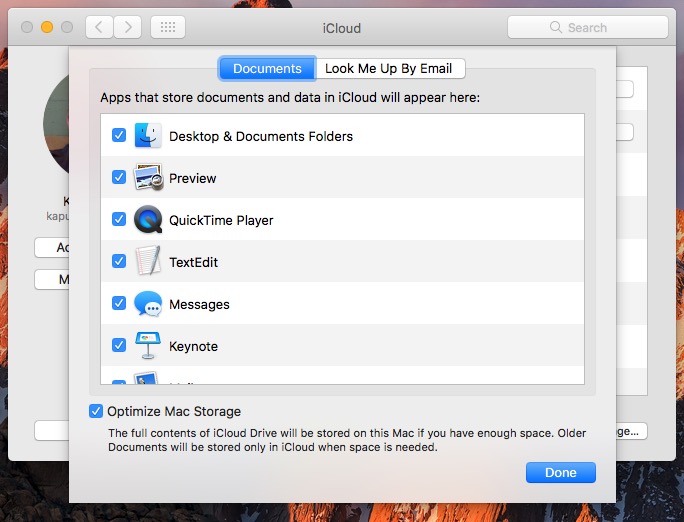 Put a checkmark in Optimize Mac Storage if you want to use this feature. It explains how "Older Documents will be stored only in iCloud when space is needed." Click on Done to exit.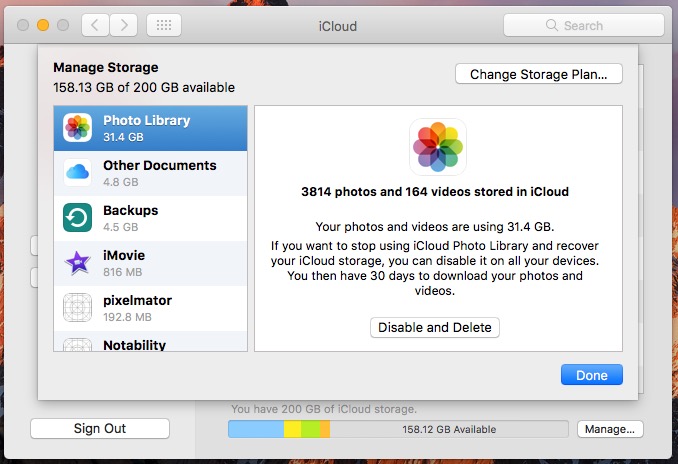 At the bottom of the main iCloud System Preference box there's a button that says Manage…. Click on it to open the above box. This lets you control what's using your iCloud storage and it lets you buy more storage from Apple. Click on Change Storage Plan… to buy more. Apple updated their prices for extra storage. Everyone gets 5GB free. 200GB costs $2.99/month. Get 1TB for $10/month and 2TB for $20/month.
Photos Improvements
Photos got some updates in Sierra. Most importantly, the program can analyze images to determine what's in the photo and help you find and organize them based on the subject. For example, I take a lot of iPhone or iPad screenshots. The Photos app puts them in a folder called screenshots.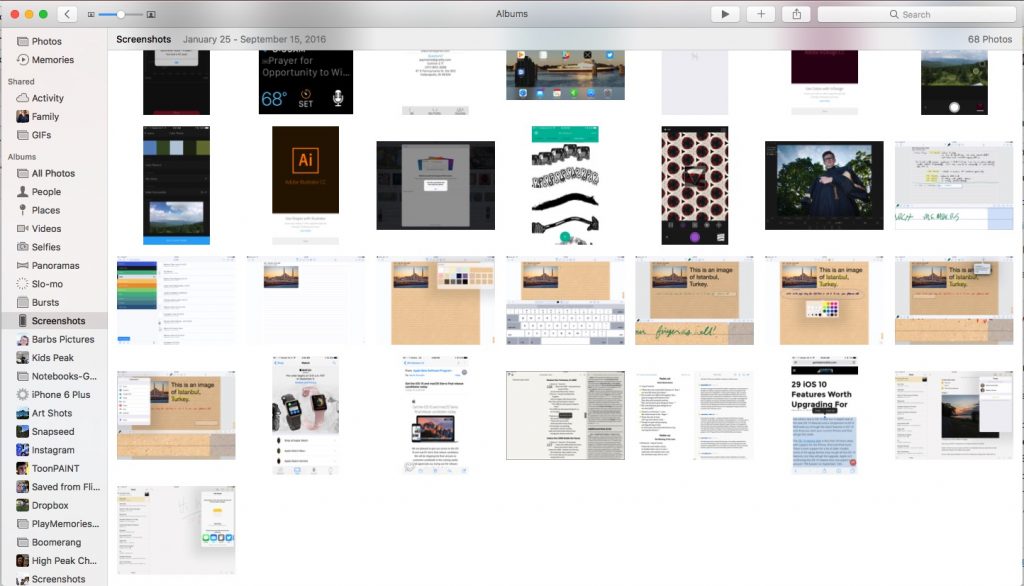 In the same way, Photos will find images from apps like Adobe Capture or Darkroom, a pair of iOS photography apps. Notice below that I searched for the word trees in the search box at the top right of the Photos app.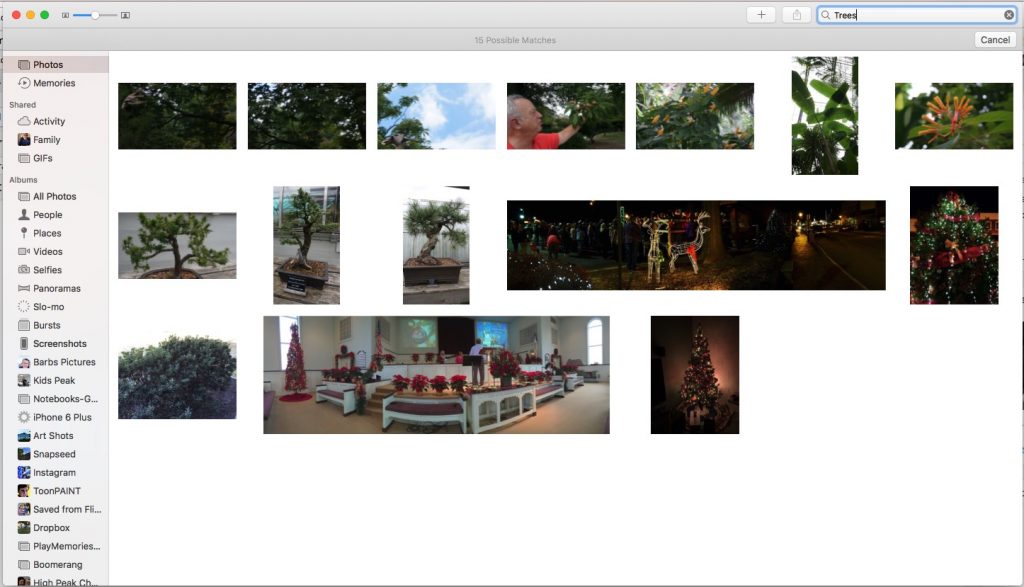 It found some images that included trees. It's not foolproof, but it does find some of your photos with things like trees. This all happens locally on your Mac. Those concerned about their privacy don't need to worry because it's doing this on the local computer instead of Apple's servers.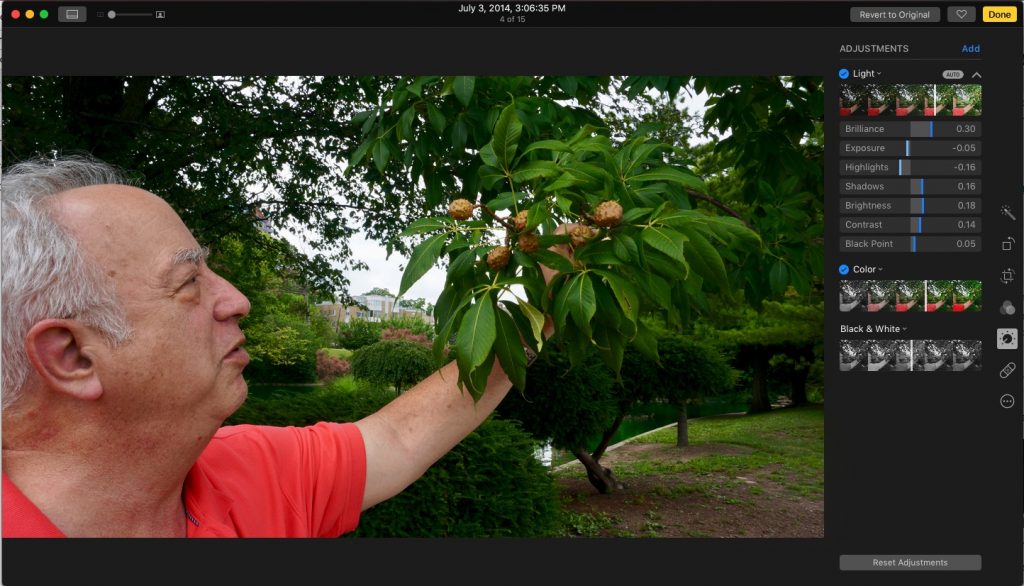 Photos includes some improved photo editing features. Select a photo and click on the button next to the Details button on the toolbar. Use the Adjust button and then hover over the area above the adjustment slider on the right end and the AUTO button and a drop down box shows up. This opens the more detailed editing features like Brilliance, Exposure, and more.
Google Photos will collect images into slide shows or movies. Now Apple Photos does something similar. Photos calls them Memories. Find it just below the Photos item in the left hand column. See the first image above in this section.
Safari Improvements
We already looked at Apple Pay in Safari, but the browser comes with other improvements too. Now, the browser gets better extension support. You'll start finding them in the Mac App Store, which makes them easier to find.
Extensions add features to the browser. My favorite comes from Lastpass, a password management service.
Collaboration Tools in Notes
The Notes app on both iOS and macOS get some useful collaboration tools. The sharing feature and live shared edits won't tell the user who made edits like it does with other services. However, if a team of people want to edit a Notes document together, they can.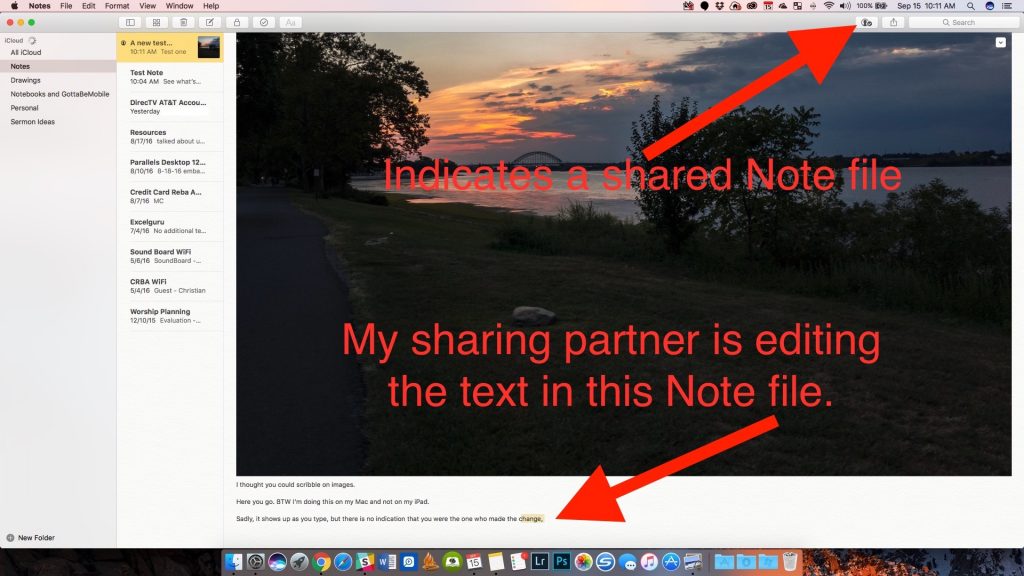 Open or create a new Notes file on iOS or on the Mac. On Mac, tap on the People icon in the toolbar next to the trash can on the right.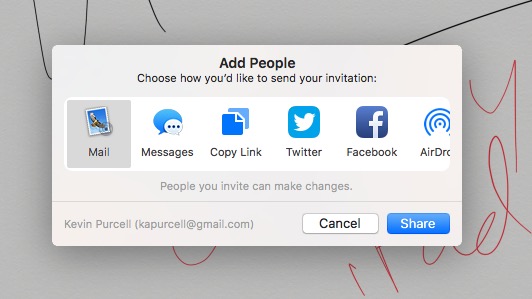 The above dialog box opens and lets the user choose how to share the Note. The icons come from the sharing feature in macOS or iOS. After the user selects the sharing service, like Mail or Messages, it will open the app and let you send a link via Mail or Messages. You can also choose Copy Link and add an email address or phone number of a person and only the people whose email address or phone numbers you add here can open the Note file. For services other than Mail and Messages it shows a box to enter the email address or phone number. Click the plus icon in that box to open your list of Contacts.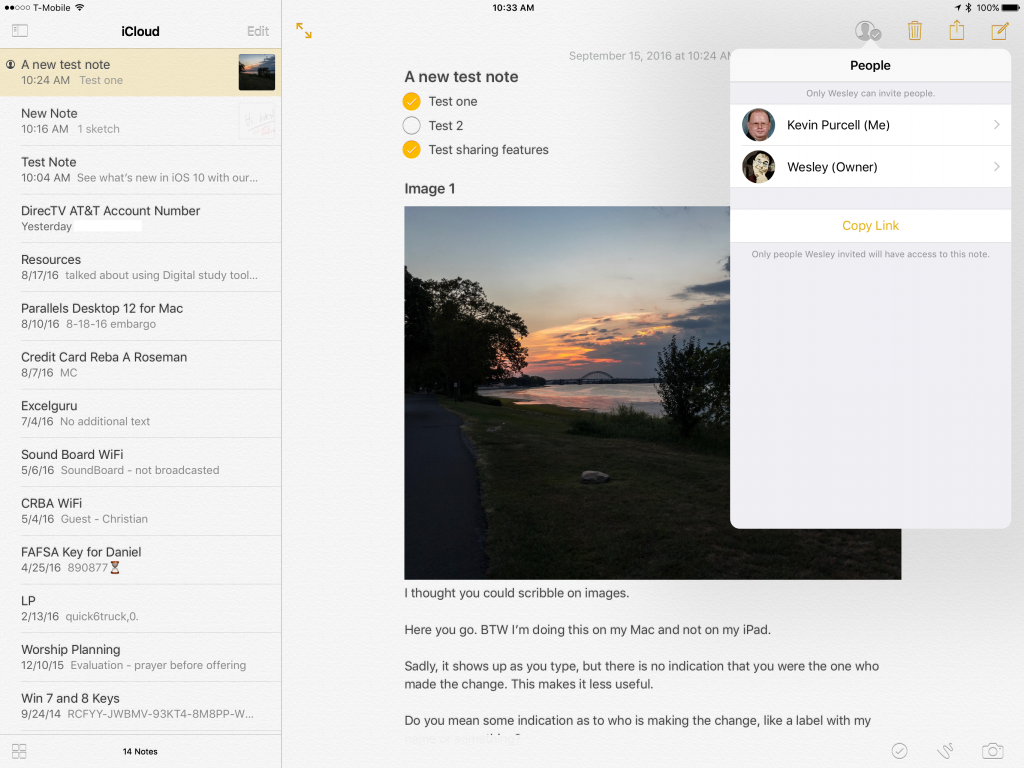 When the other collaborators open the Note file, their names will show up in the list (see image with arrows above). Only the people who shared the note to start can add more people.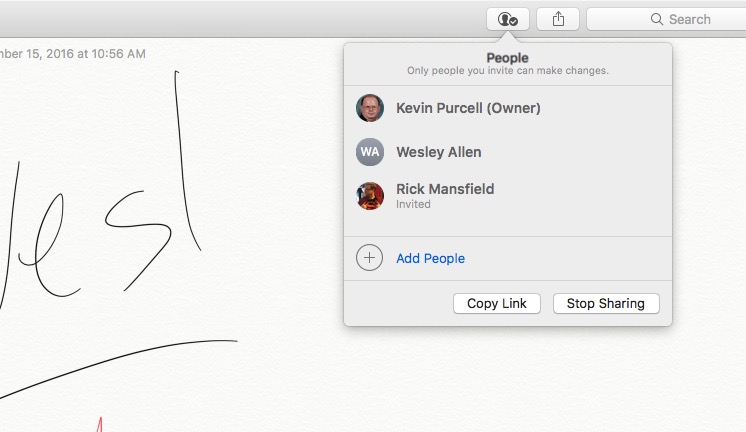 Now, when you type, the other collaborators will see you adding text. The file will update quickly. Each person can add text, images or drawings. The other collaborators will see the changes, almost in real-time.
Advertisement