Randy Ubillos, Apple's chief architect of video apps takes the stage to introduce Apple's iMovie for iPhone, an app that would take advantage of the new 720p 30fps HD video that can be recorded with the iPhone 4. It allows you to edit video with transitions, titles, and music. When finished creating your projects, they can be exported in Medium (640 by 360), Large (960 by 540), or HD formats (1280 by 720). After that, you can email, send it in an MMS message, publish it to MobileMe or Youtube, or just publish it to the web. There are so many possibilities.
In essence iMovie for iPhone works in a very similar way that it works for Mac OS X. Music can be imported straight from iTunes with ease. Geolocation information can be used to create dynamic titles. This is truely a one of a kind app. There is no other mobile software that can do what iMovie for iPhone can.
Price is $4.99 and can be purchased through the App Store, directly on the iPhone 4.
Here is the video from yesterday's keynote, demonstrating iMovie for iPhone
Browse through available video, photos, and audio in an easy to navigate library.
Choose from 5 available themes (Modern, Bright, Travel, Playful, and News). Pictured above is the "Bright" theme.
Add theme music to the background of your projects. Use existing background tunes that match with the chosen theme, or import your own using iTunes, right on your iPhone. Music automatically fades in the presence of audio or video clips.
Add Transitions between video clips to make your projects more visually appealing.
Import photos into your creations. Each photo can be applied with its own unique Ken Burns Effect.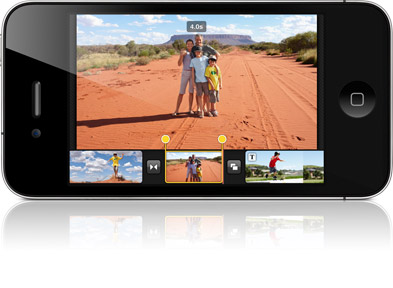 iMovie takes advantage of the multitouch capabilities of the iPhone 4. To add video, audio, or photos to the project, all you need to do is tap the screen. Pinch and Zoom can be used to make the timeline larger or smaller for easy viewing. Also, to trim down the length of the video clips, all you need to do is drag.
iMovie for iPhone is an extremely powerful mobile video editing app that is unlike anything we have seen before. Considering the ease of use, and how feature-rich this app is, it seems to be a bargain at only $4.99. Anyone who purchases an iPhone 4 should really consider buying this app.
Photos gdgt, Gizmodo, MacRumors
Advertisement