The Speck Fitted iPad case is one of the latest cases from Speck designed to protect your iPad. The Fitted was announced back when we looked at the Speck CandyShell and PixelSleeve Plus cases, but has just recently made its way onto the iPads of consumers. The Fitted case stands out from the other Speck cases we have reviewed by offering a more fashionable, and soft, backing.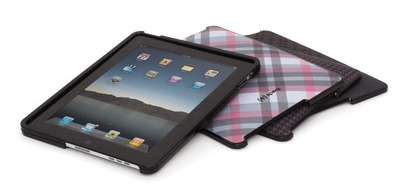 Unlike the CandyShell, the Fitted's back is made of a soft to the touch fabric back comes in 5 different colors and designs. Of all the iPad cases we have looked at, the Fitted is the most fashion forward case. Speck suggests that you, "match the fabric-wrapped back to your outfit, scarf, or tie." If you do want to tailor your case to your clothing, you're in luck as the Fitted is one of the easiest case to put on and take off. Still, at $49.95 you better budget a bundle if you want to match everything in your closet.
Design and Installation:
The Speck Fitted case comes in two pieces, a semi-flexible plastic back that is covered in a soft fabric and a snap on front that holds the case to your iPad while also providing a small ridge to keep your screen off of surfaces if you lay the device facedown.
Putting the case on the iPad is straightforward and easy, which plays into the accessorizing with your outfit angle, but we did find that on occasion it took several tries to get the case snapped fully into place. If you've ever tried to close a Ziploc bag without looking you've probably experienced a very similar issue. Basically, there are a few snaps that need to be aligned when you put the case on and if you don't take a few seconds to set them up you'll have to re-align and try again.
Access to Ports and Buttons:
The Fitted case allows for easy access to most ports and commonly used buttons b providing a wide open area along the side  of the device. These openings wrap around the back a little bit so that even if you have larger fingers you can access the buttons. The orientation lock is a little more difficult to reach with this case on than with a naked iPad, but still accessible and easy to find after a day or two of use.
The bottom of the device offers access to the dock connector and the speaker.
Protection and Bulk:
The Fitted case will protect the back of your iPad from scratches and the beveled front edge offers protection from hard surfaces if laid screen down. This case feels like it would offer less protection than the CandyShell case if dropped, but should still give you a bit of a buffer against scratches and small dings. Since there is no screen protection you will want to be careful how you place this case in a bag or backpack and may want to look for a an additional layer for long trips. Fortunately, the case weighs just 9.6 ounces and adds little bulk to your iPad.
Conclusion:
If you are looking for an iPad case that looks good, but also offers a bit of protection then you should consider the Speck Fitted. The case offers easy access to ports and common buttons while still providing a beveled edge and a cushion around the iPad. While the fabric back is not slippery, it doesn't offer the same "stick" that the CandyShell case does on a surface or if you lean the iPad against an object to get a viewing angle or to type at an angle.
Pros:
Easy on and off
Fashionable back
Adds little bulk
Cons:
No screen protection
Fabric not very grippy on hard surfaces
The Speck Fitted case is available now for $49.95 in Houndstooth Gray, Fadeaway Gray/Black/Green, Fadeaway Gray/Black/Pink, ClassicPlaid Pink & Gray, Black & White Plaid.
Advertisement