When we did our review of the new MacBook Air, we had not yet taken it on a long journey. Over the holidays we had that chance on a trip from North Carolina to Wisconsin and back. And we found that the MacBook Air is a delight to use on the road in many situations.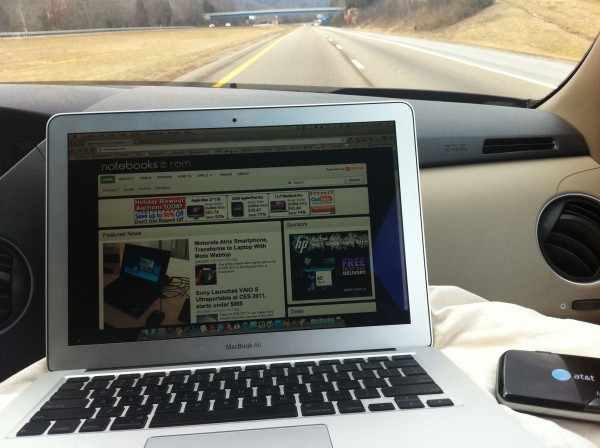 The first thing we used it for was simple Internet surfing and some writing while in the car. As we drove down the highway, thanks to my MiFi, I was able to get a broadband Internet connection and check out the latest tech news. I even posted a couple of articles on the way related to our CES 2011 coverage. Typing on the keyboard, even in less than ideal settings, like the passenger side of a Honda Pilot, is a delight.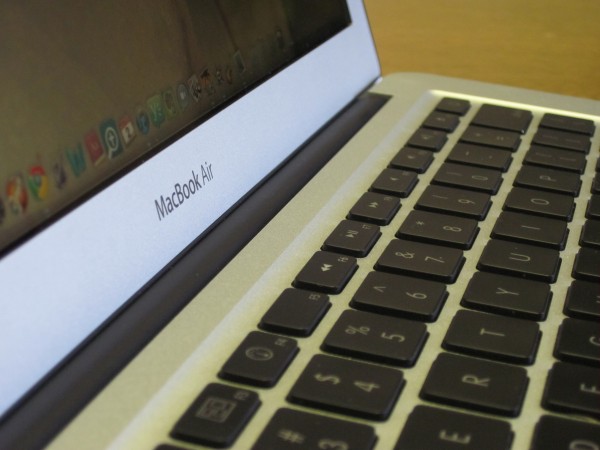 After arriving at our hotel mid-way through the trip, it was nice to pull out the MacBook Air and watch a video in my hotel room. It is light and comfortable to hold on the lap while sitting in the bed. Of course I did some more writing and reading news. And it served as a charging station for my MiFi and my iPad. Thankfully it has enough power to charge the iPad despite the problems some have faced with this.
The next day we were back on the road and wanted to check the weather. Of course an iPad or iPhone would work, but it was just easier to see the roads we were taking and the weather that was coming as we drove on the larger 13.3″ screen.
On our trip back, which started Sunday morning, we were forced to make the drive in one day to avoid an estimated 8-10 inches of snow forecast for Monday. So again we fired up the MiFi and watched the streaming worship service our church has through Justin.TV. The picture was fairly viewable even though it was sunny out and the sound was loud enough that even my son in the third row of our car could hear it fine. We did finally plug in the sound to our auxiliary input so it could come through the car's stereo. And it sounded great even with compression through the Internet.
Then that afternoon, being a huge Green Bay Packers fan, I had to find a way to watch their playoff game against the Philadelphia Eagles. We fortunately found a streaming version of the game online. Many people do this with their computer's TV card. I was able to watch most of the game while my wife drove. It was not until the Mi-Fi failed to get a signal that we had to pull off the road to watch the rest of the game in an Applebees in Corbin, KY while we ate supper.
This trip proved to me that the MacBook Air is one of the nicest travel computers for a number of reasons.
The battery lasts long enough that I could work and enjoy some entertainment for many hours – about 4-5 depending on conditions
The screen is bright enough that even with sun shining through the window it was viewable despite being a glossy screen
The keyboard is comfortable enough to type even in a bumpy car
The size is perfect for pulling the computer out of the bag even in cramped spaces
The weight and thickness make carrying the MacBook Air in a bag, with every possible accessory I could possibly need, lighter than my previous monster of a laptop
It has enough power to charge an iPad and other accessories over USB overnight
Advertisement