Today Microsoft announced that they are going to ship Microsoft Office for Mac 2011 on October 26th. The Mactopia+ blog, which is the home for all things Microsoft and Mac also posted a link to the pre-order page at Amazon.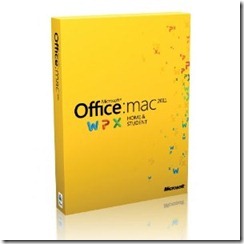 This new upgrade has some new features to entice upgraders and new users alike. They include things like integration with the Office Web Apps, tools for collaboration, a template gallery, new version of Outlook that is more integrated and easier to search, the Ribbon interface in all applications, and more.
From the blog:
One of the most visually impactful features in the new suite also is called Dynamic Reorder, it gives you the ability to interactively re-order all of the layers in a document or presentation one of the ways that we are solving a very real customer need with a fun experience. The new suite also introduces a new view in Word 2011, Full Screen view which has two views: one optimized for writing and the other for reading.  Allowing you to block out the distractions and focus on putting your idea on paper.
Other New Features
Microsoft is trying to make Office 2011 a real option for Apple customers many of whom use iWork instead of the ubiquitous Microsoft suit. Two of the most interesting new reasons to make the switch or at least stick with Office are the new photo editing tools within the applications and some unique mini charts in Excel.
Office for Home and Student will cost $119.99 for a single user license from Amazon. It will include Mac versions of Word 2011, Excel 2011, and PowerPoint 2011.  The Office for Mac Home and Business 2011 is $199.99 at Amazon. It adds Outlook 2011 to the applications in Home and Student. There is also a two license pack for $279.99. Individual programs are available separately for $139.99 each (Word, Excel and PowerPoint)
Advertisement