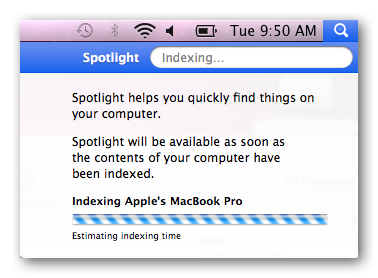 Are your MacBook Pro fans running loud, even when you have no applications open to push the new Intel Sandy Bridge processor to the max? If so, then you can blame Spotlight for the loud fan noise on early 2011 MacBook Pro models.
In a support document Apple covers this issue, noting that it should only be an issue when you have just finished a data migration to your new MacBook Pro. This could result in fans running for extended periods in a loud manner and in a warm MacBook Pro.
If you have just performed a data migration to your new MacBook Pro, we suggest that you leave the notebook alone, or deal with the loud fans, for a while. Once the Spotlight indexing is complete you shouldn't have the same issues as Spotlight only indexes files that have been changed. You can see if your MacBook Pro is indexing by clicking on the spotlight in your upper right corner and looking for "Indexing…." in the search bar.
If you continue to experience loud fans and high CPU usage after Spotlight has finished the initial indexing you can exclude folders from being indexed. To exclude files, click on the Apple in your upper left corner, choose System Preferences, Spotlight, View. From here, you can add folders to Privacy to keep them from being indexed.
You can add the entire hard drive to this list to prevent any indexing, but it is not recommended as it could interfere with the ability to use search features from within applications on your Mac.
This problem isn't unique to the MacBook Pro (early 2011) models as we have seen similar loud fans and excess heat issues on our late 2010 MacBook Air. If you need to check and see what is running on your Mac, check out Menu Meters which can show you what is using up system resources on your Mac.
Advertisement