TwelveSouth has announced that it will finally be releasing a BookArc Stand designed for the MacBook Air. Their heavy gauge steel stands come with a silicon rubber lining that protects the aluminum or plastic MacBook or MacBook Pro as it rests in the stand in a vertical alignment. Connect the MacBook to an external monitor, keyboard and mouse for a docked computer which saves space on the desk. This solution gives the feel of a desktop system but without the need of syncing a notebook's files to the desktop or the added expense of a second computer.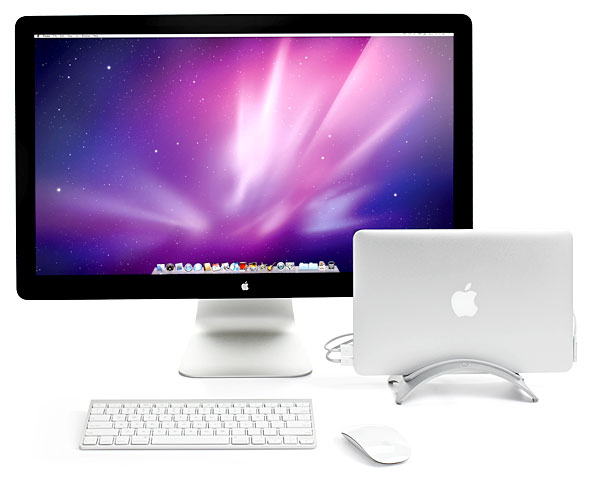 Now TwelveSouth has one designed specifically for the smaller MacBook Air. Previously if one wanted to use their sturdy stand, they had to make do with a smaller 13″ MacBook/MacBook Pro version. Below is a video review of the prior version for a MacBook or MacBook Pro.
As TwelveSouth points out, this benefits the user by dedicating all the MacBook's video memory to powering the external monitor instead of both displays on the MacBook Air and the external monitor. If you don't need both displays, this will result in a performance boost. For those times when you do need both, it is not hard to just pull it out of the stand and open it up, pushing aside the small stand.
The new version of the Bookarc for the MacBook Air will be available some time in February for $39.99. If you wish to be notified as soon as it is available you can sign up at their website for an email notification.
Advertisement