If you want to read your favorite monthly magazine on your iPad with a more wallet friendly subscription you're currently out of luck, but you'll be interested to learn that it is not the publishers that are the bottleneck this time. It's Apple, at least when it comes to Time, Inc. titles!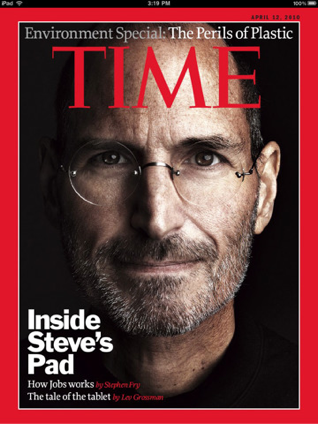 Last month Time planned to begin selling monthly subscriptions for their magazines, like Sports Illustrated. Readers would get the magazine via iTunes but pay Time not Apple. In the ninth hour, Apple rejected their app forcing the company to offer single copies for $4.99 instead, according to Peter Kafka at All Things D.
The way it works now, is you download the sample version and then pay for each new edition one at a time at full price. Other magazines that are forced to use the same model are Popular Mechanics and Wired. If you read many of the app store reviews, buyers are not happy about this model.
The reasons for Apple's rejection of the subscription app is not known, but suspicion at Time is that it has to do with either fear at Apple over what Time will do with subscriber information or that Jobs wants to control the digital magazine subscription business much like Amazon does with books. Either way, it means that there are precious few options for quality magazine subscriptions in the app store. Apple won't let companies produce apps where the money flows directly to the publisher without going through Apple. And the publishers don't want Apple as a middle man.
There are other apps that allow for direct billing, like the Amazon's Kindle, Wall Street Journal and many of the Bible study apps I frequently use as a pastor. What is different? They are not magazine subscription apps.
One current option for subscriptions is Zinio, but their reader is subpar in the opinion of many users and they have a limited selection available on the iPad. Magazines available in their other software, like the online version, are not available in the iPad app.
Advertisement