Consumer Reports stated today that they cannot recommend the iPhone 4, due to the reception issues. This conclusion was reached after testing three separate iPhone 4s and comparing them to other AT&T devices.
Many iPhone 4 users have reported reception issues when holding the phone a certain way. Apple has yet to release a solution, other than buying some sort of iPhone 4 case, or simply not holding the iPhone 4 that way.
Consumer Reports got their hands on three brand new iPhone 4s, all from separate locations in the New York area. They tested the three devices in a radio frequency isolation chamber to ensure that no external wireless signals would interfere with the test. Using a base-station emulator, which simulates signal from a cell tower, the testing engineers proceeded to hold the phone in various ways. Their findings were that when the lower left side corner comes into contact with a finger or hand, the signal degrades significantly, even to the point of a lost connection.
Other AT&T devices, such as the iPhone 3GS and the Palm Pre were also tested in the same way. None of these devices displayed the reception problems that the iPhone 4 experiences.
The testing engineers also proved that covering the antenna gap with some non-conductive material, such as a case or even duct tape, is a solution to the problem.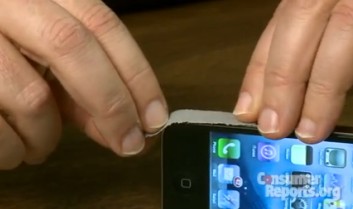 Despite the fact that Consumer Reports cannot recommend the iPhone 4, due to the reception issue, the iPhone 4 excelled in many categories, due to features such as the Retina display, front and rear-facing cameras, and the gyroscope.
"If you want an iPhone that works well without a masking-tape fix, we continue to recommend an older model, the 3G S." – Consumer Reports.
Consumer Reports provides expert reviews and product ratings. They test over 3,000 electronics, appliances, home & garden, baby gear, and food products including over 80 cars, trucks, SUVs and minivans each year. Because they take no outside advertising, they are able to remain 100% unbiased in their reviews.
For a more coverage, visit the Consumer Reports Blog.
Advertisement