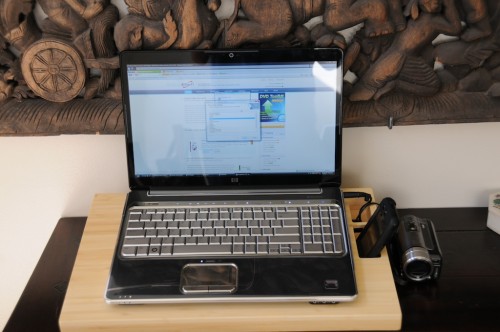 I love keeping notebooks and gadgets within arm's reach at all times, but surged protectors and tangled cords are pretty unsightly (as my wife gently reminds me on a near daily basis). This bamboo stand from KangaRoom cools your notebook, hides its power adapter and has two slots to charge your mobile devices whiloe hiding their adapters.
The KangaRoom Bamboo Laptop Stand is really well constructed and can support up to a 17-inch notebook.The middle of the stand has a huge cutout to improve airflow to your notebook. The back side of the stand measures about three inches tall, providing plenty of room to stow your adapters.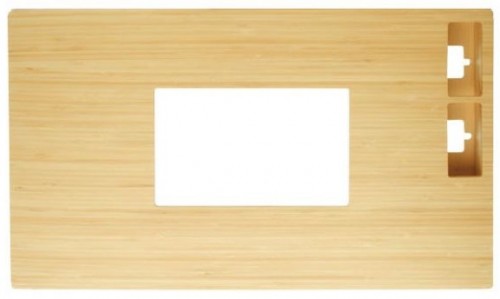 I set it up on the credenza in our dining room, just in front of an electrical outlet. I put a slim surge protector, an HP AC adapter, my iPhone AC adapter and my camcorder's adapter underneath the bamboo stand and ran the cords up through the stand's holes. I set up an HP HDX 16t on it, put my iPhone in the slot and placed my Canon Vixia HF100 next to the stand.The result looked very clean compared to the usual tangle this setup causes.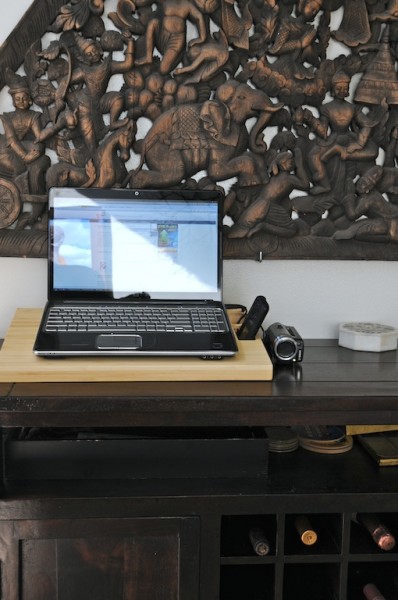 The bamboo finish looks at home on my wood furniture and is much better fitted for living spaces compared to many of the more modern looking plastic and metallic stands I've seen. Of course, bamboo is much more eco-friendly than almost any other material you could use make a notebook stand.
The stand raises your notebook up just three inches, which isn't as high as I like for stands on a desk, but it could be sufficient for people that are shorter than me (almost everyone).
I think the best place for this notebook stand is in the living room or in a walk-up environment like a kitchen. If you like keeping your gadgets in plain sight the KangaRoom Bamboo Laptop Stand is well worth its $45 price tag.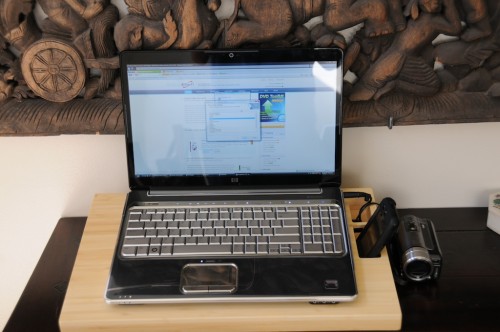 KangaRoom Bamboo Laptop Stand Workstation Product Page
Advertisement