Dell joined the Chromebook party with their education-focused Dell Chromebook 11, a pretty standard Chromebook with the same basic specs as most of the other 11-inch machines available. Upon first opening the box comparisons to the Acer C720 seemed obvious, since both machines look so much alike. The question for potential buyers immediately surfaces: at just over $300 from third-party suppliers, should they give up the extra cash for Dell's machine or go with the Acer?
We'll answer that question as we review the Dell Chromebook 11.
Chromebooks come in three groups. The high-end Google Chromebook Pixel with a $1,300 price tag appeals to one segment of Chromebook users. The larger screens like the HP Chromebook 14, the Toshiba Chromebook 13, the larger Samsung Chromebook 2 and the ASUS C300 will appeal to a second group of people who want a larger screen. The Dell Chromebook 11 fits the mold of users wanting a small light ultra-portable notebook with simple needs. The Dell shares that stage with some nice machines, including the Acer C720, which costs much less, and the HP Chromebook 11 with a distinct look and beautiful screen.
Pros

Great battery life
Decent keyboard and trackpad
Attractive for a plastic chassis

Cons

Low-end display
Costs more than the more popular Acer C720

Dell Chromebook 11 | $309| Google ChromeOS

The Competition
Video Review
Who is the Dell Chromebook 11 for?
Dell announced this machine as an education device and they primarily market it for schools. However, consumers can now get their hands on it too.
Chromebooks appeal primarily to people who want a low-priced computer with humble needs. Chromebooks excel in simple web surfing, email and social media, streaming online video in 720p quality or lower, casual gaming and basic document creation and editing.
Thanks to Microsoft's Office 365 and Apple's iCloud online iWork suite, people who work on a Mac or Windows PC can enjoy a Chromebook as a secondary machine to take on a plane, use in the living room or grab for a quick meeting without taking up conference room table space. We still don't recommend them as a primary computer unless the buyer wants an extremely simple and inexpensive primary computer. An inexpensive Mac mini or low-price Windows desktop plus a Chromebook still cost less than a lot of laptop computers. The syncing nature of ChromeOS makes it easy to work on two machines.
Design
The Dell Chromebook 11 excels as an ultrabook, with a small, portable and lightweight form factor. People with larger hands won't like the size as much as the larger Chromebook models from HP, Toshiba and now Samsung and ASUS. Like most of the Chromebooks, the plastic case gives off a flimsy feel. That's true of inexpensive Windows machines too, so no one should hold that against Dell. It feels more sturdy than most.
The tapered design makes it look thinner than it really is along the front. The dark gray color and black keyboard and bezel area look attractive for a plastic machine.
Keyboard and Touchpad
Here's one place the Dell Chromebook wins points. The keyboard feels comfortable and the trackpad responds to touch nicely. The keyboard never felt too cramped for an 11-inch machine. Dell spaced the keys apart enough to type quickly. The touchpad, while not as large as bigger machines, works well and gives the user more room than other small Chromebooks.
Display
Only a select few Chromebooks come with a nice screen, including the expensive Google Chromebook Pixel, the HP Chromebook 11 and the new Samsung Chromebook 2 13-inch model. The rest come with mediocre 1366×768 displays that look dim and washed out. Sadly, Dell followed the crowd making this screen just as dismal as most of the competition. In bright light it's hard to see the screen thanks to the reflective coating.
Features
Chromebooks don't come with a lot of frills or extra features. Users do get the benefits of the ChromeOS ecosystem, which includes the following:
Quick and easy setup thanks to syncing features of ChromeOS
Simplicity
Large collection of useful free apps from the ChromeOS web app store
Great value for the price
Performance and Graphics
This Chromebook performs about as well as one would expect with an Intel Celeron 2955U processor and 2GB of RAM running Intel Graphics. That means it does a great job handling simple tasks like writing, web surfing, watching streaming video online, viewing photos and even some very light media editing. We put it to the test opening a dozen tabs and it responded well with little slowdown. To summarize, it's not a speed demon, but handles all the tasks Chromebook users need.
People who run with more than a dozen tabs or web apps open will want more memory and upgrading is a trivial matter. Unscrew the bottom cover and pop in more memory.
Battery Life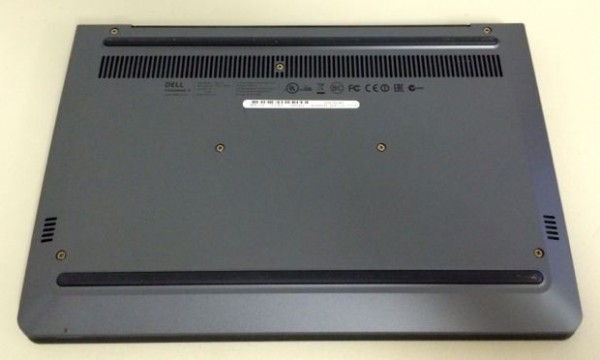 The Dell Chromebook 11 lasts a long time on a single charge. Typically I run my laptop for a couple of  hours every morning before returning to my office to work at a desk. Most Chromebooks last 3-4 days int this scenario, but the Dell Chromebook 11 lasted five days with about 10 percent left.
The laptop sat on standby recently for a whole week and only drained about 30 percent during that time. Most laptops will run down far faster and few Chromebooks, all known for great battery life, will last this long. So we give the Dell Chromebook 11 the crown for best in class real-world battery life, coming in at about ten hours, as promised from Dell.
The Bottom Line
We recently ranked our five favorite Chromebooks and the Dell didn't make the list because it doesn't set itself apart from the crowd with the exception of battery life. It costs more than the Acer C720, which looks nearly identical in both specs and design. Because of the sturdy hardware and great battery life, people should give it a close look. Since the Acer C720 costs $100 less with the same specs and offers a touchscreen option for only $30 more than Dell's price, we recommend against the Dell Chromebook 11 for most users.
Dell offers some appeal to the education market since it comes with great battery life and feels slightly sturdier. It may last longer for children. In that case, it's the one to get.
If someone can get their hands on the Dell Chromebook 11, they should test it out before buying a Chromebook. Parents and schools should buy. All others should consider the Acer for the lowest price or the HP Chromebook 11 or Samsung Chromebook 2 for a better screen.
Dell offers the Dell Chromebook 11 on Amazon for just under $300, a pretty good deal if the Acer doesn't appeal to you.
Gallery
This slideshow requires JavaScript.
Specs
| | |
| --- | --- |
| OS | Google ChromeOS |
| Display (size/res) | 11.6-inches, 1366 x 768 |
| CPU | Intel Celeron 2955U Haswell Processor |
| RAM | 2GB or 4GB DDR3L |
| Graphics | Intel Integrated Graphics and webcam |
| Storage | 16GB SSD |
| Optical Drive | none |
| Wireless | Wi-Fi 802.11 a/b/g/n; Bluetooth |
| Ports | 2 USB, HDMI, SD card slot, headphone/mic, Kensington Lock |
| Battery | 10 hours |
| Weight | 11.6-inch display |
| Weight | 3.3 pounds |
Advertisement