The Acer Aspire One 522 is an AMD Fusion powered netbook that can play back 1080P video and even handle gaming all for a price tag of $330 at [amazon_link id="B004GILTB6″ target="_blank" ]Amazon[/amazon_link]. Liliputing was able to get their hands on this seemingly magical netbook to test it out and reviewer Brad Linder was "impressed" with the performance of the netbook, even if the keyboard and mousepad left something to be desired.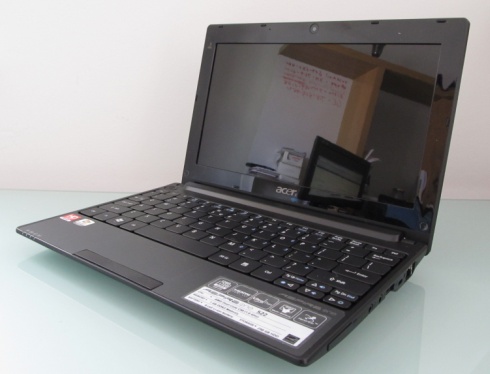 The Acer Aspire One 522 is powered by the new AMD C-Series processor which combines a CPU with the GPU to provide a much improved graphics experience. This is one area where AMD is beating Intel in the netbook space. While Intel Atom processors have improved recently, Linder notes that AMD clearly has the lead.
One other item that sets this netbook apart from the competition is the 10.1″ 10280×720 display, which offers a higher resolution than you would typically find on a 10.1 netbook. The higher resolution means you can see "more" on the screen at one time. Typically devices in this size and price range come with a 1024×600 resolution.
Once you get past the processor and display, the Aspire One 522 has a pretty standard spec list including 1GB RAM, a 250GB hard drive, WiFi, Ethernet, 3 USB 2.0 ports as well as VGA and HDMI out. The 6-cell battery managed to last a little over 5 hours in Liliputing's test, which is acceptable for a netbook with these capabilities.
Be sure to check out the keyboard layout and Linder's thoughts on the trackpad before you buy, as there are some items to pay attention to.
As far as performance goes the C-50 processor was able to hold its own and it's pretty amazing to see a netbook at this price that can do your daily tasks and transition into multimedia and gaming when you're ready for a break.
If you're looking for a great overview of this versatile looking mini notebook, Linder has a great collection of performance tests ranging from benchmarking to how well the 522 handled Blu-Ray playback and gaming. Head on over to Liliputing for the full Acer Aspire One 522 review.
Advertisement