I was afraid some people might label me as nuts for ordering my iPad sight unseen. I thought those who waited in line overnight Apple and Best Buy stores were crazy. But what about a person who travels half way around the world to buy one? Or twenty? That is what Anthony Agius did at a cost of $2,500. Any sane, rational person shouldn't do it," he said in a Bloomberg article.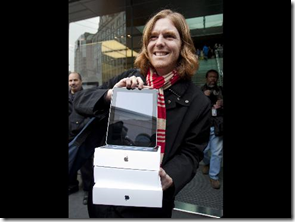 Because Apple chose not to sell the iPad outside the US until later this month, there are international Apple fans (dare we say fanboys) paying ridiculous amounts to get their hands on Steve Job's magical" device. According to the article, Amit Jain's Mubai store sold five 64 GB iPads obtained from the gray market for 100,000 rupees each. That is the equivalent of more than $2,200 at early April exchange rates.

If you got to EBay, you can find them for over $1,000 with International shipping. One buyer in the UK paid $5,500 for one.
One man in Hong Kong ordered his ipad through BundleBox, a web site that helps people outside the US buy things like the iPad which are only available in the US. Aggole Leung, who calls himself a big fan" of the company paid the equivalent of $515 including the shipping. That is actually less than I paid for mine.
One way to obtain one in New Zealand is to just get randomly chosen by Kevin Rose on Leo LePorte's webcast This Week in Tech which is how Lisa Tickled Pink" Etheridge got hers. Rose searched for I hate technology" and then picked a Twitter member who had recently tweeted the phrase. Leo then asked his fans to follow her and if they wanted him to give away an iPad. Feeling guilty that this unsuspecting woman from New Zealand would be inundated with email saying she had new followers (over 30,000 now), Leo decided to giver he an iPad. He shipped it this week.
Advertisement