Even though Steve Jobs isn't a fan of the stylus there are plenty of iPad Stylus options out there for those who want to take Ink notes on their iPad using one of the many iPad inking apps. The latest iPad Stylus is the Hard Candy Cases iPad Stylus which Hard Candy Cases sent over for us to review.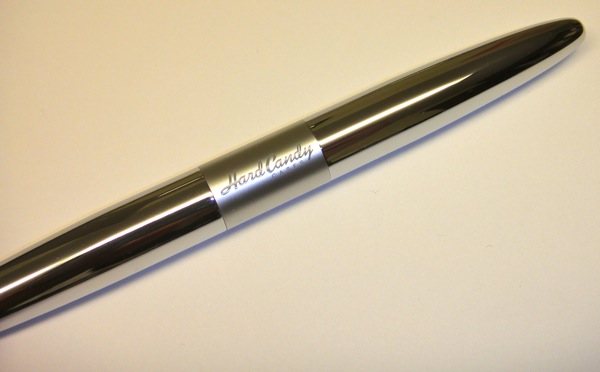 Hard Candy Cases has been a maker of iPhone and iPad cases for a while now and this is the company's first iPhone, iPad iPod Touch Stylus. The Hard Candy Cases iPad Stylus is made of soft material which won't scratch the iPad's screen. The Hard Candy stylus' tip has a similar finish to that of the Targus iPad Stylus which Kevin Purcell recently reviewed.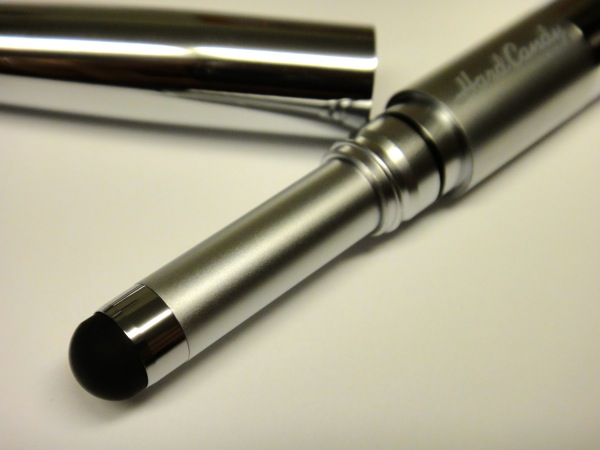 One thing that sets the Hard Candy Cases iPad Stylus apart from other stylus options is that there is a real pen in the other end so you can switch between analog and digital without looking for another writing instrument. The pen side can be replaced with a standard refill.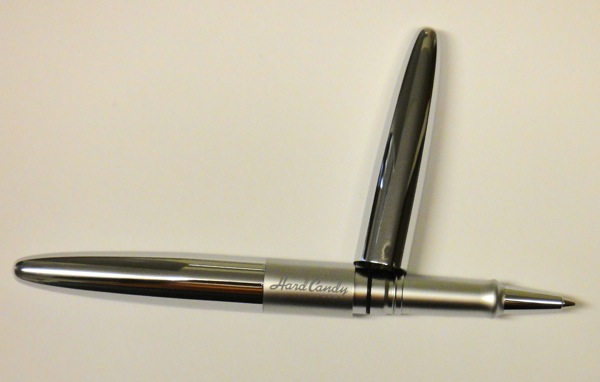 How does the Hard Candy Cases iPad Stylus Perform?
In testing the Hard Candy Cases Stylus for the iPad in numerous apps it performed very well, providing a smooth surface that inked well. While the finish on the end fo the stylus appears almost identical to that on the Targus Stylus, the Hard Candy Cases Stylus seems to be a slight amount tighter which provided a smoother inking experience.
The Hard Candy Cases iPad Stylus is actually about half an inch longer than the Targus Stylus, which Kevin found a bit too short in his review, and we think that extra half an inch does matter. Combined with the extra heft of the Hard Candy Stylus it makes for an excellent inking experience.
Design:
As you can tell from the pictures, the Hard Candy Cases iPad Stylus offers an attractive silver finish that is good looking, but has some drawbacks. First off it attracts fingerprints very quickly. Second, since there is no loop or hook to connect it to your iPad case there is also nothing to stop it from rolling away if you set it down on a table. Finally, while we realize the design is meant to look like high end pen designs; you may get a weird look from your colleagues when this shiny long silver tube rolls to their end of the tabel and they see the "Hard Candy" logo!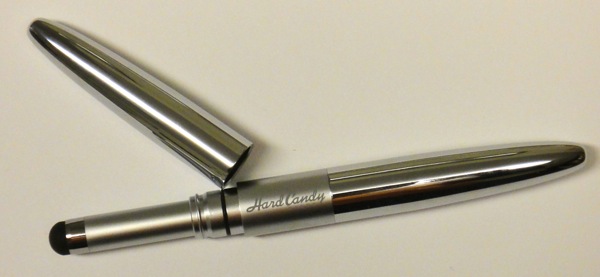 Conclusion:
The Hard Candy Cases iPad Stylus is definitely one of the better iPad styluses we have used. While the "best" will come down to personal preference, and we wish the Hard Candy Cases Stylus had a way to hook it to an iPad case we found the inking experience to be one of the best on the iPad, and when combined with a real pen a great iPad accessory as well as a good value.
The Hard Candy Cases iPad Stylus is available for $34.95 direct from Hard Candy Cases and from Amazon.com with free Super Saver Shipping.
Pros:
Great stylus tip
Has some heft to it
Includes an ink pen
Cons:
No place to hook it to a case
Design may draw some raised eyebrows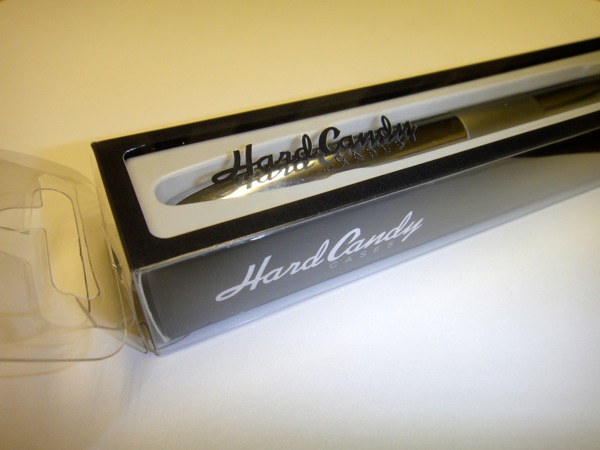 Advertisement