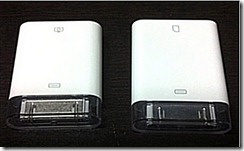 Apple's iPad Camera Connection Kit is a popular item for a good reason. It is designed to import photos into the iPad from a digital camera's SD card or directly via the camera's USB out cable.
The kit is $29 from Apple, but be prepared to wait up to two weeks to get one. While other accessories ship within a day or two, the kit currently takes 7-10 business days. When I first ordered mine in late June, it took a month due to its popularity. Now that I have the kit I can see why?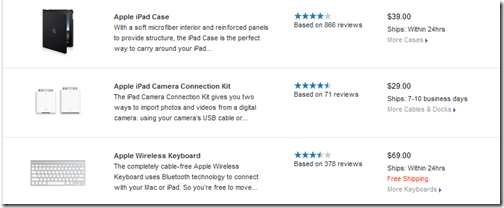 In the kit you get two little dock connector adapters. One has a USB port. The second has an SD card slot.
With the SD card adapter, you simply slide the card into the slot and connect it to the iPad. The iPad will open the Photos app and offer to either delete or import the photos from the card. Select import and it will upload them into the Photos app albums. If you have previously imported some of the pictures the app will ask if you want to only import the new ones skipping duplicates or import all of them. Once it is finished it pops up with a box asking if you wish to keep the photos on the card or delete them.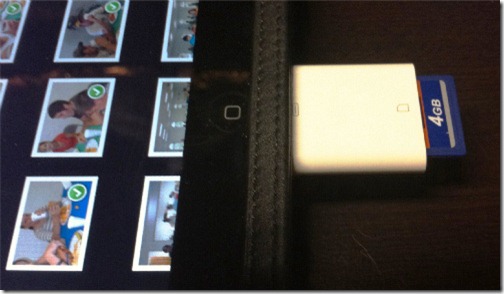 The USB connector works the same way. You can connect it directly to your camera via the USB cable that ships with your digital camera. Also, you can connect it directly to your iPhone 3GS or 4 and download the photos. Apple's web site says it does not work with a 3G or earlier iPhones. I have not tried it with an iPod Touch, but I would guess it would work on the most recent generation devices.
The import process is very slow. But once it is complete, the most recent import will show up as a separate album in the Photos app. This is handy for quickly creating slideshows to show off your photos on the beautiful iPad screen.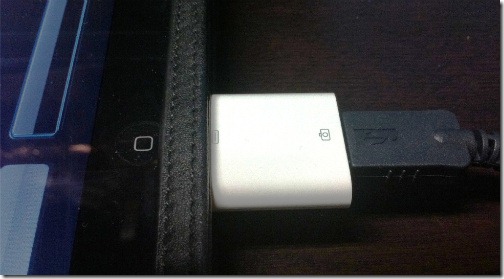 Something I don't think Apple intended is the USB adapter has other functions as well. You can connect a USB microphone and headset. You can also plug in a USB keyboard. Both will work. A mouse does not work, nor do many other USB devices that one might wish to use with the iPad like storage devices.
Pros:
Easy import of photos
Works without any setup
Clear protective cover to keep dock connector safe
Easy to use
Has added unadvertised functionality like USB headset/mic and keyboard connection
Cons:
Very slow import
Since keyboards and mic/headphones work I wish a mouse would too
Advertisement