Toshiba showed off a pair of new Chromebooks recently that come with an attractive new chiseled design, while adding an option for more memory and a higher resolution screen than the first version. The Toshiba Chromebook 2 will come in a 12-inch chassis size, but it offers a larger 13-inch display with an option for a 1080p IPS screen.
The previous Toshiba Chromebook looked like a nice machine and came with good battery life, but felt like cheap plastic and had a terrible keyboard. The 1366×768 screen resolution matched most second generation Chromebooks from earlier this year and late last year. However, these new Toshiba Chromebook 2 comes with an option for a full 1080p IPS screen, something Chromebooks can really benefit from.
One of the key weaknesses of many of the last generation of Chromebooks was the screen. Most only shipped with 1366×768 TN panels, which translated into low quality with washed out color. This new generation includes more Chromebooks with 1080p for full HD, bringing crisper text and better images. Thankfully, Toshiba also adds an IPS screen in this new Toshiba Chromebook 2 refresh that comes out in October.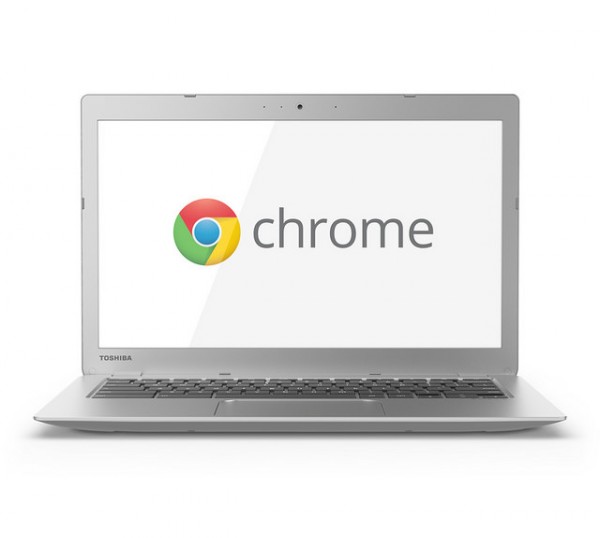 The external look of the Toshiba Chromebook 2 will still come with the textured plastic that we got on the earlier version. It looked great at a distance and gave the lid and base some grip. Hopefully Toshiba paid more attention to little details in the chassis design that made it feel extremely low quality. See the problem the older model faced in the video below.
The keyboard felt mushy and the user could actually bend their laptop, after which it wouldn't sit flat on a table or desk.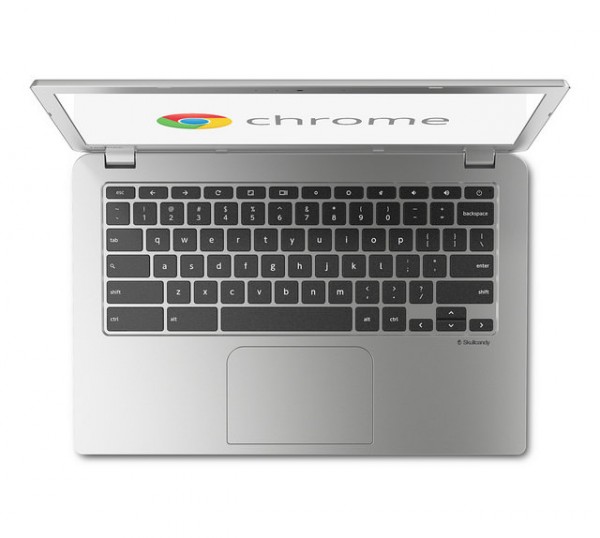 Toshiba adds branded audio from Skullcandy, which they promise will deliver "Supreme Sound" to the Toshiba Chromebook 2. Since many people use their Chromebooks for online streaming of Netflix or YouTube videos, this addition could help the company sell more machines if  the quality comes close to matching the promise.
Toshiba Chromebook 2 Protective Cases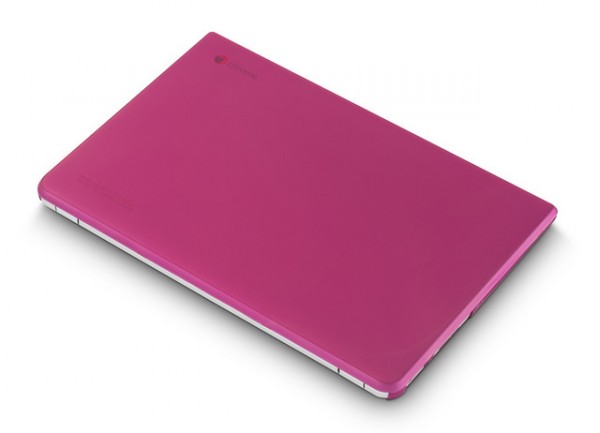 This time around Toshiba will also sell a few colorful protectors. There's a charcoal, aqua and rose cover that buyers can add to their order directly from Toshiba when the computer becomes available sometime in October. We don't know how much these covers will add to the $249.99 to $329.99 the Toshiba Chromebook 2 will cost when it finally ships. Toshiba didn't announce prices for the covers.
These cases look a lot like the Speck SeeThru protectors that we enjoy so much for our MacBooks.
Chiseled Edges on Toshiba Chromebook 2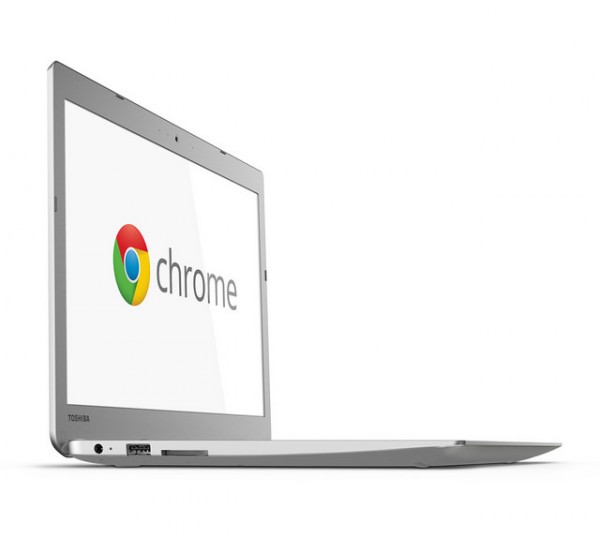 The edges of the Toshiba Chromebook 2 offer a sharper chiseled look. We like this look compared to the rounded edges on the first generation Toshiba Chromebook. Compare the image above to the picture taken for our review of the first Toshiba Chromebook.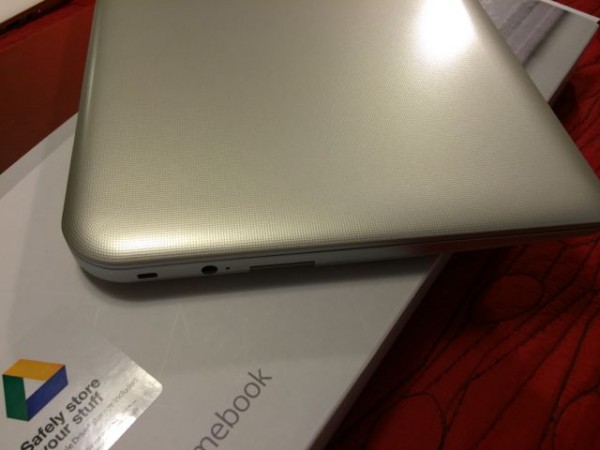 Video Review of Previous Generation Toshiba Chromebook
Key Toshiba Chromebook 2 Specs
The Toshiba Chromebook 2 will come with an Intel Bay Trail processor and 16GB of flash storage. One model will ship with 2GB of RAM and an optional 4GB model will also ship. The processor should give decent performance and long 11+ hours of battery life.
Buyers can get, either the 1080p IPS display, or a lower resolution 720p matte screen, that will cost less.
We'll see one HDMI out, a USB 2.0 and a USB 3.0 port that will charge USB powered devices even when the machine enters sleep mode. We'll also get an SD card slot, a headphone/mic combo port and a Kensington lock. The webcam offers HD resolution and dual microphones.
The computer will come with 802.11ac Wi-Fi plus Bluetooth 4.0.
For more information see the Toshiba announcement.
Toshiba Chromebook 2 Gallery
Advertisement