In addition to the 13-inch Portege R830, Toshiba has also introduced the Tecra R840 14-inch business class notebook which follows the industrial design cues from the smaller Portege R830 mode. The Tecra R840 branding is new to this year's lineup as last year's 14-inch Tecra was called the Toshiba Tecra M11.
The change in branding to an R series will help users associate this year's larger and power-packed Tecra with the ultraportable Portege R830, while the second digit, the 4, will help users quickly identify that this model has a 14-inch baclit HD LED display; the Portege R830 similarly designates that the 3 stands for 13-inch. The Tecra R840 also has a larger 15-inch model called the Tecra R850, so look out for that one if you're interested in even more screen real estate.
As we've mentioned before, this year's Tecra R840 will take design cues from the Portege R830. Unlike the magnesium alloy R830, the Tecra R840 has a plastic with reinforced fiber glass case, which helps to keep the laptop slim and light while giving it strength. Internal honeycomb-shaped ribs, like on the Portege model helps to add strength to the the Tecra R840, as you'll see in the video below covering all three models–the Portege R830, the Tecra R840, and the Tecra R850. The Tecra R840 measures just 1-inch and weighs 4.2 pounds. Pricing starts at just under $900 for the base configurations, and like the Portege R830, the Tecra R840 will come standard with a 3-year warranty from Toshiba.
Toshiba Tecra R840 Hands On Video:
Numerous configuration options from HDDs and SSDs to GPUs and RAM selection are available with this year's Tecra R840. All models come standard with Intel's second-generation Core i Series processors, known as Sandy Bridge, that combine Intel's HD 3000 graphics; with the Tecra R840 and R850, users can also add in discrete graphics as well.
Configuration options:
14-inch diagonal HD LED backlit display
2nd generation Intel® Core™ processors
Core i3, Core i5 or Core i7
Airflow Cooling Technology
Optional AMD Radeon™ HD 6450M Graphics with 1GB DDR3 discrete graphics memory supporting up to four displays
4GB DDR3 memory (max 8GB)
7200RPM hard drive or Solid State Drive
Built-in DVD SuperMulti drive
Windows® 7 Professional 32-bit, Windows 7 Professional 64-bit
High-capacity 6-cell battery with battery life rating up to 11 hours, when configured with Solid State Drive
Here are the connectivity options for the Tecra R840:
USB 3.0
eSATA/USB Combo with USB Sleep & Charge
HDMI® or DisplayPort™
ExpressCard
Docking Connector
Gigabit Ethernet
Intel® AMT 7.0
Bluetooth® 3.0 + EDR
Intel 802.11 a/g/n Wi-Fi
Intel® Wireless Display capable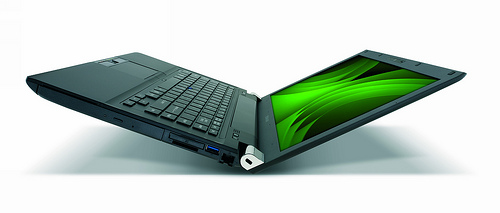 As with the Portege R830, a second-generation dock will also augment the ports and connectivity options for the Tecra R840. Toshiba says that users can use the dock with a Portege R830, a Tecra R840, or a Tecra R850. Additionally, the charging port has been standardized between Toshiba's consumer-grade and business class notebooks, meaning that if you forget your Tecra R840's power charger at home, you can walk into the nearest big box retailer and pick up a consumer charger that will fit and work with your businness class machine.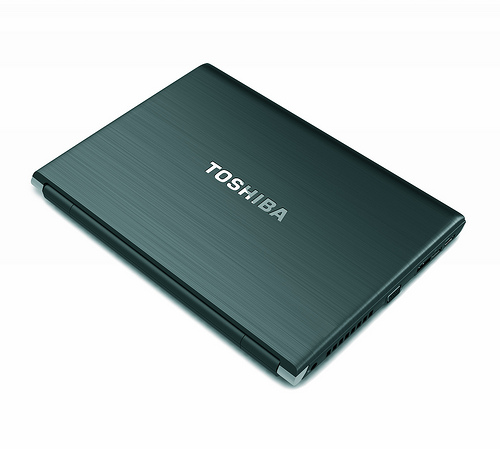 Advertisement