The Samsung Series 5 Chromebook isn't even officially out yet, but the good folks over at iFixit were able to get their hands on one of the early Series 5 Chromebooks sold through a special offer at Gilt and have proceeded to take apart the cloud based netbook. The Samsung Series 5 teardown shows off a netbook-like interior and gives a look at what powers the Chromebook; including what you can and cannot upgrade yourself.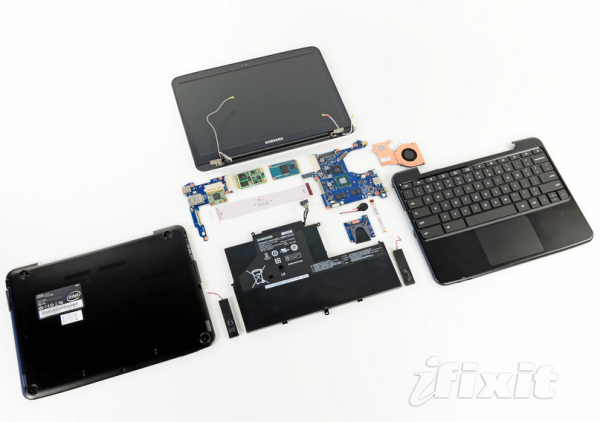 The big news on the inside is that the 2GB RAM that comes with the Series 5 is not upgradeable, but the 16GB Sandisk SSD does appear to be upgradeable, which is good news for users that want to install a local OS on the unit. If you are someone who likes to take your gadgets apart, the Chromebook from Samsung is relatively accessible requiring only a small plastic tool to spread the plastic and a Philips #1 screwdriver.
If you've been looking for a comparison to the original CR-48 Chromebook, iFixit also has you covered with some side by side shots and a note that the trackpad is vastly improved from the CR-48. The Samsung Series 5 Chromebook will be available from Amazon and Best Buy starting on June 15 for $429 without 3G and for $499 with 3G and 100MB of monthly access.
Advertisement