Many of us rely on Google search results to find the answers to dozens of questions every day, but sometimes the answers are as puzzling as Watson's answer on Jeopardy! If you find that your top Google Search results commonly link to a website that doesn't provide an answer, you can block that website from your search results with a browser extension.
Currently the Personal BlockList extension is only available on Google's Chrome Browser. Chrome is a free browser that offers syncing of options and bookmarks between computers and much more. If you don't have Chrome installed you will need to download and install if before proceeding.
Step 1: Install the Chrome Personal Blocklist extension by clicking on the link and then clicking Install.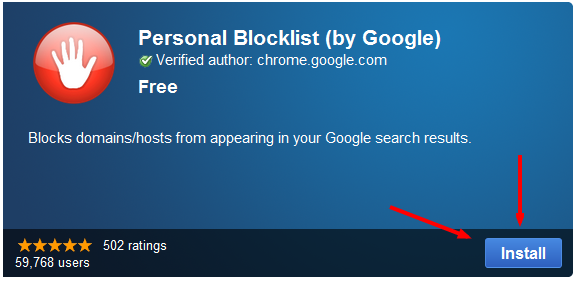 Step 2: After installing the extension, do a search on Google and look at the  search results. You should see a small text link that will allow you to block specific websites as shown in the image below.

Step 3: After you click the Block Link your future searches will no longer show results from those websites. You can click on the Personal BlockList logo in the upper right of your browser to edit or remove blocks as shown below.

Step 4: If you temporarily want to see blocked results you can scroll to the bottom of the search page and click show as highlighted in the image below.

Over time you will remove the sites from your search results and improve the speed of finding what you want with Google.
Advertisement