Chromebooks users can do more with their Chromebook than ever before, but editing video on one still presents a challenge because there's not a good web app available yet that does what built-in tools on Mac or PC can do. Google needs to help users edit video on a Chromebook by making it easier or by creating an awesome simple tool. Until Google comes up with a good solution, here's how to edit video on a Chromebook using the best options available right now.
Let's start by lowering expectations. There's not one good solution to edit video on a Chromebook. You can do some nice photo editing on a Chromebook, but it's still too difficult or too costly to edit video on a Chromebook for the average user with simple needs. The solutions mentioned below are the best available, but none of them are great.
WeVideo – Best but Most Expensive Option
WeVideo offers some advanced video editing, but at a higher price than the other two solutions below. It's got some of the features people need. It does more trimming a single clip, putting a title on it and sharing it. There's a useful Timeline Editing mode that looks a lot like programs people use on a Mac or PC. However, WeVideo limits the free version so much it's almost useless and charges too much for the Pro version with all the bells and whistles.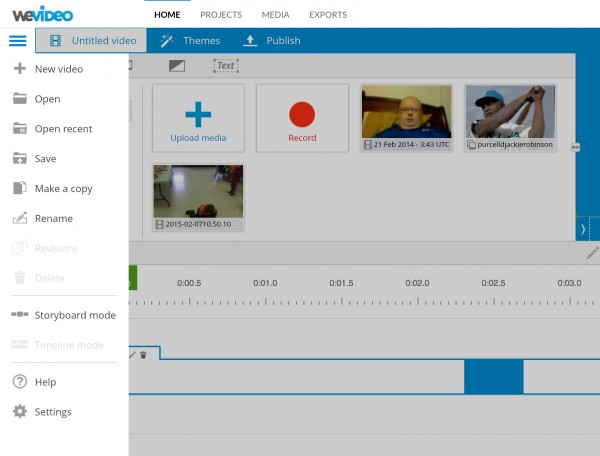 Click on Create a new video (link on left) then click on the large green CREATE NEW VIDEO button from the WeVideo Home tab. Optionally, you may wish to upload new video first. Do this by clicking on the Upload media item from the left hand column.
Pick between Storyboard mode or Timeline mode. Click on the menu icon (three horizontal blue lines in the upper left corner under the WeVideo icon).
The service stores media in the upper part. Add some by clicking the large blue plus icon that reads Upload media or by recording a new video using the large red Record button. The Pro version will let the user record their screen,  which is useful for making tutorials on how to use a Chromebook.
Along the left there's a Project media link. Click to see video in a given project. WeVideo stores media there once it's loaded into the Storyboard or Timeline below it.
The user can add media, pictures, music and sound. They can add music and even effects to their videos.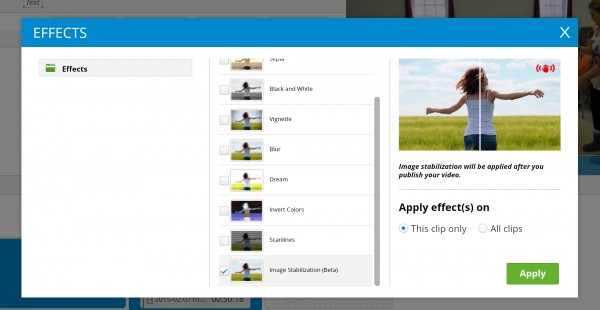 Once a video gets placed in the timeline, the editor adds effects by clicking on the effects icon that shows up on top of the thumbnail. Sharpen video, change color or exposure, blur it or stabilize shaky video. Click Apply to add the filter. The thumbnail to the right of the list shows what the effect can do using a generic image.
Add audio or a voice over by clicking on the icons to the left of the video Storyboard editing timeline in the lower left corner. They're not there in Timeline mode.
WeVideo includes a free music or sound effects library. The microphone button records voiceovers or other audio from the computer. Check the Preview while recording check box to see the video while recording the voiceover (see below).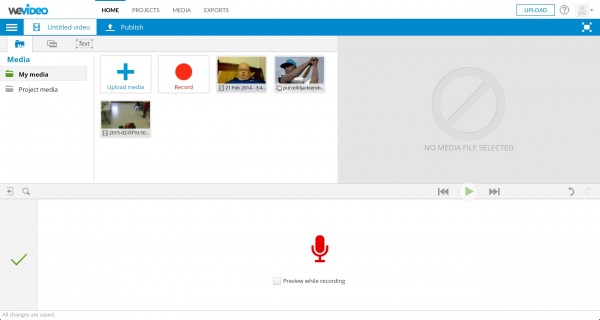 Add some titles, captions and even tag people in videos. Then click on the Publish tab at the top of the screen. It asks for a title.
Here's where WeVideo gets annoying. Exporting video is easy, but the results will not look great if you don't pay for the service. The Free version places a watermark in your video. It limits video quality to 720p and users can't publish more than five minutes a month.
WeVideo will export video to the following services:
WeVideo's own storage service
Dailymotion
YouTube
Video
Dropbox
Google Drive
An FTP server of your choosing
Box
I tried to import some video from Dropbox and three of the short clips failed, while two started uploading but an error said "Waiting in line" and I couldn't stop the process. Start an upload and leave it alone until it finishes. Then come back and hope it didn't fail.
For paid users, there's a useful video editor, but the user-interface feels clunky and it's not easy to figure out. Watch the video that shows up the first time you sign up to learn more about the user-interface. If you decide to buy the service, watch the YouTube videos that explain the features.
Head over WeVideo pricing page to learn about the costs and what's included in each tier.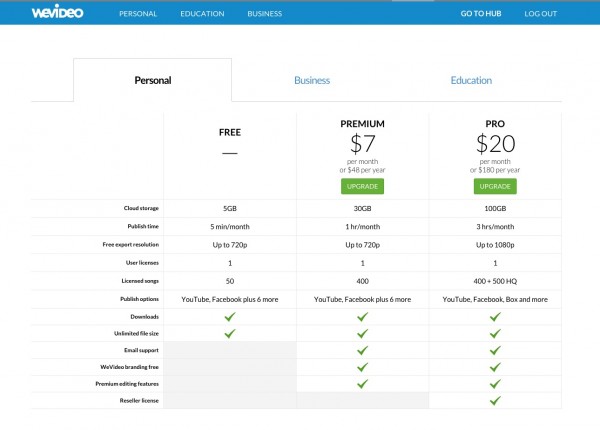 To summarize they offer…
Free service which includes 5GB of storage, watermarks on only 720p video and up to 5 minutes of published video per month.
Premium service costs $7/month or $48/year and bumps up the storage to 30GB with 1 hour of published video each month. A library of free audio comes with it.
Pro service costs $20/month or $180/year and holds up to 100GB of storage, 3 hours of published video a month and increases video quality to 1080p full HD. Pro also adds a huge library of songs to use in videos.
Most will use the Premium service and I can't imagine anyone wanting to use the free service for anything but trying it out. Only hardcore video editors will get value out of the Pro service. If you're that serious about video editing, get a Mac or PC and an Adobe Creative Cloud subscription or some other high-end video editing tool.
Stupeflix – Simplest but Least Powerful
A second option, similar to WeVideo comes from Stupeflix. It costs a little less than WeVideo but comes with terrible video resolution restrictions making it the least useful solution of the three.
Start by clicking the big Make Video button near your account icon in the upper right. Choose to import/upload some video and select to upload or import it from one of a few places.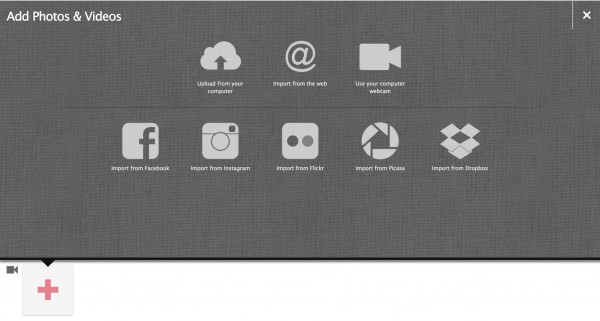 Stupeflix will use video from the Chromebook, images from Flickr, video recorded from the computer's camera or video or media from places like Facebook, Instagram, Picasa or Dropbox.
The service will add the video or pictures imported to the storyboard timeline for you. The user can add soundtracks from your computer or their audio library.
Change the Theme using the Theme (Outline) button on the right side under the preview of the video. Then click on the Quick Preview to see the project before saving it.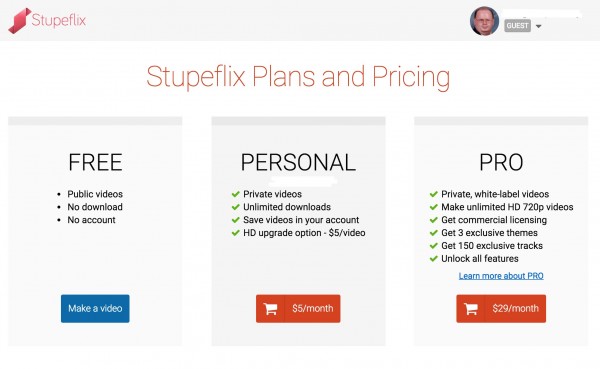 The Free version limits users in significant ways.
You can only store video on their site.
The user can't download the video when finished.
It only offers 360p resolution, which is video cassette quality
There's a Stupeflix watermark on every video
The Personal plan costs $5/month and still only offers 360p resolution. However users can upload an unlimited amount of video, make videos stored on their servers private and save them to the Chromebook to share elsewhere.
The Pro version offers 720p video, removes the watermarks and adds special features for businesses like branding. They also get access to all the video editing tools not available in the two lower tiers. It costs $29/month, which is more than WeVideo with fewer features and it produces lower quality video. It is easier to use, however.
Stupeflix is an emergency only option for people who need to a simple solution or for businesses that need special branding for their video editing user-interface.
YouTube Video Editor – Best for Most Users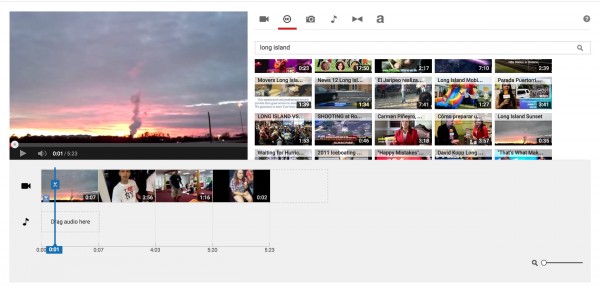 YouTube Video Editor does the best job of creating simple videos for free. However, it's not as easy to use and requires users to do some preparation before they start, like uploading clips to YouTube and finding useful audio.
Grab video from your YouTube account and drag it to the simple storyboard timeline at the bottom of the page. Then drag some audio from the computer to the audio section below the video line. There's also a music button above the video clips on the top center of the screen. Click it to find music already stored on YouTube and marked for creative commons usage.
Add photos from your Google Photos account or by uploading them from the computer.
Users can trim or split their clips, add titles, audio and transitions.  Then, save them to YouTube. YouTube also lets a user include creative commons video clips and music that other users uploaded. It's hard to do things like fading out audio at the end of a video.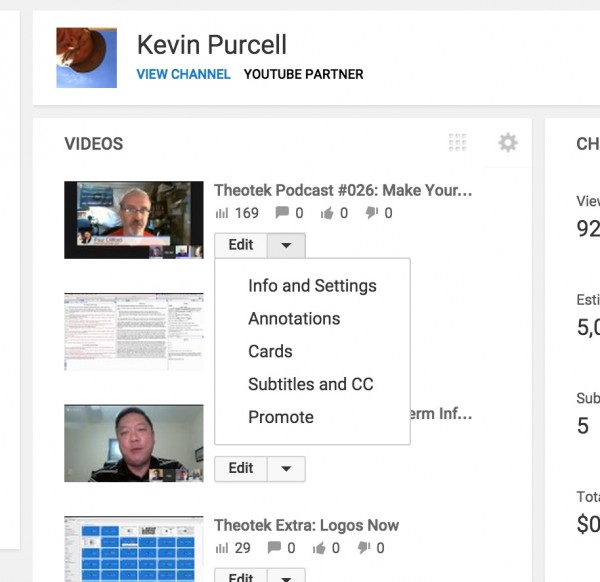 YouTube lets users download their videos in MP4 file format. Open the account's Creator Studio and find the video. An Edit button with a drop down arrow next to it shows a list. One item on the list lets users download the video.
Recommendation
Most people should learn to use YouTube's Video Editor. It's free and offers simple features even if it's a little clunky to figure out. Serious video editors who are determined to use their Chromebook instead of a Mac or PC should get the Premium service from WeVideo. Only businesses or schools that need the power and branding of Stupeflix's Pro level service should bother.
I'm a Chromebook fan, but I hate editing video on mine. I wish someone would come up with a better solution that's affordable.
Advertisement