CES 2014 taught me that 2014 will go down as the "Year of the Chromebook," much like 2010 was the year of the netbook. There's one big difference this time around. Chromebooks will take off and remain an important part of the notebook market well past this year, while netbooks disappeared after the iPad showed up. People wanted a low-cost option that gets them online, but prefer using a built-in keyboard. The netbook felt low-end, while most of the Chromebooks since the Samsung Chromebook don't.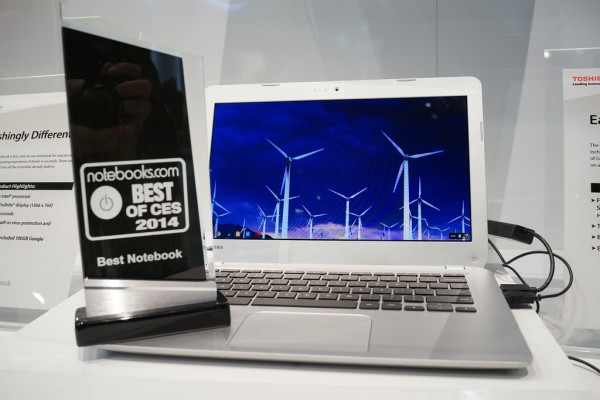 Only a Couple of New Chromebooks at CES
Calling 2014 the year of the Chromebook because of CES 2014 might surprise careful CES observers since we only learned about two specific Chromebooks. Here's what we saw.
Our Best of CES 2014 roundup included the Toshiba Chromebook 13, which won Best Notebook honors. It comes with a 13-inch display instead of the typical 11 inches we get with the run-of-the-mill Chromebooks from Samsung, HP and Acer. Sadly, it only comes with a 1366×768 resolution, 2GB of RAM and 16GB of storage. We'd prefer a higher resolution and 4GB of RAM and a 32GB SSD, but the beautiful aluminum finish and an excellent keyboard and trackpad make it a great entry into the Chromebook market.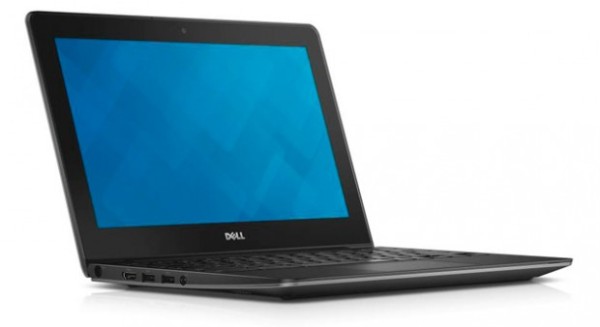 Dell unveiled the Dell Chromebook 11, an ordinary $300 Chromebook with average specs including:
The same Celeron processor everyone else is using
16GB SSD for storage
Either 2GB or 4GB of RAM
A 1366×768 resolution
Others Coming Soon
We learned from Lenovo that they plan to move into the Chromebook neighborhood in a big way in 2014, according to CNet. The CEO that this summer we'll see some Lenovo Chromebooks.
Lenovo garners respect from Notebook observers and fans. They usually make quality equipment. We hope they will offer a great Chromebook. They already sell one directly to schools, but they don't make one for the consumer market yet.
If only 2 major manufacturers announced Chromebooks and only a third announced plans to enter the market, then why do we say that 2014 will stand as the Year of the Chromebook?
Microsoft's Ad
First, consider Microsoft's response. Microsoft made an ad featuring the Pawn Stars. This shows that MS sees the Chromebook as a threat.
Strong Chromebook Sales in 2013
Second, 2013 ended with strong numbers for the Chromebook market. Amazon registered more Chromebook sales during the holiday season than Windows or OS X notebook computers.
Few people thought a web-based platform was a good idea. However, Google understood something that most of us didn't. People want to get online quickly for a low price. The Chromebook's $200-$300 makes them almost disposable.
People who say that price alone appeals to buyers got it right, but missed the second element that makes Chromebooks appealing.
Price Draws Buyers, Benefits Keep them Wanting More
Once people get exposed to ChromeOS due to the low price, they enjoy the benefits of the simple Chrome-browser-based operating system like …
Quick Internet access
Plenty of free web apps
Sub-15-minute system restoration
Speedy user interface response on inexpensive hardware
Simple access to the Google universe
Because of these benefits users enjoy the platform and start to want more. Most will only want the cheap notebook, but others will become enthusiasts who want more power and other form factors, like the all-in-one desktop computer LG announced at CES. It looks like an iMac with a 21.5-inch 1080p display, 2GB of RAM and 16GB of storage. What's more they will include an HDMI port so that a user could plug a Mac or PC and use it as a monitor. Run ChromeOS for most tasks, but when a user can edit some video, pictures or run Microsoft Office for work or school. The LG makes it easy to switch back to their old system to do these things.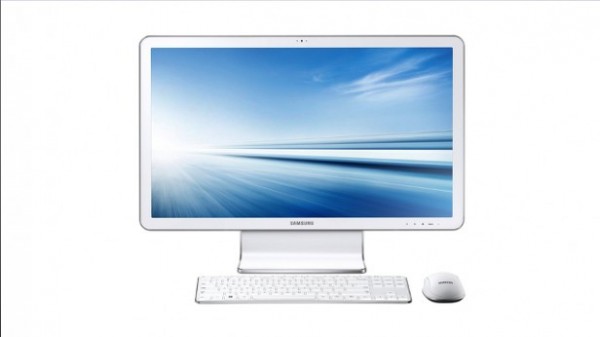 For laptop users, the Chromebook Pixel offers a high-end ChromeOS experience, but using last year's technology. We've heard rumors that Google will update the Pixel with the fourth-generation Haswell processor that should lengthen the battery life while speeding up the system. Look for it, possibly, in early April.
A Mid-level Chromebook is Coming
We also expect that someone will finally give ChromeOS fans a mid-level Chromebook, like the Chromebook Pixel, but with specs that put it near the $500-$700 range. It will hopefully include the following:
13-15 inch 1920×1080 touch display, with an optional 11-inch for those who prefer smaller sizes
Intel Haswell-based 4th generation Celeron processor
10+ hours of battery life
Aluminum body like the Toshiba or high-quality plastic body like newer HP Chromebook 14
4GB of RAM and at least 32GB and preferably 64GB SSD
HDMI, USB 3.0, SD card slot
Great sound
Add to this a high-end model with a detachable touch display that users can enjoy as a tablet. It will cost closer to $1000.
More on the Way
Look for more manufacturers to make Chromebooks and current makers to update or add more skews. Samsung didn't unveil a new Haswell-based Chromebook to refresh the popular Samsung Chromebook yet. Expect it soon. We could see Vizio, Clevo and ASUS jump in with their own Chromebooks.
By the end of 2014, the Chromebook will move closer to double-digit market share. Most of this will come from education buyers. All those little kids will trail daddy into the Best Buy and say, "That's what we use in Mrs. Smith's class at school." Dad turns around and Junior's playing with a nice looking Chromebook. He'll see that it costs hundreds less than that complicated Windows PC and full grand less than the pretty Macs.
Advertisement