Engadget reports that Verizon is readying two new netbooks for sale on the network.
That's right the "Big Red" should soon be offering the HP Mini 311 and Hp Mini 110 netbooks for sale with integrated global mobile broadband in place of the aged Mini 1511 currently for sale.
The Hp Mini 311 will be available starting October 22nd with Windows 7, 2 GB of Ram, Bluetooth and a 160 GB hard drive for $249.99 after 2 year commitment and $100 mail in rebate. Engadget is decidedly sickened by the $249 pricetag but when you compare a similarly spec'd Hp mini 311 at HP, complete with the integrated wireless ($125), you would have to spend close to $600 for the same machine.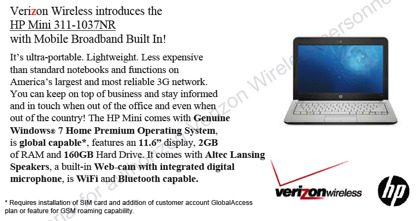 This doesn't change the opinion I have of subsidized netbooks or integrated mobile broadband, but I do feel that the price is more reasonable than past offers.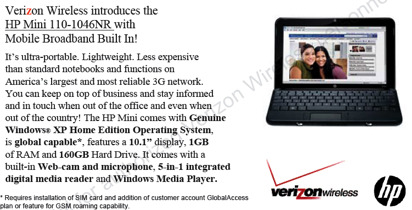 Along with the HP Mini 311, Verizon will also be bringing the HP Mini 110 to its network for an after rebate 2 year contract price of $199. The Hp Mini 110 will be available after the 1151 is sold out and comes with Windows XP, 1 GB of Ram and a 160 GB Hard drive and is less of a bargain than the HP Mini 311.
Yes, the price of the HP Mini 311 is more enticing than the current $199 for the HP Mini 1151 on Verizon, but there's still plenty you should know about subsidized netbook offers, especially given the current 5 GB cap on data usage and the total cost once you consider the 2 years of data service. If you do want a highspeed mobile broadband solution, and a Mifi or USB adapter won't cut it, then the HP mini 311 for $249 is a decent deal. It's certainly cheaper than buying the same configuration straight from HP and activating a high speed connection.
Advertisement