HP shined at CES 2012 with the introduction of the HP ENVY Spectre 14, a new Ultrabook that incorporates glass throughout the design, Beats Audio and a 14 inch screen inside a 13.3″ body.
HP's big draw is the use of glass throughout the Spectre 14's design. This includes a scratch resistant glass lid, as well as glass on the display, palm rest and the HP ImagePad (the glass covered trackpad), which is right below the backlit keyboard.
The 14 inch display is an HP Radiance Display which means you'll enjoy better colors than a standard notebook monitor as well as a 1600 x 900 resolution.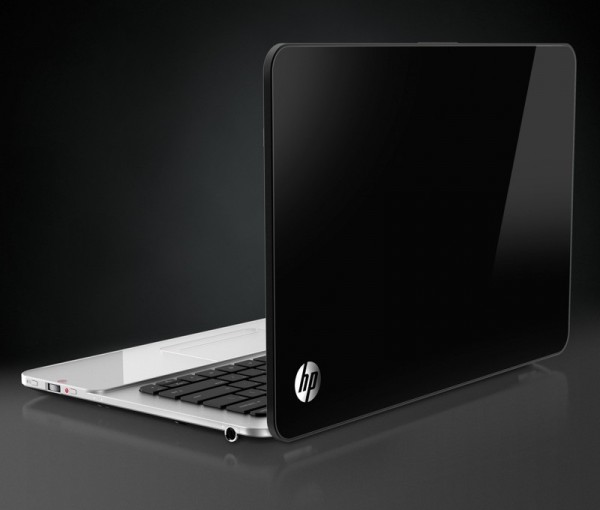 The new HP Ultrabook features an Intel Core i5-2467M processor, 4GB of RAM up to 256GB of storage and has Intel Rapid Start for fast boot and resume times. You'll also enjoy HP CoolSense to keep the notebook cool while it is in your lap.
The HP ImagePad is a new trackpad solution from HP that the company claims will offer, "precise multifinger touch navigation." We'll wait until we get our hands on with the ENVY Spectre 14 to declare their new touchpad a winner.
The HP ENVY Spectre 14 has BEATS Audio as well as HP Wireless Audio to stream music to four external devices, including a KleerNet compatible device.
Inside the Spectre, you'll find NFC for transferring URLs from your phone to your computer, but perhaps you'll be able to use it with MasterCard PayPass later this year.
There's no MagicFlip Port cover, but you do get a full complement of ports including Gigabit Ethernet, USB 3.0, HDMI and Mini DisplayPort.
The glass covered beauty is 20 mm thick, weighs in at under four pounds and boasts a 9 hour battery life.
The notebook includes a collection of software including, full versions of Adobe Photoshop® Elements 10 and Adobe Premiere Elements 10, two years of preinstalled Norton™ Internet Security.
The HP ENVY Spectre 14 is available in the U.S. in February starting at $1,399.
Advertisement