The Notebooks.com Best of CES awards represent the best notebooks, gadgets and technology shown off in Las Vegas.
CES 2014 represents a continued shift to wearables and mobile technology but it is still the showcase for new notebooks, notebook accessories and a innovations in this space. During the last week, the Notebooks.com team spent time with the major manufactures to determine the best technology to debut at CES 2014.
To pick the best notebooks of CES 2014 and the accessories we evaluated the new products based on performance, price, impact on a user's life and other criteria to pick the best notebooks and notebook tech you can buy in 2014.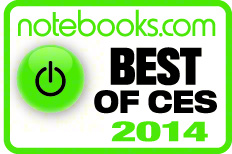 As consumers shift to using the web for more of their computer time and continue to look for lower prices it is no surprise that a Chromebook makes it's first appearance in our awards and with the explosion of 4k, it should be no surprise the an affordable 4k display makes the list.
Toshiba Chromebook 13 – Best Notebook
With a premium Apple-esque design and lightweight portability, the Chromebook feels like it could cost upwards of $1,000. The Toshiba Chromebook boasts a larger 13.3-inch display, a powerful Intel Haswell processor that provides 9 hours of battery life, along with 2 GB of RAM and a 16 GB SSD storage. Cloud-connected users of Google's ecosystem also will get 100 GB of Google Drive storage for free.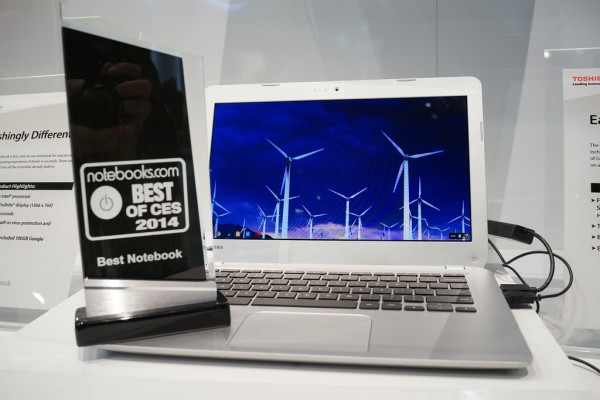 The Chromebook 13 also comes with all the trimmings of a premium Ultrabook, including two USB 3.0 ports, Bluetooth 4.0 LE, WiFi 802.11 a/b/g/n, and an HDMI port.
Available in late February in the U.S., the Chromebook 13 could be a serious machine in the education segment and for users with more basic computing needs.
ThinkPad X1 Carbon – Best Ultrabook
A premium evolution of what is already one of the best business Ultrabooks on the market today, the ThinkPad X1 Carbon from features a slimmer design than its predecessor. Powerful Haswell Intel CPU, 4G connectivity options, 8 GB of RAM, and a 14-inch 2560 X 1440-pixel display help the X1 Carbon stand out.
The touch-enabled version of the ThinkPad X1 Carbon this year is actually thinner than last year's non-touch edition. With 9 hours of battery life, the ThinkPad X1 Carbon will get you through a full working day with ease.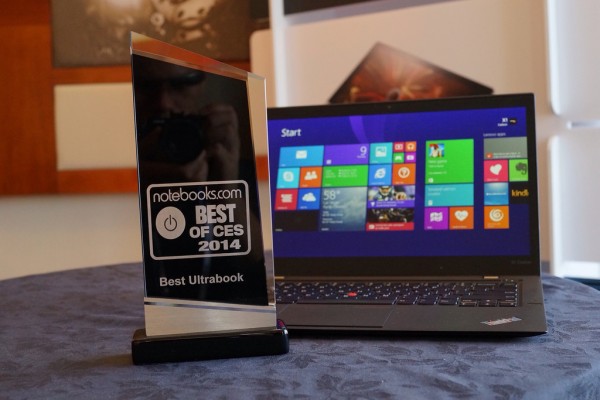 New this year is a dynamic row just above the keyboard keys with adaptive function keys that change depending on the app or program you launch to give you the controls you need when you want them.
READ: ThinkPad X1 Carbon
Dell $699 4K Monitor – Best of Show
Dell's 28-inch 4K ultra HD monitor is a bargain by making the technology affordable to creative professionals and consumers. While the competition is priced at around $3,000, Dell's more affordably priced P2815Q monitor retails for just $699 and stole the show given its features.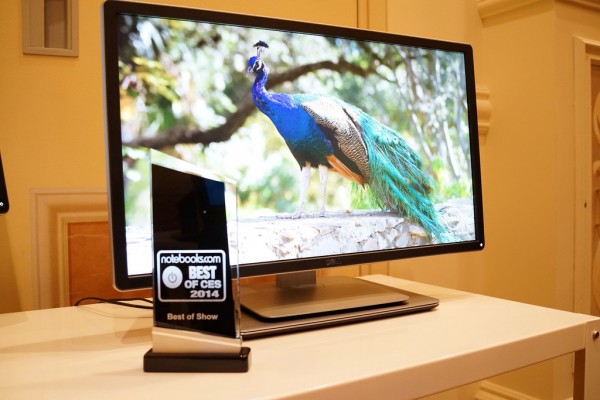 A matte, rather than glossy display, support for DisplayLink, MiniDisplayLink, and HDMI, as well as a 3-port USB hub will make this Dell 4K monitor the focal point of your desk or home office. And with 4K streaming content coming this year from services like Netflix and YouTube, the price is definitely affordable enough that consumers can join in on the action.
READ: Dell 4K Monitor
Toshiba Tecra W50 – Best Powerful Notebook
Toshiba is boasting that its Tecra W50 is the world's first notebook with a high resolution 4K ultra HD display, making it essentially future proof as we will start to see more 4K content this year from services like YouTube and Netflix. However, the Tecra W50 is not all fun and games as it is still a productivity powerhouse.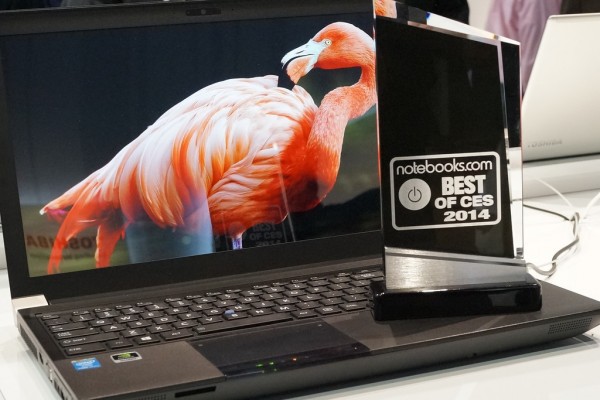 As a mobile workstation, the Tecra is powered by a fourth generation Intel Haswell processor with NVIDIA Quadro graphics. Creative professionals could edit videos, manipulate Photoshop and tap into Adobe's Creative Suite while on the go with this sub-6-pound workstation.
READ: Toshiba Tecra W50
FINsix Small Notebook Charger – Best Overall Accessory
The problem with carrying around a laptop is that often times you will also have to carry around a charger. Truth of the matter is, some laptop chargers weigh as much as a third of the weight of the actual notebook, so carrying around  1-pound charging brick for a 3-pound isn't really ideal especially since laptops are slimming down so much.
This is where the FINsix small notebook charger comes in. The FINsix is just slightly larger than a traditional iPhone or smartphone charger making it far easier to travel or work away from your desk as you're not lugging around a huge power brick.
READ: Meet the MacBook Charger That's As Small As the iPhone Charger
Inductive Charging Pad – Best Notebook Accessory
There's plenty of notebook accessories here at CES, many which deserve an award, but the Mionix Mouse Pad wins simply because it's so ingenious. Charging your wireless mouse right on the mouse pad.
There's plenty of inductive chargers for mice, but none are built-in. Offering a built-in inductive charging block under the mouse pad, and the receiver inside the mouse, this fixes a problem gamers and users alike have had with wireless mice for years.
It's so simple, yet not available from any other mice manufacturer, which is why this has to be the Best Notebook Accessory of CES 2014.
Advertisement