Now that Chromebooks are winning over users with simple low-cost laptops, Windows PC makers like Acer are introducing alternatives like the Acer Aspire One Cloudbook 14. They also offer a smaller 11-inch version. Microsoft would like to stave off the move to Chromebooks in schools and for others with humble hardware needs. So they offer a Windows 10 version that can run on this kind of laptop. Can this budget laptop appeal to users who need a simple machine but want to do a little more than a Chromebook can handle?
We've seen other entries in the Chromebook competitor market before. We reviewed and generally like the computers like the HP Stream 13, but passed in the end as it couldn't out-Chromebook a good Chromebook. Its meager performance and hardware lead to a frustrating windows experience that's not as enjoyable as a nice Chromebook. Chromebook run faster than most of these super-cheap windows computers. We wanted to find out if the Acer Aspire One Cloudbook 14 could kill the Chromebook when others couldn't.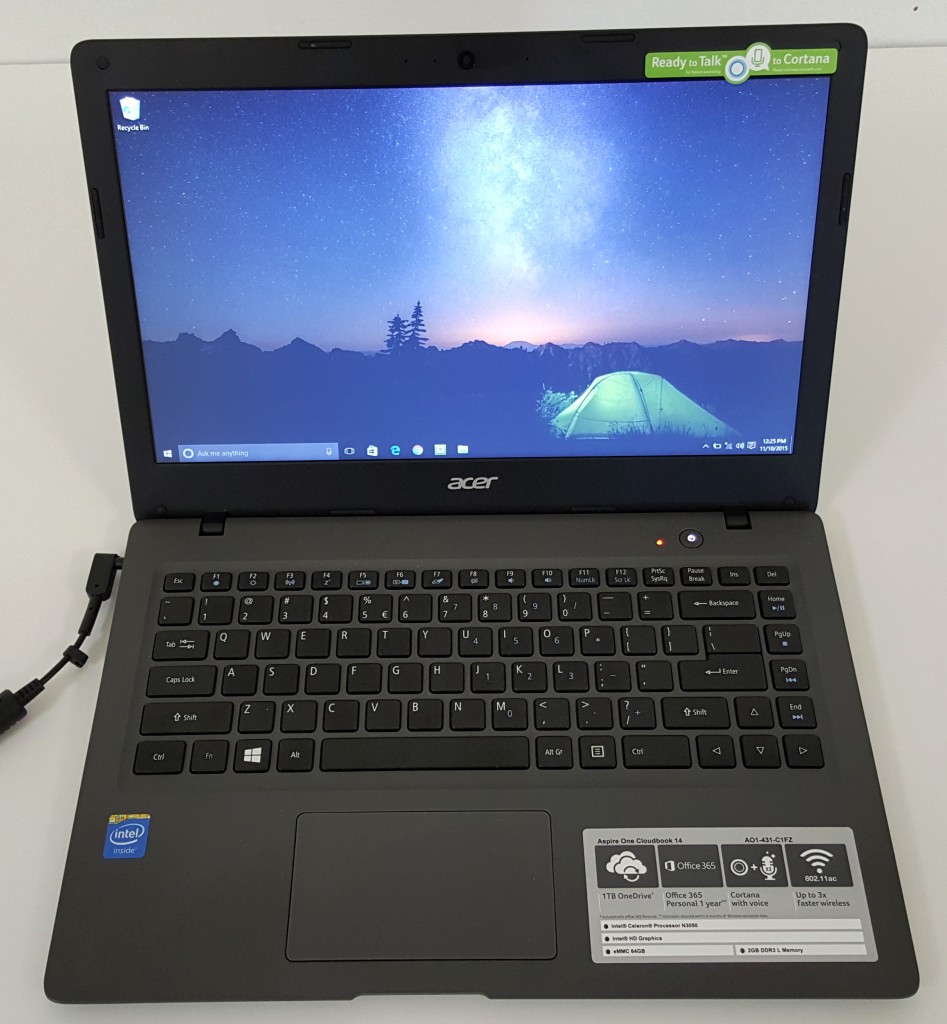 Acer Aspire One Cloudbook 14: Comparison to Chromebooks
The appeal of a Chromebook comes in the low price and ChromeOS's simple operating system. For example, an expensive Chromebook generally costs between $300 and $400, with most hitting the $250-$300 mark. The Acer Aspire One Cloudbook 14 matches that price. The 14-inch version costs $249 and an 11-inch costs as low as $170.
On the second point of comparison, the average Chromebook runs faster than the Acer Cloudbook. Additionally, users don't need a lot of expertise in complex operating systems to use the Chromebook. Most people know how to use a web browser and already understand the basics of a Chromebook. Windows 10 can do more, thanks to a rich collection of Windows software that should run on the Cloudbook.
Pros

Decent display for the price
Acceptable battery life for the price
Better than class storage

Cons

Terrible keyboard
Terrible trackpad
Poor performance
Windows is more complex than ChromeOS for brand new computer users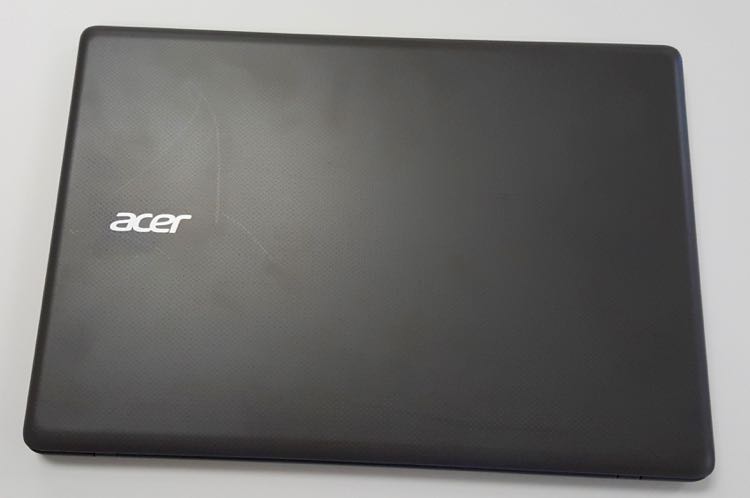 Acer Aspire One Cloudbook 14 | $249.99 | Ultrabook

The Competition
Acer Aspire One Cloudbook 14 Video Review
Who is the Acer Aspire One Cloudbook 14 for?
Like all Chromebooks, the Acer Aspire One Cloudbook 14 fits well into the lifestyle of a user who doesn't need to run a lot of software. The typical user will spend most of their day online or in Microsoft Office, which comes with the machine. The free year of Office 365 Personal ($69.99 value) makes this a great machine for a student or business user on a tight budget. However, I'd recommend running the Windows Store versions of Word, PowerPoint, Excel, Outlook and OneNote. They run faster and this frees up storage space. People who can make do with a low-end laptop like the Acer Aspire One Cloudbook 14 can make great use of Word Mobile and other mobile versions of the Office apps.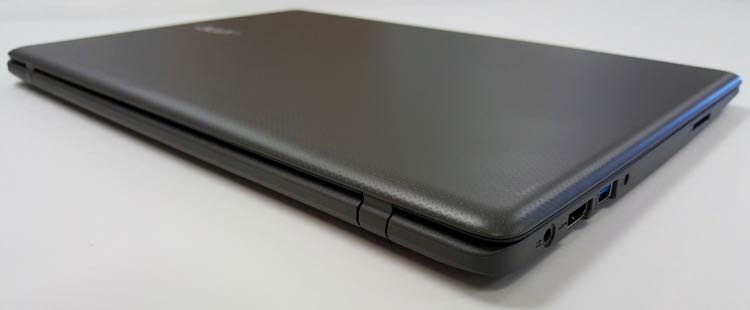 Gamers, media professionals and anyone who runs space-hogging software can't use the Acer Aspire One Cloudbook 14 without frustration. The software either won't install or won't run acceptably on this extremely limited machine.
Acer Aspire One Cloudbook 14 Design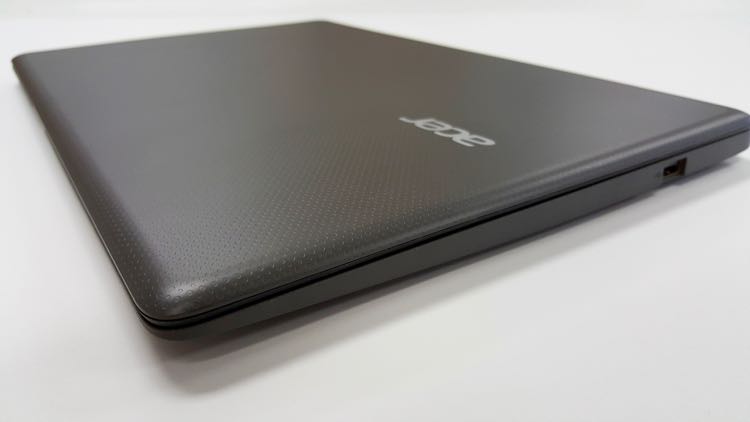 The Acer Aspire One Cloudbook 14 won't win any design competitions. It's a boring "mineral gray" textured clamshell. It's light compared to most cheap Windows laptops. People who like larger computers should enjoy the size of this machine. It measures 13.4 x 9.2 x .7 inches and weights 3.4lbs – reasonably light for this class of 14-inch notebooks.
The wedge shape fits in smaller bags. I own a backpack with a pocket designed for a 13-inch MacBook Pro and the Cloudbook 14 fits snugly.

On the left side the computer has the power connector, an HDMI out port, one USB 3.0 port and the mic/headphone port. There's also an SD card reader.

Over on the right side we see only one USB 2.o port and nothing else. The front and back edges don't hold any ports or buttons. The power button sits on the upper right corner of the keyboard.
Keyboard and Trackpad
Sadly, the Acer Aspire One Cloudbook 14 keyboard fails miserably and the trackpad is no better. I couldn't use the keyboard for long periods of time. I had to type with more pressure than usual. As a result letters got dropped while I touch typed on the weak keyboard. A couple of the keys on the lower left corner feel like they're not working right. I get a crunch sound when I hit the key in the bottom left corner.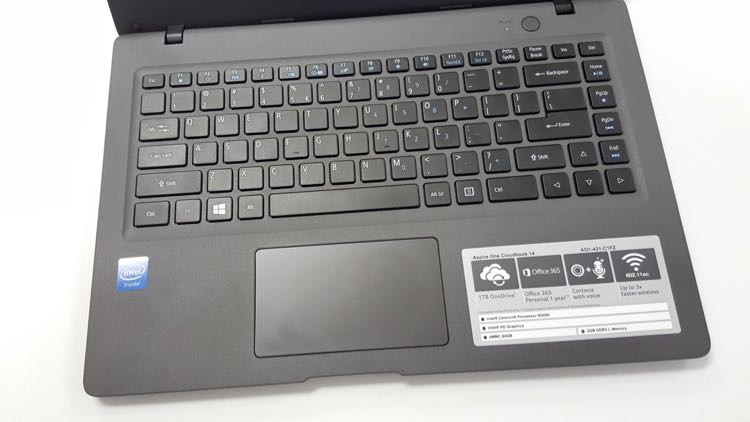 The trackpads on budget laptops frustrate me. I hate them. Often the lower right corner, used for a right-click button, is too large. I click with my right pointer finger so the trackpad brings up a right-click menu in most programs on Windows if I don't carefully tap on the left most edge of the trackpad. Instead of selecting what's under the mouse cursor, like a web link or icon button in software, it right clicks when I don't intend to. It's hard to adjust, so I usually connect a Bluetooth mouse after a few frustrating sessions which degrades battery life.
If you really want a Chromebook-style Windows PC, the HP Stream 13 comes with a far better keyboard and trackpad.
Display
Don't expect a beautiful bright crisp display for $25o. However, the image on this laptop isn't terrible. That doesn't sound like a great endorsement, but most $250 machines include terrible displays.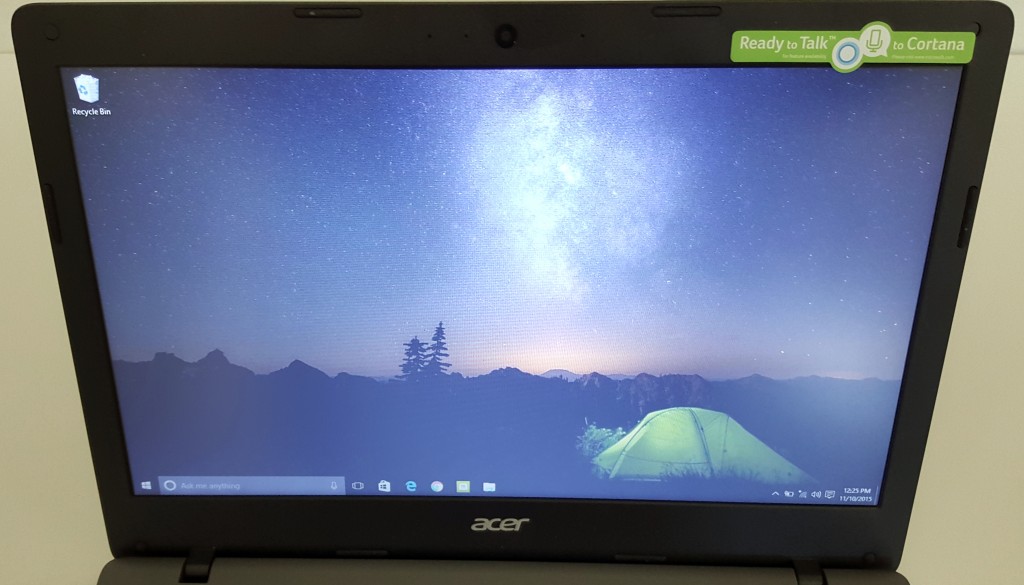 The screen offers a decent viewing angle (see below). Two or three people could comfortable see a presentation and two could watch a darker movie without issues. It's reflective, meaning you won't get great viewing in bright rooms or outdoors.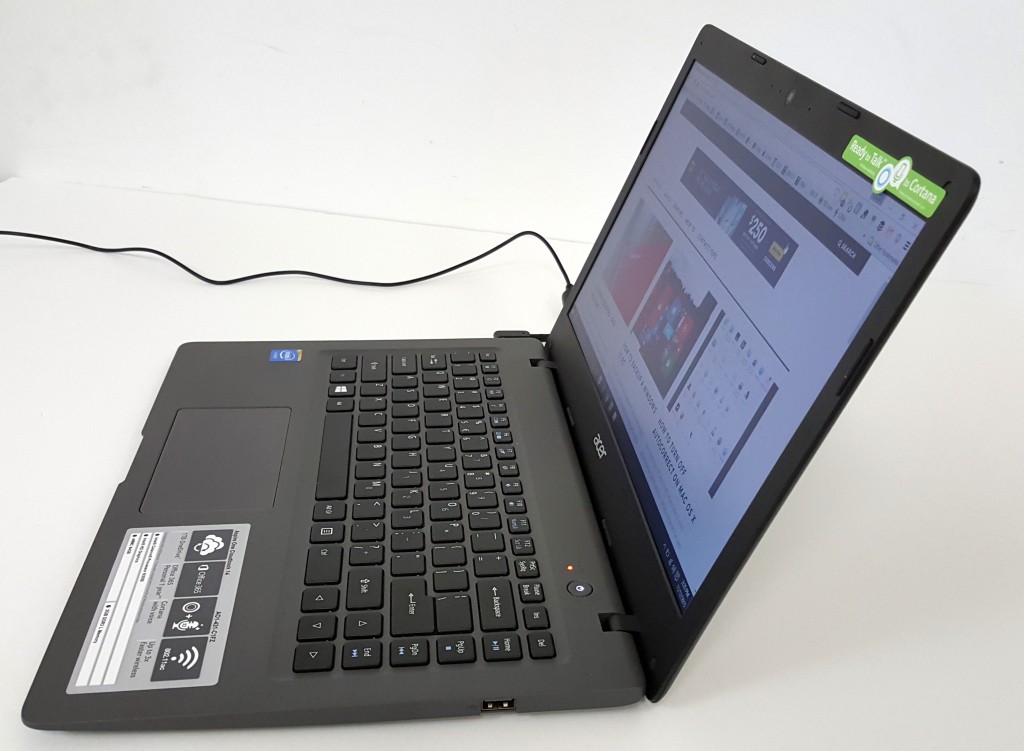 I never saw any video tearing or other performance issues. The display is usable for entertainment purposes.
Office workers won't enjoy the screen as much as they would a more expensive computer. The text looks a little washed out, but it's usable.
Performance and Battery Life
The biggest weakness comes in performance. The machine runs Windows 10, which doesn't need as much power as other versions of the OS. However, the Intel Celeron N3050 feels slow most of the time. In addition, only 2GB of RAM cripples the speed of this system. It's no multi-tasking master. Run one regular Windows program at a time or watch the machine bog down. Also, the rest of the computer crawls while downloading data over Wi-Fi. Windows updates forced me to put it down and walk away. I installed a piece of software that downloads a lot of media to the local storage and again I had to walk away.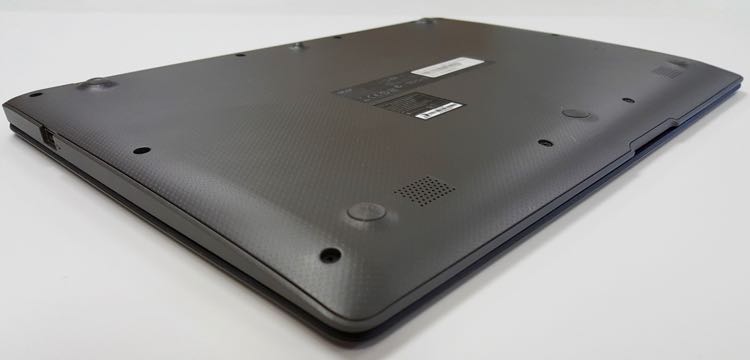 The battery life is decent at a little over 4 hours with the screen at about 75% where I like it and using a Bluetooth mouse and lots of Internet usage. Drop the brightness down and turn off Bluetooth and users may get closer to the 6 hours Acer promised.
The storage on the Acer Aspire One Cloudbook 14 outclasses the competition. For most people 64GB of local storage will not hold enough to make them happy with their Windows laptop. However, this machine is designed for a special group of users who could use a Chromebook, but they also need one or two Windows programs. This computer can handle that scenario in terms of storage.
The Bottom Line
Only budget buyers who must run a couple of Windows programs that don't need a lot of storage or horsepower should consider the Acer Aspire One Cloudbook 14. It comes with too many compromises to recommend it. The performance will frustrate anyone who wants to multi-task. The keyboard and trackpad make office use difficult.
The Acer Aspire One 14 feels like a machine meant for those who only plan to go online and store some media locally. People who want a good Internet computer can get a better machine running Chrome OS for about the same price or slightly higher. Their other option is a good second-hand iPad.
If buyers still want an Acer Aspire One Cloudbook 14, they can find them at the online Microsoft Store in their Signature Edition without a lot of crapware installed. It's $249 and $169 for the 11-inch version. Amazon has the 14 for the same price, but the 11 is $20 more.
Gallery
This slideshow requires JavaScript.
Specs
| | |
| --- | --- |
| OS | Windows 10 – 64-bit |
| Display (size/res) | 14-inches, 1366 x 768 LED |
| CPU | Intel Celeron N3050 1.6 GHz with Intel Burst Technology up to 2.16 GHz |
| RAM | 2GB DDR3L 1600MHz |
| Graphics | Intel HD Graphics with shared graphics memory |
| Storage | 64GB SSD eMMC |
| Optical Drive | None |
| Wireless | Wi-Fi 802.11ac/a/b/g/n with Miracast support; Bluetooth 4.0 |
| Ports | 1 USB 3.0, 1 USB 2.0, 1 HDMI, headphone/mic |
| Size | 13.40 x 9.20 x 0.70 in (340.36 x 233.68 x 17.78 mm) |
| Weight | 3.40 pounds |
Advertisement