For software trainers, reviewers, teachers or anyone else who takes screenshots on a Mac, the built-in Preview tool is upstaged by a simple new utility in the Mac App Store called SnapNDrag Pro.
We take a lot of screenshots and find the built-in Preview tool acceptable, but it has some weaknesses. Preview lets users create a quick screenshot via keyboard shortcut. Press SHIFT+COMMAND+4 and you can selected an area of the screen to save as a screenshot. Use 3 instead of 4 to get the whole screen. But this saves the image to the desktop where you may not want it. You then have to open it to copy it or import it into other apps for presentations or web editing.
SnapNDrag keeps the screenshots close at hand, for easier access.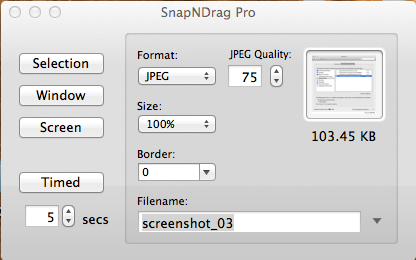 How it Works
With SnapNDrag Pro a menu bar icon provides quick access to the utility's interface. The above window appears so you can take the screenshot in just the right way. You can also use the dropdown menu that appears when you click the menu bar icon.
We especially like the way the app holds the screen shot ready to drag wherever you want it. For example, if you want to post it using a tool like Mars Edit, create your screenshot using the app and it is held in the app's window. See the above image where the screenshot is in the upper right. Drag from that box to your application. Double-click the image to open it in OS X Preview.
Extra Features
Screenshots can also be saved. Give it a file name and click the dropdown box and choose save or use the Command S keystroke. There are other ways to use your screenshot in the dropdown liking emailing it or copying it to the clipboard.
The app will let you add a border around the image in varying widths or leave it off. The user can scale the size and dpi of images taken by the app. Even timed screenshots are possible. This lets you tell the app to take a shot in five seconds so you can set up the screen with menus that normally go away when you click a mouse or use keyboard shortcuts.
One Weakness
There is one problem for dual screen users. Taking a full screen shot does not grab both screens like the OS X Preview tool does. In fact there is no way to get screenshots from the second monitor at all. To fix this you have to move what you want to grab to the first monitor or temporarily unplug the second monitor while taking grabs.
Pricing and Recommendation
The developer charges only $1.99 in the Mac App Store. There are many apps that are more complicated or powerful but if you want a simple inexpensive tool that is better than the built-in Preview screenshot tool, then this app is a bargain.
Advertisement