The Acer Aspire 7552G-6436 is one of those systems that will impress the average computer buyer even if more advanced users will be disappointed with it. It has a big 17.3″ display and a full size keyboard making it really a good desktop replacement. You won't be satisfied if you want a lightweight, portable system or want a world-class keyboard. But for people who just want a decent computer to put on a desk and then occasionally take with you, the 7552G is a good option.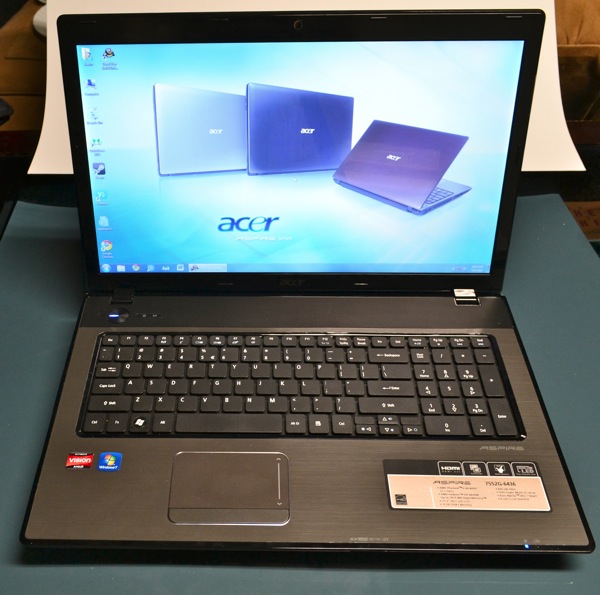 Acer Aspire 7552G-6436 Quick Specs:
The system comes with some pretty decent specs like an AMD Phenom II X4 N950 2.1GHz processor, and an AMD Radeon HD 6650M graphics processor which powers the 17.3″ display with a better than average resolution of 1600×900. It also has 4GB of DDR3 RAM and a spacious 640GB hard drive as well as an empty second hard drive bay that you can use to add another drive, like an SSD to make this system really scream during hard drive intensive work. There is also a DVD combo drive for viewing movies and making videos to share.
Who is the Acer Aspire 7552G-6436 For?
As we said this computer is not for the road warrior, but rather for someone who will use it on a desk or table top most of the time only taking with them occasionally. It is powerful enough to do some gaming. We see this as a computer that will be used in a home environment where mom or dad might want to get some work done while at home and then let the kids use it to play games, watch movies and get online. The large screen will be useful for editing video or pictures. If you need two windows open at once, the large wide display will be a benefit.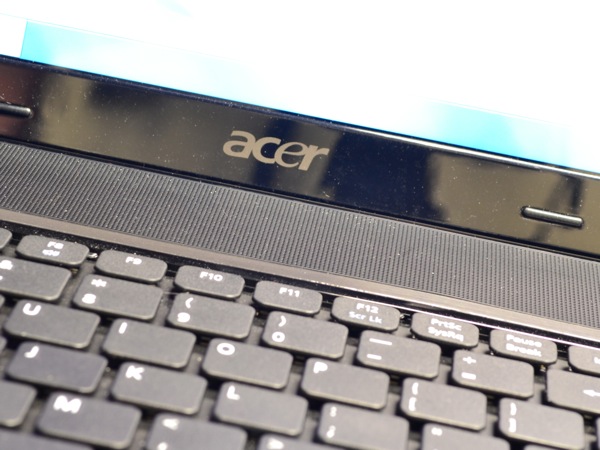 This would also make a good computer for a small apartment or dorm where the user wants to have more mobility than a desktop, but large enough to replace an entertainment center in cramped quarters.
Acer Aspire 7552G-6436 Hands On Video:
Acer Aspire 7552G-6436 Build and Design:
The AS7552G is a solid, beefy system. It is heavy and sturdy with stiff hinges. It is not as heavy as most 17″ desktop replacements at just over 7 pounds. The chassis is solid. It feels like this computer will hold up under average use and even survive getting banged about a little bit while in a computer bag. Don't drop it, but you also don't feel like you are using a dainty little notebook.
We like the dark conservative black color, but those with more flamboyant interests won't. The lid has a textured feel that you would think resists fingerprints. Unfortunately, that is not the case. They can show up quickly but won't stand out nearly as bad as fingerprints do on a smooth glossy cover. The brushed aluminum look of the area around the keyboard is finger print resistant, which is where you are most likely to find fingerprints.
The bezel around the display is glossy and does collect fingerprints, but most people don't massage that part of the computer. You will touch it to adjust the lid and display. But it is not unsightly.
Acer Aspire 7552G-6436 Features:
The most notable features are the size, the quad core processor and the dedicated graphics. It is not the fastest notebooks we've ever seen but it has enough pep making it an above average 17-inch system. Having all that screen real-estate with a decent resolution allows for keeping more than one app open on screen at a time. I often have my word processor and other apps open as I do research. Most notebooks do not provide enough room, but this one does.
Acer Aspire 7552G-6436 Display:
Aside from the size and resolution discussed above, the screen itself is like all other glossy screens. It is horrible in direct sunlight and too reflective unless the room you are in is a little dark. Compared to other glossy screens this one is actually more reflective, making it harder to view even in direct artificial light. If you angle the display just right, it looks good. It takes a little finessing.
The viewing angle is good because of the size. Two or three people could easily share the screen for a movie or to show off pictures in a slide show.
Acer Aspire 7552G-6436 Keyboard and Touchpad:
The keyboard is a full-sized keyboard with a dedicated number pad. The keys are spaced well enough apart for comfortable typing, but the feel while typing is a little mushy. It is better than the last couple of Acer keyboards we tested, but left us disappointed.
I had a friend try it out for a little while and he disagreed. He has an older Acer and is used to the feel of Acer keyboards. I am not. The point is typists who are used to a top of the line keyboard will not be happy with this one. Others won't have a problem.
The touchpad is just too small making it the computer's greatest weakness. I am spoiled by the large trackpads of my MacBook Air and Pro. Why can't PC manufacturers make large sensitive trackpads? The Acer's is small and below average in its touch and sensitivity. It does offer some gesture control, like a two finger scrolling function, but it is not smooth at all. Like most touchpads it left me searching for my external mouse.
Acer Aspire 7552G-6436 Processor and Performance:
A computer of this size is meant to be a desktop replacement used for multimedia and gaming. And that is where you'd hope it shines. While it is not the fastest machine we've tested, it is better than average with the quad-core processor. The hard drive is an average 5400 rpm drive.
If we were using this thing on a regular basis we would add a small capacity SSD to the second drive bay and run the OS on it and then upgrade the internal 640GB drive to a faster 7200 rpm drive. With that configuration this thing would be much faster. As it is most people will be pretty happy with the way it handles games and crunching movies, photos, and large databases. However, hard core gamers should move on to another computer. Serious video/photo pros also should look elsewhere. This is for consumers who do a lot of different things, but none of them very seriously.
We asked a friend who runs an app with a large database to install it and run it. He said it handled it well. The same app was slow on his older Acer with an AMD dual-core processor.
One review we read said that performance in their tests was terrible. The computer did not do well in their benchmarks. But that is one reason that we don't put a lot of stock in benchmarks. In actual productivity this thing felt like it did fine compared to other systems we've seen like it.
To summarize the performance, this computer is slightly above average and nothing more.
Acer Aspire 7552G-6436 Multimedia and Gaming:
If you are looking to replace a small TV in your office or dorm, the 7552G will be a good option so long as you make sure it doesn't sit in bright light. We enjoyed watching some streaming video on it. The only weakness here was the sound, but with headphones or a decent desktop speaker system it would be pretty good.
We installed Steam and played a few of our collection of games. For casual gaming or last generation games, this computer does well so long as you add an external mouse. For the fastest and most demanding games, it might slow down and become a disappointment.
Acer Aspire 7552G-6436 Audio and Speakers
The speakers on the 7552G-6436 are nothing special. Using this machine for movies and playing games is fine when you talk about the speed and the display. But the audio in these situations is just okay. Plug in a nice set of headphones if you want really good sound. Add a good pair of desktop speakers for when you have it at home sitting on your desk.
Acer Aspire 7552G-6436 Heat and Noise
For a powerful system like this I didn't notice too much noise. It doesn't run that hot either, except when working hard. At the size it is not really a computer you hold on your lap a lot so heat is a non-issue most of the time. Since it is a little lighter than most 17″ systems you may use it as a laptop and feel the heat. Those rare times when you will use it on the couch or while in a vehicle on your lap, you shouldn't get too uncomfortable.
The optical drive was a little louder than most notebooks. They all seem loud but at times I wondered if this thing was going to take off when it was used to install software via DVD.
Acer Aspire 7552G-6436 Battery Life
Battery life is another huge disappointment with this machine. We tested the battery by using it at 50% brightness. For the first half of the test we did some basic computing tasks, checking email, surfing the web, and typing documents. For the last half of the test we streamed video from the Internet, which requires quite a bit more juice both to play the flash content and to constantly access both the hard drive and the Wi-Fi. Our total time running was just 1 hour and 37 minutes.
Granted this is a desktop replacement with an AMD quad-core processor and a 17″ screen. You are not going to see 3-5 hour battery life. But we hoped we could get enough time to watch one DVD. It would have to be a short one. With Wi-Fi off it might get you closer to finishing a typical length movie, but then again the spinning disc might eat any gain from no Wi-Fi.
In addition to the disappointing battery test, the other complaint in this category is the power brick itself. It is huge! We haven't seen one this big in a long time.
Acer Aspire 7552G-6436 Connectivity:
The 7552G has all the basic ports for a machine of this caliber. A multi-function flash card reader which handles Memory Stick PRO, xD, SD, and MMC cards. There is also an HDMI port, which will be great for hooking this thing up to an HD TV for viewing movies. It only has USB 2.0 ports, but at least there are four of them. There is also a VGA out and a Kensington Lock.
To get online you have a Gigabit Ethernet port and 802.11n for Wi-Fi. They performed as expected.
Acer Aspire 7552G-6436 Webcam:
The webcam is decent. It can take shots with a resolution of up to 1280×1024 and video up to VGA (640×480). It does okay for a webcam. Here is a sample picture.
The image is a little soft, but you won't be taking very many portraits with this thing. Increasingly, I use my webcam as a quick scanner. So I took a shot of a magazine cover that published an article of mine recently.
If I planned to actually use this image I would have imported it into some photo editing software and cropped it and fixed the color and exposure. Notice that it does a good job for what it is. I won't likely use it for OCR though. Here is a sample video taken in relatively good light.
Again, the image is pretty soft. What is worse is the sound. The built-in mic is picking up a lot of strange noise. The streaming version of this video is much worse than the offline version we made due to the compression needed to make it streamable. But the original sound was still pretty bad. You will want to use a headset with a mic for Skype or recording video podcasts, if that is your plan.
Acer Aspire 7552G-6436 Software:
The software bundle is nothing special. It has Windows Home Premium 64-bit edition. Other than that is as the typical bundle of software like NTI suite for the DVD burner, PowerDVD for watching movies, and Acer's basic junk. It also comes with security software. Do yourself a favor and get the PC Decrapifier (step 1 in that link) and install better software.
Acer Aspire 7552G-6436 Value:
Right now this model is on sale at Amazon for a good price of $669.99. We think that is a good value. A large screen computer with acceptable multimedia and gaming chops is likely going to set you back $600-$700 for one of this quality. It is not a top of the line system, but it has a lot to offer as a desktop replacement and that is light enough to make it an occasionally mobile system.
Acer Aspire 7552G-6436 Conclusion:
We liked this system, despite the weaknesses. After showing it off to a friend who helped us a little with this review, he plans to get one. People who demand top-of-the-line computers won't be happy with the Acer Aspire 7552G-6436. If your expectations are modest and you wallet is not fat, this 17.3″ system will be a good choice.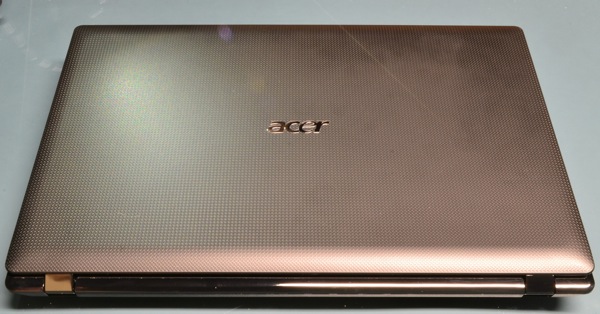 Remember that the keyboard is a little mushy and the trackpad is way too small. Just get an external mouse and you will be happy. Keep it out of direct light and don't expect too much from the speakers. It should run most of what you throw at it without setting records but getting the job done.
What is really disappointing is that Acer is really close to having an excellent desktop replacement. If they could figure out how to make a nice keyboard and trackpad and add a matte screen, then the Acer Aspire 7552G would be an incredible value even if it cost $100 more.
Pros:
Decent performance
Extra hard drive bay for expansion offering great potential if an SSD is added
Easy to upgrade
Looks nice
Strong case and hinges
Full-size keyboard
Decent price
Display has faithful color
Good resolution useful for dual window panes at once
Cons:
Fingerprint build-up on lid and around bezel somewhat a problem
Glossy display is far too reflective
Keyboard is mushy
Trackpad too small and not very smooth
DVD drive a little loud
Disappointing battery life
Huge power brick
Acer Aspire 7552G-6436 Gallery:
Acer Aspire 7552G-6436 Detailed Specs:
AMD Phenom II N950 Quad-core 64 bit processor with 2MB Cache running at 2.1GHz (RS880M chipset)
17.3″ WSXGA Active Matrix TFT Color LCD 16:9 display with 1600×900 resolution
ATI Mobility Radeon HD 6650 with 1GB of graphics memory
4GB of DDR3-1066/PC3-8500 SDRAM (up to 8GB in 2 slots)
640GB Serial ATA Hard Drive
DVD-DL R/RW (+/-R/RW)
Memory card reader – Memory Stick PRO, xD, SD, MMC
Acer InviLink Nplify IEEE 802.11n Wi-Fi
Gigabit LAN Ethernet port
HDMI, 4 x USB 2.0, VGA, Kensington Lock
Full size keyboard with dedicated number pad
Touchpad
Webcam
6-cell Lithium Ion battery (4400 mAh, 48.80 Wh, 2.2 hour (1.5 real world)
Height = 1.35″, Width = 16.3″, Depth = 10.8″ Weight = 7.26lbs
1-year limited warranty
Energy Star compliant
Advertisement