When Apple released their new MacBook Pro line of notebook computers the battery life was touted as up to 8-9 hours. We already posted that one reviewer didn't get even close to that with the 17-inch system he looked at. But over at Laptop Magazine Blog, they are finding that the 15-inch MacBook Pro does have very good battery life along with being a very powerful system. So was size the only difference?
Here is what they are saying:
Best of all, even with the jump from Core 2 Duo to Core i7, Apple has managed to deliver all-day battery life. These are collectively welcome improvements, but are they enough to justify the premium? Yup.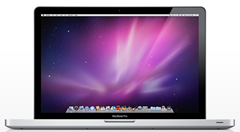 So what does all day" mean? Nearly eight hours! That bests the 17-inch reviewed in the first article cited above by nearly three hours. The reviewer said they tested by using the Internet nonstop via Wi-Fi. The other review is a little more aggressive with some benchmarking and iMovie editing added to their Internet surfing. So it may be a proverbial apples to oranges comparison. It could be that if the other reviewer used the same strategy they would have come closer to Apple's stated up to 8-9 hours".
Advertisement