It is official. The Apple Mac App Store is coming January 6, per an announcement from Apple today.
The new Mac App Store is designed to harness the success Apple has had with the iOS App Store for OS X. The company's belief is that this will make finding, installing and updating apps for their Mac operating system easier for new OS X users. With so many people now experiencing the Apple OS for the first time in the last year, it is understandable that they would want to do this. It is also understandable given the fact that Apple will take a cut of each application that is purchased through the Mac App Store.
Like their mobile App Store, the Mac App Store will list apps by what is most popular, "new and noteworthy", as well as what their staff finds most interesting via a Staff Favorites section. It will also categorize apps by purpose and functions like games, productivity, entertainment, and others.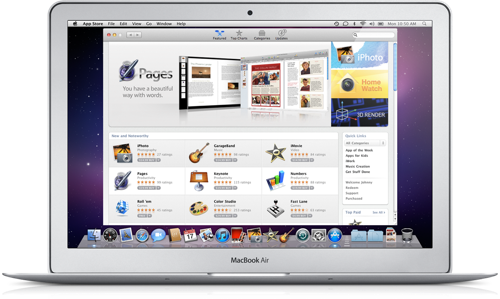 For developers this will be a way to get your app noticed if you are not one of the big software houses like Adobe or Microsoft. And developers will not have to pay for hosting the app with Apple, any marketing that Apple does of the apps it chooses, or for fees that come from processing credit card transactions. The cost of this for paid apps is giving up 30% of their app's purchase price to Apple. They will also have to adhere to Apple's curating guidelines which include things like no beta or trial apps allowed. Apple previously announced the guidelines for submitting apps to the Mac App Store.
Two things that won't be part of the App store, much to the disappointment of users, is integration with the new Game Center and the ability to have in-app purchases. However, we are likely to see an update to the iWork office suite in the store upon launch, as seen by the image above.
The Mac App Store will be a free download via the OS update feature accessed by clicking on the Apple menu button and choosing "Software update…" on January 6th 2011.
Advertisement