Finding large files and folders on your Mac can be a challenge if you don't know where to look. Obviously your photo and Movie folders are a good place to start, but after that it's hit or miss. With GrandPerspective that changes. GrandPerspective is a free Mac OS X app that scans your hard drive and provides a visual look at your files and folders. This makes it easy to identify large folders or documents that may need cleaned up.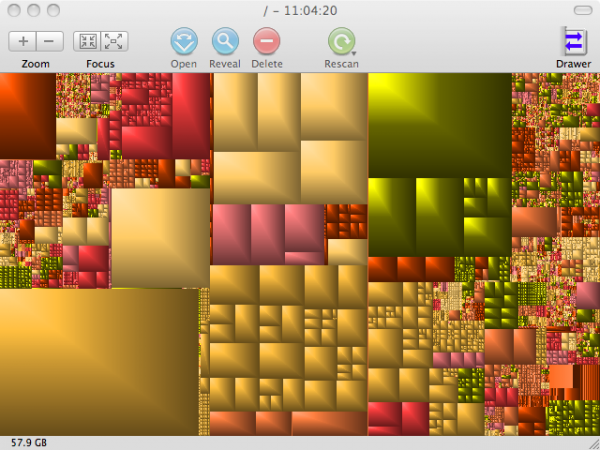 To use GrandPerspective, you need to download the app and install it to your applications folder. After launching the app you can scan a specific folder, your entire hard drive or connected external storage devices like hard drives or SD cards.
GrandPerspective scans fairly quickly, covering the 128GB SSD in our MacBook air in just over a minute. After it finished scanning we were presented with the image shown at the top of this post, identifying are large files and folders. Operating on such a small hard drive is a challenge, we ran out of space just yesterday when trying to import a movie for our ThinkPad X220 overview, which led to a hunt and delete game to find files we could delete, which took up about 20 minutes of time we could have been editing the video.
Now, with GrandPerspective we can find large files much easier. When we ran the app this morning it discovered a 3GB ISO file which we didn't realize we still had. It was easy to find because it was one of the largest blocks on the canvas.
GrandPerspective makes it easy to check the what's taking up the space. If you mouse over the block you will see the name of the file type and if you right click, you can open in finder so that you can review, move or delete the file.
GrandPerspective is a free download for Mac users. Windows users can use TreeSize to find large items and folders, but it doesn't deliver the same visual display.
Advertisement