Rumors of a possible 15″ MacBook Pro that looks and behaves more like a MacBook Air flourished on the Net yesterday as all the major news blogs rushed to report the story that, like other manufacturers, Apple may copy the design of the MacBook Air for the next generation MacBook Pro design, the idea being that the popularity of the MacBook Air inspired Apple to look at a 15″ version of the design.
Apple's MacBook Air is a fast machine with two primary characteristics: a fast SSD drive replacing traditional spinning optical hard drives that are slower and suck up more electricity than their big brothers, and a super thin body that looks more like axe's blade than a computer.
The larger screen version of the design might be another MacBook Air or a new version of the MacBook Pro. Either way the rumor says the new machine entered the final stages of testing at Apple's headquarters.

The design of the MacBook Air received the copycat treatment from a number of manufacturers, with companies including Samsung and MSI revealing very similar thin wedge-shaped ultra-portable systems.
The MacBook Air sells well, especially compared with the previous first generation Air, which flopped. That begs the question, what made the second (and now this third) iteration of the Air so successful? The body design is roughly the same. What are the differences?
First Air only had 13″ model while second/third has 11″ as well.
New Air screen resolution upped to 1366×768 or 1440×900 versus 1280×800.
Processor speed increased in newer Air with dual core for 2nd and Core i series in 3rd.
Much faster SSD in the newer Airs over very low 4200rpm spinning hard drives in 1st.
Except for the last item on the list, these changes mimic all other manufacturers notebook line refreshes – faster and more power for the same or lower money. It is Moore's Law – faster and bigger gets cheaper every 18 months.
There is one major thing that I left off that list, though: price. The first generation MacBook Air cost $1,799 on the low-end with optional configurations taking a bigger chunk of cash. The machine was seen as a luxury item appealing to the highest-end buyer, while the new MacBook Air started under a grand at $999, appealing to people who wanted an Apple notebook but were unwilling to drop two Gs.
Will a larger and undoubtedly more expensive MacBook Air with a 15″ or even 17″ screen be as popular? Don't we need the traditional MacBook Pro with a SuperDrive and room for bigger keyboards and space on the screen for two open windows for writers or all the little windows used in editing files in Photoshop? We do! That is why I think Apple should move forward with the large screen version of the Air, or if you prefer to see it as a new Pro, a thinner version of their flagship notebook to fulfill the second need. To take care of the first need they could just create an external SuperDrive with a Thunderbolt port connector instead of USB 2.0. Such a drive will be faster for creating discs but still useful for viewing DVDs and loading very specialized software that often only comes in one way – on a DVD or CD.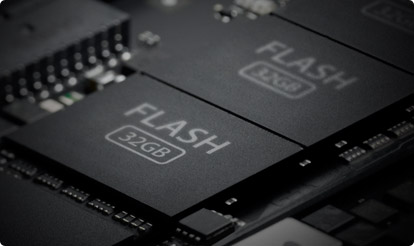 The two primary characteristics of the Air should be the design goal of every notebook manufacturer going forward. Thinner and lighter notebooks are more portable and more useful in more situations. The more SSDs we have in notebooks the lower their price will be and the easier it will be to have a 500GB drive that doesn't cost as much as a new car. I love my MacBook Pro, but I would love it even more if it wasn't as heavy and had a capacious and fast flash drive.
Source: AppleInsider
Advertisement