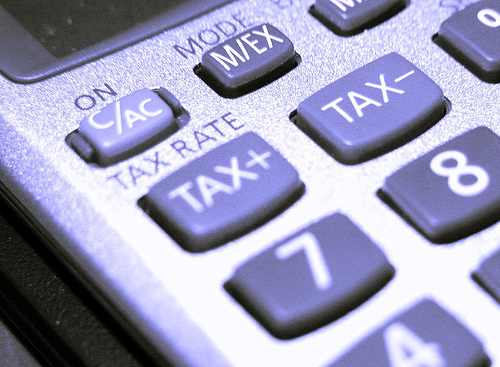 Time is running short to buy home office supplies and technology tools to claim on your 2010 taxes. For business owners and sole proprieters with a home office you only have two days left to buy and pay for technology items to deduct on your 2010 taxes. With this in mind we've rounded up 25 technology items, and a few other important purchases, you should buy you go out to celebrate New Year's Eve.
Keep in mind in order to qualify for tax year 2010 you will need to purchase and pay for the item before the year closes so you will probably have the best luck buying online instead of hunting for a local store that has one in stock or waiting for them to get one in that you can pay for.
These end of year purchases are most advantageous to small business that are going to turn a profit and can accelerate the depreciation of these purchases and write them off all in one year to offset a profit and prepare for the year ahead. Writing off the total purchase price of a technology item falls under Section 179 of the IRS tax code and does have limits. You can learn more about Section 179 from Section179.org.
The good news is that thanks to H.R. 5297 (the Small Business Jobs and Credit Act of 2010) the limit you can claim has increased greatly to $250,000 for 2010.
Before you go out and purchase these last minute technology items for your home office you should consult with a tax professional that knows your individual situation as we are not CPA's.
25 Last Minute Tech Tools to Buy for A Tax Deduction – Section 179:
Business Grade Laptop – ditch your consumer laptop for one aimed at professionals like a Mobile Workstation or the ThinkPad Edge.
Docking Station – Grab a docking station that allows you to connect your computer to all your accessories with one cord for a streamlined 2011. Look for models that match your laptop or pick up a universal USB Docking Station like several we have reviewed.
Large Hi Resolution Monitor – Stop squinting to look at your 14.1″ laptop screen all day and buy a high resolution large monitor for your home office.
Ergotron or Another Standup Desk – Start the new year right with good posture and an ergonomic workspace using a desk like the sit stand WorkFit S or WorkFit C workstations. Not only are they ergonomic, standing all day helps you lose weight.
Comfortable Office Chair – Don't spend another year in that $25 Staples special. Look into an office chair that supports you like one from Aeron.
Ultraportable/Companion PC – If your home computer is a large desktop replacement, or possibly an actual desktop, get an ultraportable laptop to take on the road. There are netbooks like the HP Mini 210 or Business class HP Mini 5103 as well as larger models like the IdeaPad U260, Dell Adamo, MacBook Air or the Toshiba Portege R705.
iPad – If you do lots of mobile presentations or need to show off your portfolio of work this is the perfect time to pick up an iPad. Just remember it needs to be used at least 50% for work so limit your time on Angry Birds.
High quality Scanner – Pick up a nice scanner like the Fujitsu S1300 to keep your receipts and other important paperwork easy to access.
Laser Printer – Get rid of that consumer grade inkjet printer and pick up a high quality laser printer that is more friendly on ink and toner and can print faster.
Digital Camera or Video Camera – If you're line of work requires you to have a digital camera or video camera this is a good time to get one. You don't need to be a photography professional to deduct this, but you do need to be able to prove you need it for your business.
Postage or Digital Postage – If you still send things by snail mail such as invoices stock up on stamps or get a digital postage scale with digital stamp credit.
Stock up on Subscriptions – If you are paying by month for the online software subscriptions, convert them to a yearly subscription. You'll probably save a few bucks on the purchase price and also on your taxes.
Shredder – Now that you have a good scanner go paperless with a shredder. Before you know it your routine will be scan and shred so that you aren't cluttering up a file cabinet with paper you won't be able to find later.
Backup Drive or System – Start  the new year right with a proper backup solution. If you need an external hard drive there are plenty to be had from the Apple Time Capsule to great deals on drives from Toshiba, Seagate and HP. You can also pick up a subscription to Mozy or Carbonite for an offsite backup that will keep your files safe!
New 802.11N Dual Band Router – If you haven't purchased a new wireless router in years, upgrade to 802.11n dual band router which delivers better range and faster transfers.
High-end Bluetooth Headset (designed for all-day use) – Stop spending the day with your neck tilted to the left and get a quality Bluetooth headset like the Plantronics Voyager Pro +. Xavier Lanier, our publisher has one and tells us, "These aren't the most mobile things, but they're great."
New Ergonomic Keyboard and Mouse – If you're still typing on the keyboard that came with your computer, upgrade to an ergonomic keyboard such as a Microsoft Comfort Curve model and get yourself a nice mouse too. We love the Logitech Performance MX which can mouse on almost any surface.
New Landline Phone – Stop dealing with static or limited range and get a high quality cordless phone for your home office.
Good Surge Protectors – Protect your gear with a great surge protector so that you don't lose out during a critical work day in 2011. APC makes quality surge protectors. Remember not all power strips are surge protectors!
Backup Power Supply – A [amazon_link id="B00006HYUC" target="_blank" ]Battery backup[/amazon_link] or Uninterruptable Power Supply(UPS) will give you time to save your work or finish a backup if the power goes out. Speaking from experience these are a must have in the office.
Buy a Cable Modem – Rather than paying a monthly fee for your cable modem, buy one outright and save yourself money every month. In most cases the savings will pay for your modem pretty quickly.
Business Cards – Even in a Facebook, Twitter World where we can bump phones to transfer contact information business cards still have a place and you can order new ones right now and still claim them for 2010.
Extra Chargers, Batteries and Cables – Do you travel a lot? If so an extra battery, charger and other miscellaneous cables might be the best buy you can make in the closing days of 2010. Don't forget extras for your smartphone too.
Apps – Apps might not be top on your mind, but if you need access to business software for your smartphone now's as good a time as any to buy. We like LogMeIn and several other business productivity apps for this category.
Evernote Premium – With a scanner and a smartphone you should really get Evernote Premium as you'll be scanning in everything you have to a central note repository that you can take with you wherever you go. It even has character recognition to allow you to search your handwritten notes.
Did we miss any essential end of year technology purchases? Let us know in the comments below what you plan to buy before the clock hits midnight on December 31.
Image Via Phillip on Flickr
Advertisement