Picking the best laptop of 2010 isn't easy to do as we have seen many very capable laptops released from manufacturers like HP, Toshiba, Asus and Samsung to name a few. In the end though, we kept coming back to the MacBook Air 13, which we are naming the best laptop of 2010.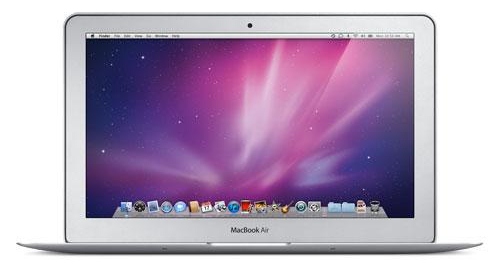 Why is the MacBook Air the best laptop of 2010? That's actually a really easy question to answer. Aside from converting two of our Notebooks.com writers to the Mac-side, the MacBook Air has almost everything we want in a portable computer. It's lightweight, has long battery life, a beautiful screen with a high resolution, a very usable keyboard and a trackpad that is to die for.
Did we mention it turns on almost instantly and even though it has an older Intel Core 2 Duo processor that will limit the usefulness to high end graphic professionals the built in iLife suite makes it easy for users to create videos, music and edit photos without waiting around forever.
The MacBook Air 13 has been the focus of several reviews here on Notebooks.com by Kevin Purcell who notes the amazing speed of the MacBook Air in his review, "the speed coming from the SSD is amazing. A computer with an Intel Core 2 Duo at 1.8GHz should not be this fast. But it is and it makes the 13.3-inch MacBook Air a great ulta-mobile option."
The Air also earned notice on GottaBeMobile where Xavier Lanier called the new MacBook Air, "the best laptop I've ever purchased or used," and detailed the many strengths of the MacBook Air 13 and a few of the MacBook Air faults.
The MacBook Air isn't perfect, we really wish it had a backlit keyboard and larger storage, but it is able to deliver a stellar mobile computing experience that is likely to convert many more Windows users to Mac.
As a user who is pretty much platform agnostic, the hardware side of the MacBook Air is really what sealed the title of Best Laptop of 2010 for the svelte machine with long battery life.
For more of our Best of 2010 picks check out our Best of 2010 Series and check out our Ten Most Exciting Gadgets of 2010 where we run down the technology and gadgets that made a mark on 2010.
Advertisement