The HP Mini 210 is one of the most recognizable netbooks on the market today and has gone through several slight model changes since its introduction. We took a look at the HP Mini 210 this summer, and now HP has sent us the latest HP Mini 210 model, which can be configured with an Intel Atom N550 processor, a choice of new colors and a collection of improvements to the design.
Keep reading to see if the refinements were enough to earn our seal of approval.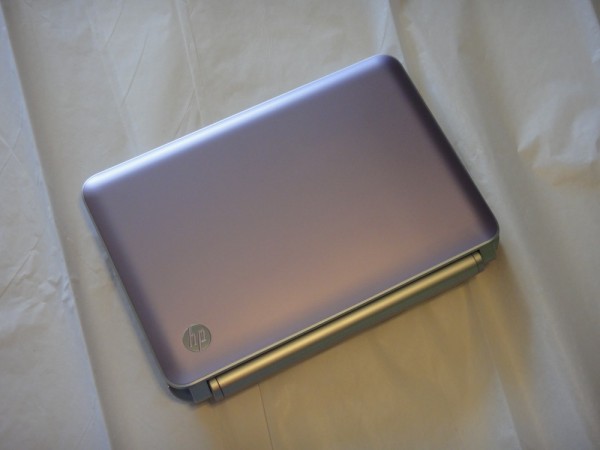 HP Mini 210 Quick Specs: The Mini 210 model we reviewed came with a 1.66GHz Intel Atom N455 processor, 1GB RAM, a 250GB 7200RPM hard drive and a 10.1″ display with a 1024 x 600 resolution.
Who is this netbook for? The HP Mini 210 netbook is a good fit for a student or home user thanks to the long battery life, small size and affordable pricing. Business users who are looking for a companion PC could get by with a Mini 210, but the Mini 5103 business class netbook would be a better fit.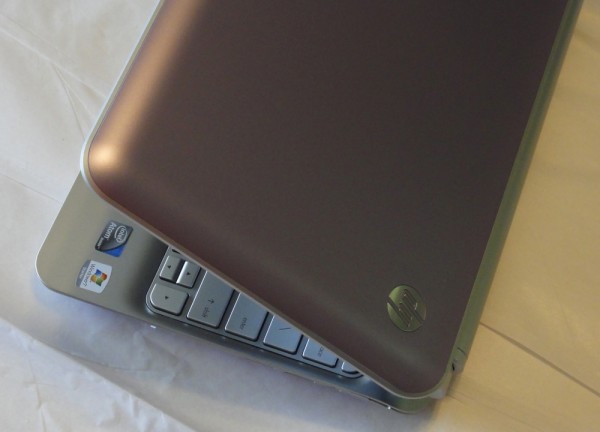 Design and Build: As we mentioned, the HP Mini 210 underwent a revamp in August that added the new lavender frost color that we have in for review but there were many other improvements to the notebook including the revamped hinge design. The hinge no longer restricts the display from opening to a limited angle, in fact you can open it all the way flat if you want which means you'll always be able to find a comfortable viewing angle, a very important factor for a mobile device like a netbook.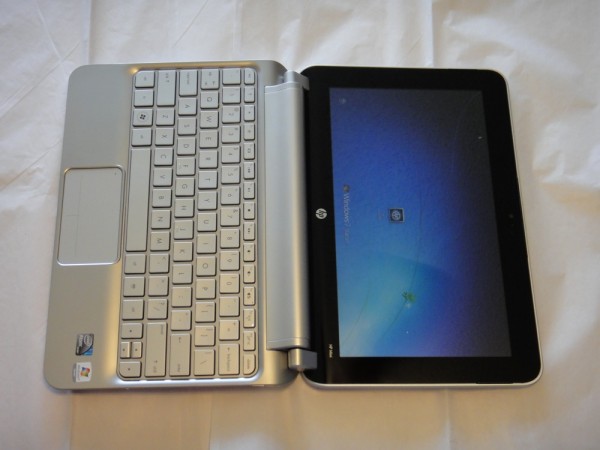 The 6-cell battery is also standard and fits in flush with the notebook so that you don't need a tail hanging off the back of your netbook to stay running all day.
Display: The 10.1″ display offered good viewing angles and sufficient brightness, but it is glossy and because of that can be hard to use with a bright overhead light or outdoors. The ability to tilt the display to almost any angle helps, but doesn't solve this problem.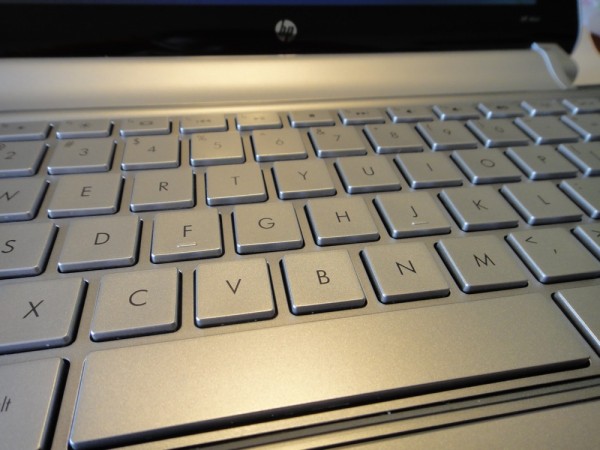 Keyboard and Mouse: The island style keyboard on the HP mini 210 is 93% off a full size and offers remarkable spacing and a good amount of feedback. It's still a netbook keyboard so you won't want to spend your life on it, but it is good enough for use as a companion PC. We typed up most of this review on the keyboard and were satisfied with the experience.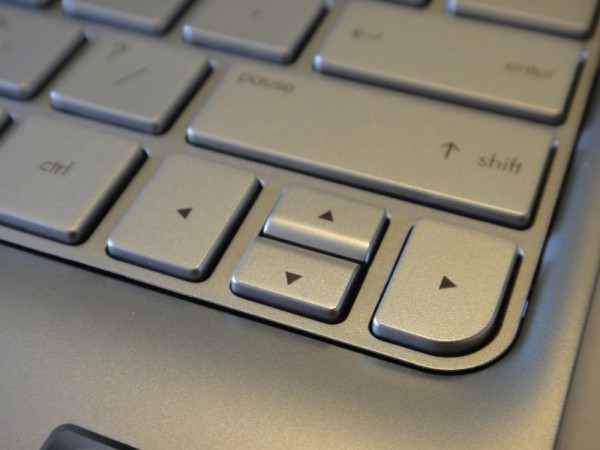 The key sizing an placement is also spot on, though if you rely on the arrow keys you should take note that the up and down keys are wedged in between the left and right keys at half size. We didn't find this to be an issue in our daily use, but is worth noting.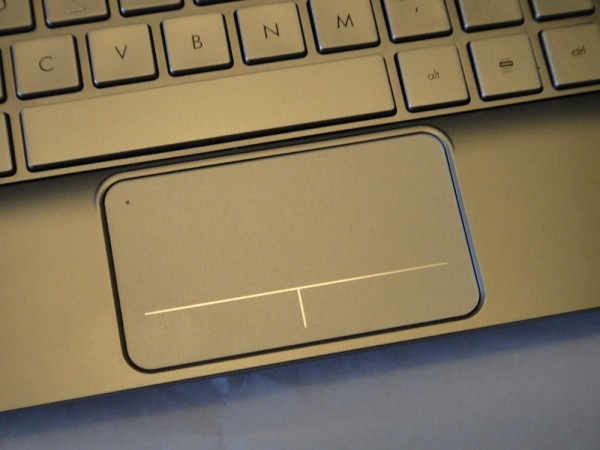 The mouse on the updated Mini 210 is the same model we saw on the last Mini 210 we had in for review, but thanks to some driver updates along the line it was a bit more user friendly. One of our previous complaints was that if we rested our thumb on the left click area we found that we would often initiate a zoom. With the current mouse and drivers we didn't have the same issues when browsing, though the mouse isn't perfect. The whole pad can be clicked, but the mouse only registers clicks on the lower third where the mouse button outlines are. We were really hoping to see the entire pad deliver a left click like the mousepad on the MacBook notebooks.
One other issue we ran into was that on occasion the two finger scrolling would be jerky in Chrome or in IE. We aren't sure if this is tied specifically to the mousepad or linked to the performance of the Intel Atom N455 processor.
Processor and Performance: For the standard battery of applications on a netbook the Mini 210 performed well even though it didn't come with one of the faster dual core Intel Atom N55 processors. The Mini 210 was able to handle Adobe Reader, Chrome with 4-5 tabs and Internet Explorer open without missing a beat. Don't expect to do movie editing or lots of photo editing, but you can retouch photos in Windows Live Photo Gallery.
Audio and Video: The video performance on the Mini 210 was pretty impressive given that we didn't have one equipped with a Broadcom HD accelerator. We were able to play Standard definition YouTube clips and watch a Netflix movie in SD without any trouble. When we tried to play a 720P HD version of the Big Buck Bunny trailer the Mini 210 couldn't handle it without a few stutters.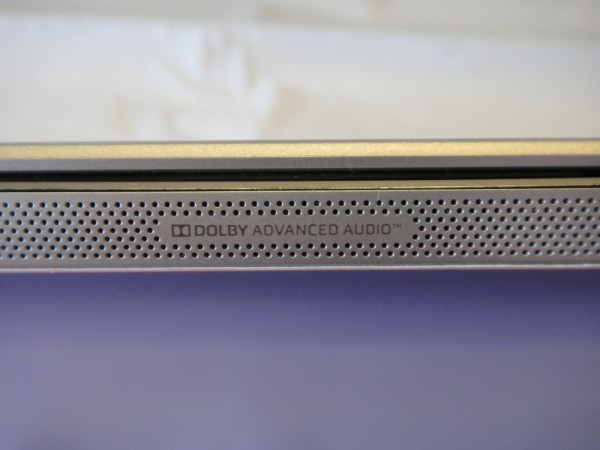 The HP Mini 210 comes with built in speakers and Dolby Advanced Audio that delivers an audio experience that is adequate, but could go a little louder, especially considering that the speakers are on the front of the netbook and will at times be impaired a bit by your pants. The audio quality is on the upper side without a tiny tone or crackling with the audio at full size.
Heat and Noise: The HP Mini 210 did get a bit warm on the bottom rear after extended use, especially with video involved in. It wasn't warm enough to cause discomfort, but we could tell that it heated up. The palmrest and keyboard didn't reach a noticeable heat level after a few hours of use.
During these periods of warmer use the fan would run, but it was a pretty quiet one. We couldn't hear the fan over the din of conversation in a small room or over the TV when we used the netbook on our couch.
Battery: The 6-cell battery on the HP Mini 210 is pretty impressive with a 10.5 hour rated battery life. We tested out the Mini 210 with the Laptop Magazine Battery test which browses until the battery dies. With the screen brightness set at 40% we were able to achieve 8 hours and 43 cents worth of battery life during browsing which means you'll be able to leave the charger at home and go all day.
Connectivity: The HP Mini 210 has all the ports you'd expect on a netbook and thanks to the easy to remove rear which comes apart with pull tabs you have easy access to upgrade the RAM and hard drive.

Left: Power, VGA, Vent, HDD indicator light, USB 2.0, Headphone
Right: SD card slot, Power switch, USb 2.0, USB 2.0, Kensington lock, ethernet port (behind cover)
How to Upgrade the RAM on the HP Mini 210 in 30 Seconds:
Software: The Mini 210 comes with some handy software including HP QuickWeb which allows you to boot into a web browser in a few seconds. This is incredibly useful if you have one email to send or need to check an address quickly. The Mini 210 also comes with HP CloudDrive which offers 2GB of online storage similar to services like Dropbox and HP QuickSync which offers a similar service for keeping files in sync between two or more computers. Another nice touch, Evernote is already installed.
Value: The HP Mini 210 is a great value for a netbook, providing users with a capable machine with a long battery life for just over $300.
Conclusion: We found the Mini 210 to deliver a stellar netbook experience at a great price. The 210 could easily move from work to play and back again with enough battery life to do just that. While netbooks have a tough time competing with the iPad these days, the Mini 210 offers a nice alternative thanks to the ability to get a lot of work done on the capable keyboard and the ability to relax by watching movies and YouTube videos.
Pros:
Lightweight with plenty of color options
Nice Keyboard
HP Quickweb software
Price
Cons:
Low resolution
Glossy screen
HP Mini 210 Specs:
| | |
| --- | --- |
| Brand | HP |
| Model | Mini 210 |
| Notebook type | For consumers |
| Operating system | Genuine Windows 7 Starter 32 |
| Processor | Intel Atom N455 Processor (1.66 GHz, 512 KB L2 cache, 667 MHz FSB) |
| Chipset | Mobile Intel NM10 Express Chipset |
| Memory type | 1GB DDR3 SDRAM, running at 667 MHz |
| Maximum memory | 2 GB (Maximum memory is 1 GB with some configuration) |
| Memory | Choices: 1 GB |
| Internal Storage | Choices: 250 GB 7200 rpm SATA Hard Drive |
| Display Size | 10.1″diagonal Widescreen |
| Display type | LED-backlit WSVGA |
| Resolution | 1o24 x 600 |
| Graphics Card | Intel Graphics Media Accelerator 3150 HD |
| Audio / Visual | High Definition Audio, stereo speakers, combo stereo headphone/mic jack, integrated microphone; integrated VGA webcam |
| Wireless Support | Broadcom 802.11 a/b/g/n or b/g |
| Communications | Realtek Ethernet (10/100/1000 NIC) |
| Expansion slots | 5-in-1 Media Card Reader: supports SD (Secure Digital), MMC (MultiMedia Card), Memory Stick, Memory Stick Pro, xD-Picture card |
| Ports and connectors | (3) USB 2.0 ports, VGA, power connector, RJ-45/Ethernet, combo stereo headphone/mic jack |
| Input Devices | 93% full-size keyboard, click pad with gesture support |
| Security | Kensington lock slot, BIOS support for Computrace |
| Dimensions | (10.55 in (L) x 7.51 in (W) x 0.9-1.26 in (H) |
| Weight | Starting at 3.1 pounds |
| Power | 6-cell Lithium-Ion battery, 40W AC Adapter |
| Expansion Solutions | HP USB 2.0 Docking Station, HP Essential USB Port Replicator |
| Warranty | Limited 1-year and 90-day warranty options available, depending on country, 1-year limited warranty on primary battery |
| Color | Choices: Charcoal, Lavender Frost, Ocean Drive, Luminous Rose, Crimson Red |
Advertisement