During their Q1 2012 earnings results call to investors, new HP CEO Meg Whitman indicated that the company needs to simplify its product line and focus more on the PC saying that the company's new HP Envy Spectre ultrabook is the kind of innovative design they need to offer customers telling those on the call, "We need more of that."
Whitman explained that the company sought to increase profits focusing less on market share during the quarter and admitted that HP became "too complex and too slow" referring to their inability to react to the industry's changes in recent years. She said, "We've been late to the market too often."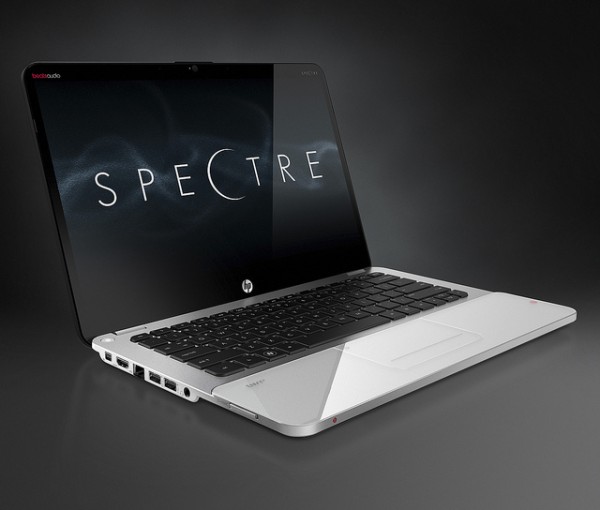 She admitted that HP had "a tough quarter" shown by the company's lower numbers. Their results show a decline of 7% in net revenue and a 61% decline in cash flow. Whitman hopes to improve those numbers by simplifying their product lines and putting more emphasis on their PC industry. Previous CEO Leo Apotheker signaled that he might lead HP in the opposite direction, selling off the HP PC business. Whitman will reverse that course hoping to produce designs that will electrify consumers with notebooks like the HP Envy Spectre.
The HP Envy Spectre is an ultrabook with an interesting glass lid and palm rest and a large 14″ display crammed into a 13″ body. HP included NFC for tap-to-share with smartphones. It has an Apple-like large touchpad and fairly powerful internals. Despite the smaller chassis you get all the ports you would need or expect on a computer along with a promised 9 hours of battery life. Our own Josh Smith got some hands on at the HP booth this year at CES 2012.
Costing around $1,400, can the computer compete in a market saturated with $500 notebooks that are "good enough" for a majority of what users want? Everyone wants to out-Apple Apple with beautiful hardware at a premium price, but we have yet to see anyone succeed. This year we have a chance with all the other ultrabooks on the way.
Whitman said HP will also ship Windows 8 computers by the holiday season. Microsoft will release a public beta of the new operating system this month and likely release the final form in the fall. If Microsoft hits that target, HP will support it in new products for the busy holiday buying season. She told investors, "… we're rooting for a fantastic Windows 8 product that's out on time for holiday."
I'm a long-time HP customer. I own an HP notebook, my fifth. Add to that a couple of HP printers a pari of desktops and an old HP Jornada, a Windows CE PDA. I have a nostalgic interest in their products. Readers of the recent Steve Jobs biography know that, if there was no HP, there wouldn't be an Apple. Steve Wozniak cut his teeth as an engineer for the company and Steve Jobs benefited from their generosity in his early days when he called the CEO in his home town asking for spare parts for his early projects. HP is an important part of the computer industry's history.
Most consumers think of HP as a bargain basement junk maker whose products you find mostly at big box and office stores. Uninformed sales associates tout their products as "nice" and "okay" knowing little of the company's history. HP deserves this reputation because they've catered to the low-end market and matched the quality of their products with equally poor customer service.
This means that HP has an uphill battle, in terms of building better products and convincing customers to try HP again.
I would love to see HP succeed in reinventing itself with creative designs like the Spectre and awesome hardware to compete with Apple and others. That's a tall order with average computer prices clocking in at a third of the Spectre's cost.
Still, the PC industry is better with a strong HP. If Whitman fails and they bow out of the PC industry as previously planned, the PC business is weakened. I'm rooting for Meg to turn the company around, something this brand so desperately deserves.
Source: HP Investor Relations Q1 2012 Earnings Report and The Verge both here and here.
Advertisement