The Staples Black Friday 2010 add just leaked and it is filled with a lot of Black Friday Laptop deals including the 17.3-inch HP DV7-4171us desktop replacement laptop which is selling for $749.99 on Black Friday.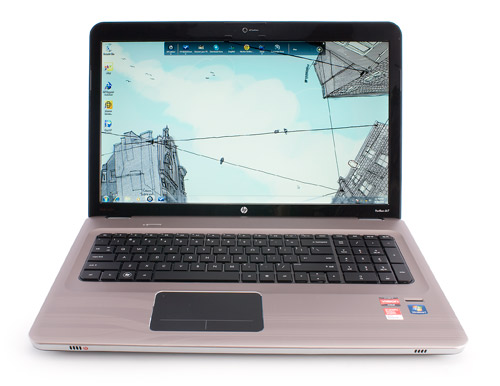 Desktop replacements are large and often heavy laptops that have some power but at the cost of portability and battery life. This model fits that category. It is a system with a Triple-core processor, something unique among notebook computers. Multiple cores means the computer can handle multiple tasks without a lot of difficulty.
The AMD Phenom II Triple-core Mobile Processor N850 paired with 4GB of RAM and an ATI Mobility Radeon HD 5470 switchable graphics means this laptop has some power for hard core computing tasks. It can be used for some gaming and almost anything else you throw at it. Switchable graphics means the graphics card will power down when it is not being taxed that much to save battery life. Staples specs list say the 9-cell 93WHr Lithium-ion battery should last around four hours, but take that with a grain of salt. This powerhouse will not be one to take on a plane for movie watching if it is a long flight, rather it will sit on a desk nicely and be great for occasionally taking with you. At over 8 pounds, remember to work out first. This thing will start feeling heavy quick.
The hard drive gives you plenty or room at 500GB. It also comes with a Blu-ray drive, a nice addition for watching High Def discs. We are not sure if there is an HDMI port or not. The Staples specs list says no, but the linked HP document about the system says it does have one. We're inclined to go with HP's document on this one. If it does have an HDMI out port, then it might make a good addition to an entertainment center. Hook up the system with just one cord to a high def set and you have a Blu-ray player and an Internet video and gaming system. If that is of primary interest be sure to ask, but we're pretty sure it does have one.
The Beats Audio with HP Triple Bass Reflex Subwoofer is going to offer some really nice sound. If your college student wants a laptop, this might be a good choice, as a recent study we reported this summer shows that students want better audio in their computers. And if you want to just watch the movies on the large screen it has a 1600×900 resolution, which is not quite 1080p, but is higher than minimum HD standards.
Wherever you put this monster, leave plenty of room for the computer. It is not small at 16.35″ wide x 10.8″ deep x 1.25″ thick at the front and 1.46″ thick at the back.
For connectivity there is both wireless networking (802.11 b/g/n Wi-Fi) and a fast Gigabit Ethernet card. Your student will love that, if the dorms have a fast network. And your home network, if it is also fast enough, will make file transfers between this and a desktop or another system seem quick.
Below is a video review of a similar video from this series. It has a different processor and no Blu-ray, but will let you see the overall size and build of the DV7 line from HP:
Other ports include a 5-in-1 integrated card reader and four USB 2.o ports and a combo eSATA/USB 2.o port.
Finally, the large keyboard with a number pad will be useful for typing long papers or working on large spreadsheets. And the chassis, made of an aluminum alloy with a nice texture won't collect finger prints.
This seems like a nice system that will last a college student for a good portion of his or her career, so long as they don't plan on lugging it all over campus. Other options would be a student's bedroom or a great do-it-all system for your home office. If there is a TV close by, then you will enjoy having the computer as part of the entertainment center too.
The $749.99 price out the door is not exactly a great bargain. In fact it is the same price as Staples has the laptop priced today, but that is after a $50 rebate. So you get the system without the headache of the rebate for the same price as those buying now and sending in the paperwork. If you don't like rebates then wait till Black Friday. If you don't mind them, then there is no reason to wait on this one.
Advertisement