Techcrunch is reporting that the long-awaited HP Slate will not be launched as planned. HP had previously stated that it would launch its first consumer-centric slate this summer.
Earlier this month, HP released a promo video of its slate device demonstrating several features not found on the iPad. It was shown running a customized user interface on top of Windows 7. The HP Slate could function as a full-fledged PC and run any Windows application.
While the cancellation of the HP Slate has not been confirmed by the company, a Techcrunch source stated that Windows 7 was not efficient enough for the mobile platform. According to a leaked presentation, HP noted that the iPad's 10-hour battery life was a competitive disadvantage since the slate could only run for five hours on a single charge.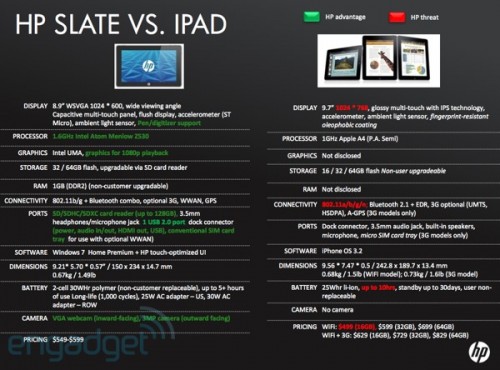 While many are still hoping the HP Slate sees the light of day, several things happened this month that may have changed HP executives' minds about releasing the product. Apple iPad sales have exceeded everyone's' expectations, Apple announced iPhone OS 4.0 and the new iPhone hints at upcoming improvements to the iPad. HP also bought Palm, which comes with a mobile operating system that could be used on future slate devices.
HP has a long history of making Tablet PCs. The HP Slate brings back memories of the HP Compaq tc1000 series, a device that countless tablet fans have asked HP to revive. HP currently sells two convertible Tablet PC series, including the Pavilion tm2 and HP Elitebook 2740p.
Advertisement