There are laptop and then there are mobile workstations. Mobile workstations like the HP Elitebook 8540w are a step, or three above the business class notebooks you might have at work and can barely compare to the consumer models you'll find on the shelves of your local Best Buy. These portable powerhouses aren't just designed to meet the high end computing demands of power users, they are also designed to withstand the stresses of the business world, like being dropped from a table and still running.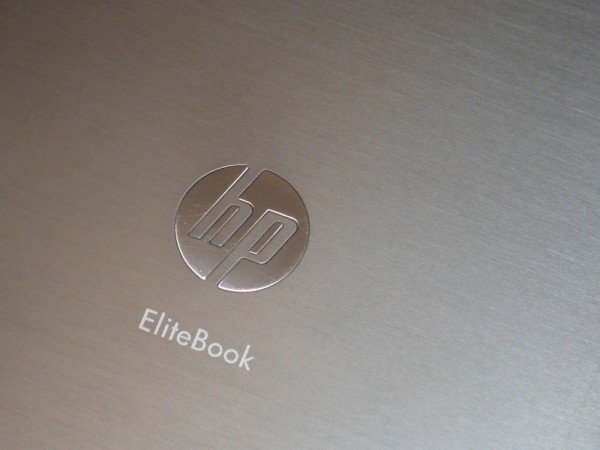 HP EliteBook 8540w Quick Specs: The EliteBook 8540w is powered by a 2.67GHz Intel Core i7 M620 processor, 4GB RAM, 320GB hard drive and a NVIDIA Quadro FX 880M GPU with CUDA 1GB Video RAM. The 8540w comes with a 15.6″ anti-glare screen and a 1600×900 resolution.
Who is the EliteBook 8540w for? The EliteBook 6540w is a notebook designed for users with demanding needs such as users who spend time in AutoCAD and Adobe programs all day. Architects and Illustrators are just a few of the career paths that might find a Mobile Workstation like the 8540w a good fit.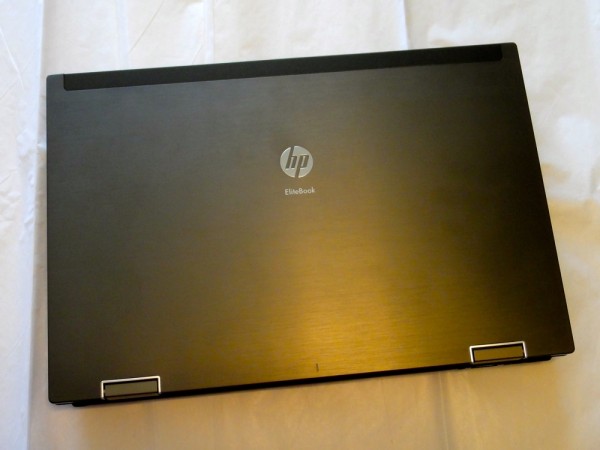 Design and Build: The 8540w is a very sturdy laptop that is designed to live up to Military Standards (MIL-STD 810G) with a spill resistant keyboard and can withstand 300 pounds of weight on the display enclosure. The system has also been drop tested for a 30″ fall off a standard size desk.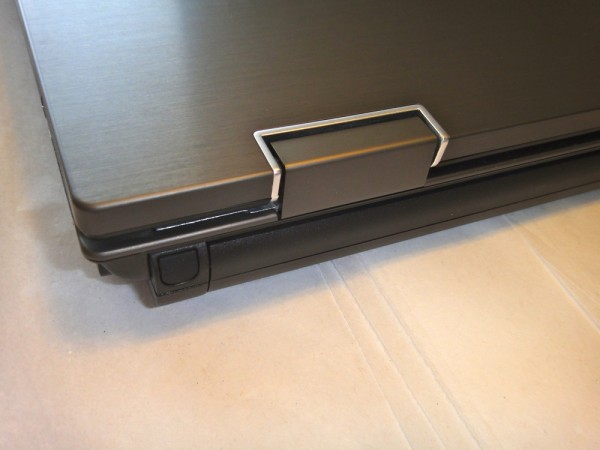 The chassis is made of magnesium alloy, the lid of magnesium and aluminum and the hinges are metal with a steel pin. Rounding out the durability are HP DuraKeys and a touchpad that has a coating for long life and metal pins that latch the notebook shut.
Now that you know what the 8540w has, how does that translate into real use? Without a doubt this is one of the sturdiest notebooks we have seen or used. The entire machine has a very durable and study feel too it from the display down to the chassis with no detectable bending or bowing when we pushed on the display or the base of the unit. We wouldn't recommend it, but we'd venture to guess that in a pinch you could use the 8540w to drive a nail in your wall, hang a picture and go right back to work.
From a design standpoint, we like the slight curve on the front edge of the palmrest that keeps the edge from digging into your palm. We also like that the sturdy feel of the display and the ability to tilt the screen all of the way back to level with the keyboard if you desire.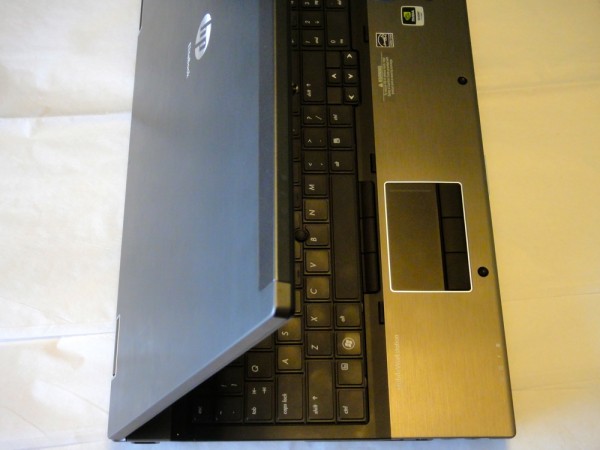 Display: When you put the 15.6″ screen with a  1600 x 900 resolution and anti-glare it's hard not to like the display. Our model isn't equipped with the HP DreamColor display, but users who need a accurate color representation, such as animation, video production or product design will likely want to spring for that option. Even without the DreamColor display, the display on the 8540w was very nice with great vertical and horizontal angles.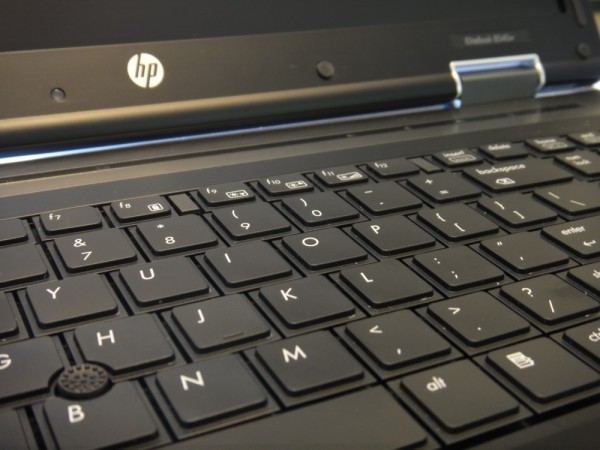 Keyboard and Mouse: The keyboard on the 8540w is alright, with good feedback and a nice feel to the keys, but we really wish that it had an island or chiclet style keyboard that leads to better spacing between keys. The keyboard could also benefit from a bit of a curve to the top of the keys like we've seen on other laptops like the IdeaPad series.
The dedicated number pad is a nice touch and fits in without affecting the size or placement of the standard keys you are used to. If you are a number cruncher, you'll really enjoy the number pad.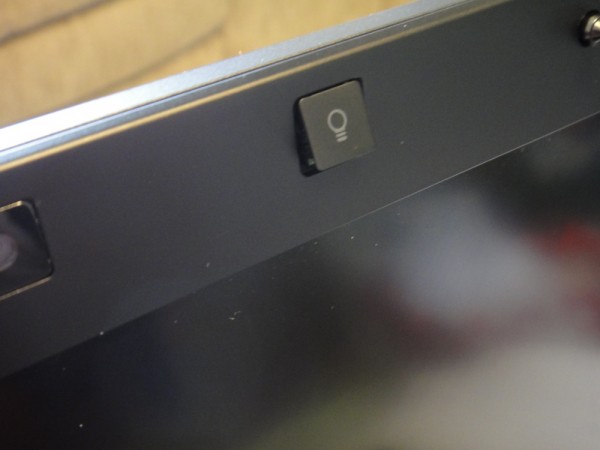 There is a light on the display which can be turned on to illuminate the keyboard, but it doesn't offer as much light as you would get from a backlit keyboard.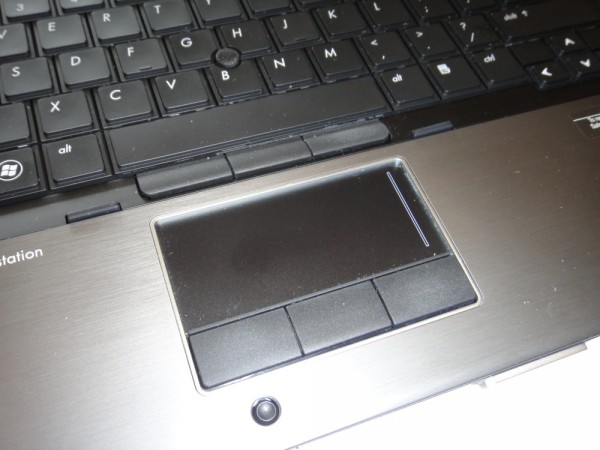 There is a standard touchpad on the 8540W that supports multitouch gestures and actually responds alright to zooming and scrolling as well as a nub that's nestled in between the g, h, and b keys for users who prefer that method of mousing. We are partial to the touchpad, but we really wish it was larger. As is the mouse buttons take away from the available space quite a bit. The buttons are dedicated and have a slight rubbery feel that provides a decent grip. There are left, right and middle mouse buttons below the trackpad and the same above the trackpad for use with the pointer nub.
The pointer nub method works as advertised and just like with the other implementations we have seen you'll either love it or hate it.
Processor and Performance: With an Intel Core i7 processor and an incredibly capable GPU there's not a lot you can't get done with this mobile system. In our testing of the apps standard business users would use on a daily basis the system performed without any slowdown even with many programs running and countless tabs open in the Chrome browser.
We don't have the powerful apps on hand that many EliteBook users will use on a normal basis, but one of the areas where the EliteBook shines is that HP certifies theses mobile workstations to work with common software suites and tools so that end users are guaranteed the same experience across multiple devices.
Popular application areas include:
Mechanical Computer-aided Design (MCAD)
Mechanical Computer-aided Engineering (MCAE)
Digital Content Creation (DCC)
Financial markets
Oil and gas
Geographic information systems (GIS)
Software development
Scientific research
Electronic Design Automation (EDA)
Audio: Sound over the integrated speakers is adequate, but a bit subdued in the middle and a bit quiet for our tastes. If you plan to use this mobile workstation for entertainment on the side you may want to invest in a nice pair of portable laptop speakers.
Battery: The 8 cell battery on the EliteBook 8540w is rated for 5 hours and 30 minutes of life and came close in a browser test using Laptop Magazine's battery testing utility which delivered a 4 hour and 27 minute battery life with the screen set at 40% brightness.
Heat and Noise: While we didn't observe any noticeable noise while using the system, it did get pretty warm after extended use on our lap. Not enough to scorch us, but enough to suggest that you'll want a laptop cooler or a desk for extended use.
Connectivity: As a mobile workstation the EliteBook 8540w has more ports and connections than you might find on consumer laptops and even on business class notebooks.

Left: USB 2.0, USB 2.0, Vent, DisplayLink, eSata, USB 2.0, Firewire, Mic, Headphone, Expresscard 54

Right: Integrated Security Card Reader, DVD RW drive, USB 3.0, USB 3.0, Ethernet, Phone Jack, Kensington lock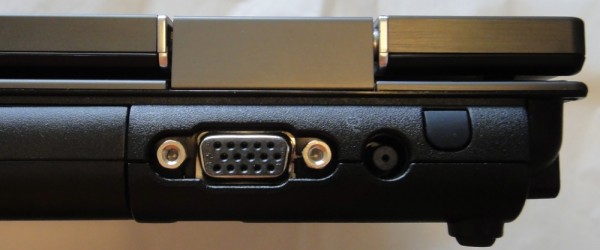 Back: VGA, Power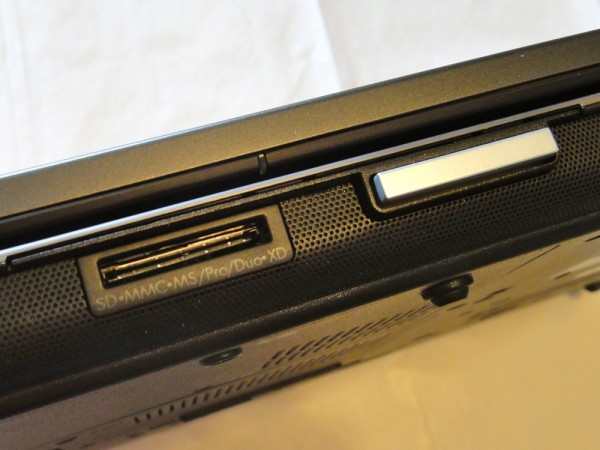 Front: SD Card Reader
Software: The EliteBook 8540w comes with a collection of software tools that are designed to maximize the usefulness of the notebook to business users.
QuickLook – This tool provides users with a fast way to access their personal information such as Outlook email and calendar information.
QuickWeb – Choose to boot into QuickWeb when you are booting up the computer for access to the Internet in seconds instead of minutes. This is especially handy if you need to look up one piece of information after shutting off your computer.
Power Assistant -HP Power Assistant is a nifty way to control how much power your laptop uses. Unlike the standard Windows power schemes, you can see the results of switching to different power plans in terms of minutes saved and you can also see your power usage over time.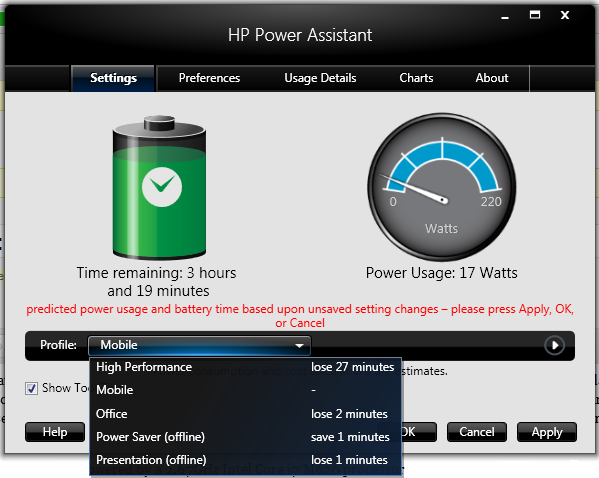 Value: The 8540w isn't a notebook for everyone with a starting price of $1,349 but for business users who need a machine that stands up to the harshness of life on the road and that has been tested to work with many leading applications this is a great value.
Conclusion: We aren't sold on the hybrid style keyboard, but overall the EliteBook 8540w offers a very capable and durable mobile workstation that delivers a good deal of power in a package that is still portable enough to take on the road without a roller case.
Pros:
Durable but portable
Powerful with Core i7 Processor
Cons:
Small Mousepad
Non island style keyboard holds it back
HP EliteBook 8540w Detailed Specs:
| | |
| --- | --- |
| Operating system | Genuine Windows® 7 Professional 32 |
| Processor | Intel® Core™ i7-620M Processor (2.66 GHz, 4 MB L3 cache) |
| Chipset | Mobile Intel® QM57 Express |
Dimensions and weight
Weight
Starting at 6.5 lb (2.97 kg)
Dimensions (w x d x h)
14.7 x 9.9 x 1.28 in (37.4 x 25.2 x 3.2 cm)
Memory
Memory, maximum
4 GB 1333 MHz DDR3 SDRAM
Memory slots
2 or 4 SODIMM
Storage
Internal drive
SATA II (7200 rpm)

From: 320 GB

Optical drive
DVD-ROM; DVD+/-RW SuperMulti DL LightScribe
Graphics
Display
15.6″ diagonal LED-backlit HD+ anti-glare; 15.6″ diagonal LED-backlit FHD anti-glare;
Graphics
NVIDIA Quadro FX 880M graphics with 1 GB dedicated DDR3 video memory
Expansion features
Ports
3 USB 2.0

2 USB 3.0

1 eSATA

1 external VGA monitor

1 DisplayPort

1 1394a

1 stereo microphone in

1 stereo headphone/line-out

1 AC power

1 RJ-11

1 RJ-45

1 docking connector

1 secondary battery connector

Slots
1 Express Card/54

1 Smart Card Reader

1 Secure Digital

Audio
High definition audio; Integrated stereo speakers; Integrated dual-microphone array; Touch-sensitive controls for volume up, volume down, and mute; Stereo headphone/line out; Stereo microphone/line in
Integrated camera
2 MP webcam (select models)
Keyboard
Spill-resistant keyboard with numeric keypad and drain
Input devices
Enhanced dual pointing devices (touchpad and pointstick) with scroll zone
Communications
Network interface
Integrated Intel Gigabit Network Connection (10/100/1000 NIC)
Wireless
Intel Centrino 802.11a/b/g/n

HP Integrated Module with Bluetooth® 2.1 Wireless Technology
Power and operating requirements
Energy efficiency
ENERGY STAR® qualified configurations available
Power supply
150W Smart AC adapter; 120W Smart AC adapter; 90W Smart AC adapter; HP Fast Charge
Battery  type
8-cell (73 WHr) Li-Ion
Battery life
8-cell (73 WHr): up to 5 hours and 30 minutes
Operating temperature range
41 to 95° F (5 to 35° C)
Storage humidity range
5 to 95% RH
Security management
Security management
Standard: Integrated Smart Card Reader, HP ProtectTools, TPM Embedded Security Chip 1.2, Enhanced Pre-Boot Security, HP Spare Key (requires initial user setup), HP Disk Sanitizer, Enhanced Drive Lock, Drive Encryption for HP ProtectTools, Credential Manager for HP ProtectTools, File Sanitizer for HP ProtectTools

Optional: LoJack Pro for HP ProtectTools, HP Fingerprint Sensor, Smart Kensington Lock, HP Privacy Filter, McAfee Security Solution
What's included
Software installed
HP Recovery Manager (available with Windows 7 or Vista only); HP Support Assistant (available with Windows 7 or Vista only); HP ProtectTools Security Manager; HP QuickLaunch Buttons Software; HP QuickLook 3; HP QuickWeb; HP Power Assistant; HP Connection Manager; HP Wireless Assistant; Microsoft Office 2010 preloaded (purchase of a Product Key required to activate a full Office 2010 suite)
Manageability features
gunmetal finish with Mil-STD 810G testing
Warranty
HP Services offers limited 3-year standard parts and labor onsite, next business day warranty, and toll-free 7 x 24 hardware technical phone support; 1-year limited warranty on primary battery. On-site service and warranty upgrades are also available.
Advertisement