Dell has just announced an update to the Dell Precision M6600 notebook, a 17.3″ mobile workstation designed to deliver a desktop replacement experience that is still portable enough to go wherever mobile professionals need to work from.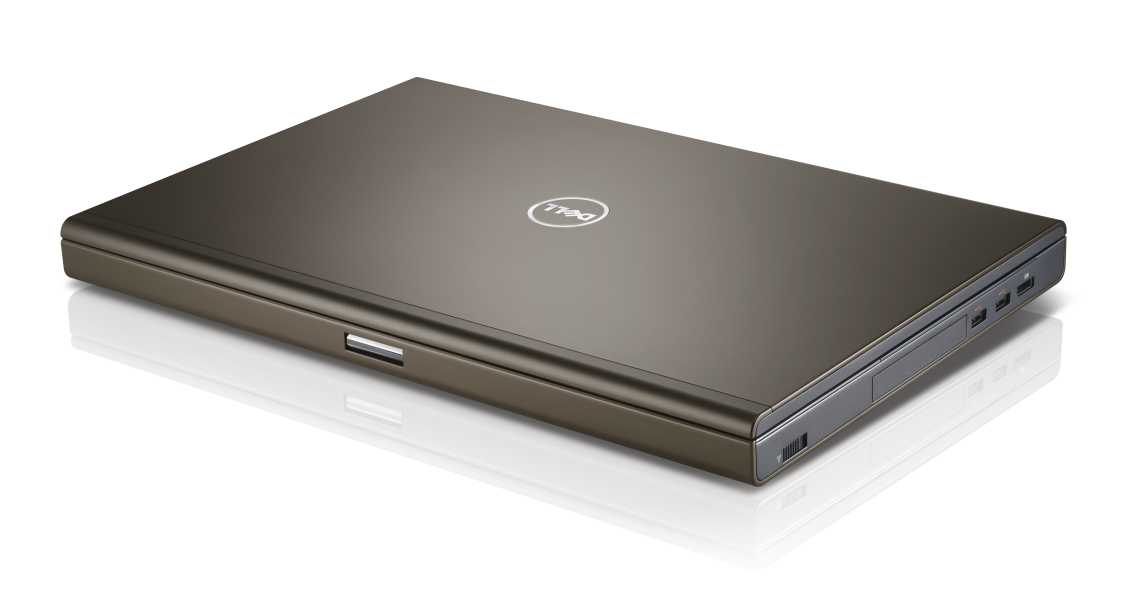 The Precision M6600 is the premium mobile workstation from Dell and is designed to deliver the power that users need to do work locally, wherever that may be — and whatever that may be.
Dell Precision M6600 Processors
The M6600 makes use of the new Sandy Bridge, 2nd Generation Intel Core i Family of processors. The processor options include Core i5 and Core i7 options, including up to a Quad-Core i7 Extreme processor option. There are also options vPro options to assist with IT management.
Dell Precision M6600 Memory
The Precision mobile workstations can handle up to 32GB of 1333MHz RAM and 16GB 1600MHz RAM. The systems will support 32GB 1600MHz RAM when the larger DIM sizes are available. The 1600MHz memory is something Dell calls out as unique to the Dell Mobile workstations and is available on all Quad-Core processor options.
Dell Precision M6600 Graphics Options
The new Precision M6600 mobile workstations include NVIDIA QUADRO and AMD FirePro graphics options.
The AMD FirePro M8950 has 2GB DDR5 and supports 3 displays with the included ports and can be extended further with a dock. There are also two NVIDIA QUADRO processors available at launch, the 3000M and 4000M which have 2GB DDR3 dedicated memory. Later, Dell will add support for the NVIDIA QUADRO 5010M with 4GB of DDR5 Memory, the largest on a Dell notebook.
The NVIDIA options include NVIDIA Optimus to intelligently switch to the integrated Intel 3000 HD graphics.
"AMD and Dell have collaborated to offer the Dell Precision M6600 with AMD FirePro M8900 and Dell Precision M4600 with AMD FirePro M5950 as workflow tools for professionals in a wide range of industries," said Sandeep Gupte, Director, Product Management, AMD Professional Graphics in the Dell press release. "With AMD Eyefinity multi-display technology, engineers and designers can increase their productivity by expanding their visual real estate. Dell Precision workstations and AMD FirePro™ Mobility Professional Graphics deliver advanced technology, performance and reliability that professionals expect.
Dell Precision M6600 Display Options
The M6600 has a collection of 17.3″ displays which fit various use cases and needs. Included in the options is a Premier Color IPS REGB panel with support of over a billion colors. There is also a multitouch option with four finger touch support and a stylus which will be available later this year. The base resolution is 1600 x 900, but you can also get a 17.3″ display with a 1920 x 1080 resolution. All screen options are anti-glare.
The RGB screen option includes the ability to customize color settings for different applications.
Dell Precision M6600 Storage Options
The M6600 has a collection of storage options including up to 750GB 7200RPM hard drive and an increase in the size of the mini SSD department from 64GB to 128GB. The Mini SSD can be combined with the traditional hard drive or with a second SSD. If you have the same capacity SSD the Precision M6600 will support RAID setups.
Coming soon, you will be able to get a 512GB SSD option on the M6600. If you lose the optical drive you'll be able to configure the M6600 with 1TB of solid state storage.
If you need to use different hard drives for different clients or projects, the primary hard drive can be removed with a level action. If you keep your OS on the mini SSD, you can leave sensitive data at a client site or secured in a hard drive easily, without losing the ability to use your notebook.
Dell Precision M6600 Design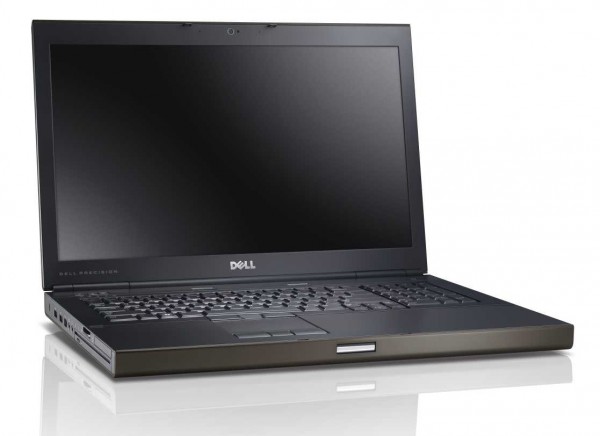 The new M6600 has a new unique to the Precision line chassis which Mano Gialusis, Senior Product Manager of Dell Precision Mobile Workstations tells us is "unique from the ground up," allowing for no compromises on the chassis in regards to thermals, CPUs and expandability that isn't possible when you need to accommodate other notebook lines.
On the outside, the Precision M6600 has an anodized aluminum case and allows users easy access to the internals with a two screw base plate. The M6600 shares this design and internal setup with the smaller Dell Precision M4600.
Dell Precision M6600 Features
The Precision line is designed to deliver a mobile notebook that doesn't mean users need to give up any performance or rely on uploading data to a remote system. With the system options available Dell is aiming to deliver notebooks that can be used to work in Media or CAD and with Seismic Data to name a few.
For users that need to ensure that applications work with the Precision notebooks, the M6600 is ISV certified to work with numerous third party apps.
The Precision mobile workstations are also compatible with the Dell Latitude E Family of docks.
Dell Precision M6600 Security
On the security side there is a fingerprint reader, TPM, Control Vault and there is the ability for a FIPS certified encrypted hard drive.
Dell Precision M6600 Durability
The Precision M6600 is durable as well as secure. The M6600 isn't to the Dell XFR level, but it is MILSPEC 810G level.
Dell Precision M6600 Pricing and Availability
The Dell Precision M6600 will start at $2,158 and will be available on May 10th.
Dell Precision M6600 Specifications
Dell Precision M6600 Technical Specifications

Processors
Second generation Intel® Core™ i5 and i7 processors, up to Intel Core i7 Extreme Edition, with Intel vPro™

advanced management; smart security and manageability on every chip.

Operating Systems
• Genuine Windows

®

7 Ultimate (32-Bit or 64-Bit)
• Genuine Windows

®

7 Professional (32-Bit or 64-Bit)
• Genuine Windows Vista

®

Ultimate (32-Bit or 64-bit)

• Genuine Windows Vista

®

Business (32-Bit or 64-bit)

• Red Hat

®

Enterprise Linux

®

version 6 (select regions)

• Ubuntu Linux (select regions)

Chipset
Mobile Intel

®

QM67 Express
Memory

3

4 DIMM slots: up to 32GB 1333MHz; Or up to 16GB 1600MHz memory
Graphics

2

• AMD FirePro M8900 Mobility Pro with 2GB GDDR5 dedicated memory
• NVIDIA Quadro 3000M with 2GB GDDR5 dedicated memory
• NVIDIA Quadro 4000M with 2GB GDDR5 dedicated memory

• Coming soon: NVIDIA Quadro 5010M with 4GB GDDR5 dedicated memory

Display Options
• 17.3″ HD+(1600×900) UltraSharp™ display: anti-glare, LED-backlit, Premium Panel Guarantee

5

• 17.3″ FHD(1920×1080) UltraSharp™ multi-touch display: LED-backlit, supports stylus / four finger simultaneous
touch, Premium Panel Guarantee

5

• 17.3″ FHD(1920×1080) UltraSharp™ display: wide view, anti-glare, LED-backlit, Premium Panel Guarantee

5

Storage Options

6

Dell Fast Response Free Fall Sensor standard; Support for one or two 2.5″ SATA drives:
• 7200rpm hard drive from 250GB up to 750GB; 7200rpm 320GB FIPS Certified Self Encrypting Drive
• Solid state drive (SSD) from 128GB to 256GB; 512GB coming soon

Optional 128GB Solid State Mini-Card secondary storage device

Optional RAID 0 or RAID 1 (via two 2.5″ drives or one 2.5″ drive + one solid state Mini-Card)

Optional RAID 5 (requires two 2.5″ drives + one solid state Mini-Card)

Communication Options

Wired:

Integrated 10/100/1000 Gigabit Ethernet

Wireless LAN and WiMax:

• Intel Centrino

®

Advanced -N + WiMAX 6250

• Intel Centrino

®

Ultimate-N 6300 3×3

• Dell Wireless 1501 (802.11 b/g/n 1×1)

Mobile Broadband & GPS:

• Dell Wireless™ DW5630 Multi-mode HSPA-EVDO Mini Card (Gobi™ 3000) with A-GPS

• Dell Wireless™ DW5550 Single-mode HSPA Mini Card with A-GPS

Bluetooth:

Dell Wireless 375 Bluetooth

®

3.0

Multimedia
• Dual integrated high quality speakers and dual integrated noise cancelling digital array microphones

• Optional, integrated, light sensitive HD video webcam with Dell Webcam Central software

Optical Storage Options
DVD-ROM; Slot load DVD+/-RW; Blu-ray Disc™ writer
Standard I/O Ports

Left

Rear

Right

1 – Lock Slot

1 – VGA

2 – USB 3.0

2 – USB 2.0

1 – RJ-45

1 – DisplayPort

1 – IEEE 1394

1 – eSATA / USB 2.0

1 – Wireless switch

1 – Microphone

1 – HDMI

1 – Headphone

1 – 10-in-1 media card reader

1 – SmartCard reader

1 – 54mm ExpressCard slot

Chassis

Materials:

aluminum and magnesium alloy

Dimensions (HxWxD):

1.3″-1.46″ x 16.41″ x 10.65″; 33.1mm-37.4mm x 416.7mm x 270.5mm

Weight

7

:

starts at 7.77lbs; 3.5kg

Power:

240W AC adapter

Slots:

2 full and 2 half Mini-Card slots

Battery Options
9-cell (97Wh); 9-cell (87Wh) 3 Year Limited Hardware Warranty

8

battery
Input
• Anti-microbial keyboard with number pad: standard or optional backlit
• Multi-touch touchpad with three buttons; track stick with three buttons

• Four finger multi-touch and stylus display option

Docking Options

Port Replicators:

E-Port Plus port replicator; Simple E-Port port replicator; E-Legacy Extender legacy port replicator

Stands:

E-View Laptop Stand; E-Series Basic Monitor Stand; E-Series Flat Panel Monitor Stand

Security
Lock slot; Trusted Platform Module 1.2 (TPM 1.2); Setup/BIOS Password; I/O Interface Security; Intel Anti-Theft

Protection option (iATP); Optional Contactless SmartCard reader; standard or FIPS certified fingerprint reader; Dell

ControlVault; FIPS certified hardware-based full disk encryption

Environmental

Environmental standards (eco-labels) include:

ENERGY STAR® 5.0, EPEAT Gold; China – RoHS, CECP, CEC; EU –

and Regulatory
RoHS, WEEE; Germany – GS Mark; South Korea – RoHS, Eco-label; Japan – RoHS, Energy Law, Green PC

Other environmental options:

Dell Energy Smart settings (select configurations); Dell Asset Recovery Service
Advertisement