The Consumer Electronics Show 2011 is in the record books and we were on hand to get a look at the various mobile and technology products being showed off to attendees. Here are our Best of CES 2011 awards in numerous categories.
Best Notebook: Alienware M17x
The notebook garnering the Best Notebook award for CES 2011 is the Alienware M17x. As we stated in our post, this notebook "leaped out of the crowd" because it is a "beast of a machine, providing an outstanding gaming and entertainment experience." At $1,499 it is a premium gaming notebook with the option of  up to a second gen Intel Core i7, NVIDIA GTX 460 graphics, and 3D capability. There is also the option of dual 256GB SSDs. With wireless HD movies and other video can be streamed to an external display.
Best Innovation: AMD Fusion APU
AMD Fusion APU is a new chip to compete with Intel's second generation Intel Core i Processor family (see above). It also has both CPU and GPU integrated into what AMD calls an APU, for Accelerated Processing Unit. The result is HD video, multimedia, and long battery life, all in one inexpensive package for smaller mobile computing.
Best of Show: Powermat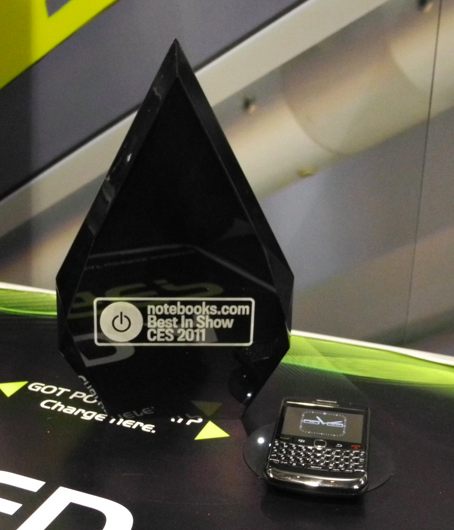 Powermat is a mobile battery solution that allows users to charge their battery simply by placing the device on a charging mat. It is the simplicity of wireless charging that makes this product so special. Included is Powermat solutions for the car where users can place a Powermat enabled device in a special holder in their car and have it charge without connecting an adapter. The device must have either a built-in Powermat battery or a battery installed either inside the device replacing the factory battery or with an external case that has an integrated Powermat battery in it.
Best Affordable Consumer Notebook: HP Pavilion dm1z
The HP Pavilion dm1z gets our Best Of award for being a feature-rich 11.6″ ultra-portable notebooks with a Fusion powered AMD processor. It plays HD video, has up to 10 hours of battery life, and a reasonable price tag of just $449 or less with a 2-year contract from Verizon.
Best Premium Thin & Light Notebook: Samsung 9 Series
The Samsung 9 Series was built to compete with the popular new Apple MacBook Air. Compete it does in the area of looks, features, size and battery life. It has a powerful new Intel Core i5 Processor (see award above), a 128GB SSD,  USB 3.0 and Bluetooth 3.0 all in a package smaller than 3 lbs and running Windows 7. The base price of $1,599 is a little higher than Apple's, but with more power it looks like it is worth it.
Best Premium Mainstream Notebook: Toshiba Satellite e305
The Toshiba Satellite e305 is our Best Premium Mainstream Notebook because it is a feature-packed laptop with the new Intel Core i5 processor, WiDi 2.0 and more. The Toshiba e305 will be available at Best Buy later this year as part of the Best Buy Blue Label 3.0 line of laptops which.
Best Affordable Business Ultraportable: Lenovo ThinkPad x120e
The Lenovo ThinkPad x120 is our Best Affordable Business Ultra-portable. For just under $400 you get an 11.6″ antiglare screen and more than six hours of battery life in very slim size. It has an AMD Fusion E series APU and will play full HD video. It also has the quality ThinkPad keyboard, which we like.
Best Gadget for the Family: Sony Bloggie 3D
The Sony Bloggie 3D is a $249 compact video camera that records in 3D. It brings both HD video recording and 3D video recording to the average consumer. Even if you don't have a 3D television yet, you can enjoy the videos by uploading them to YouTube, which allows viewers to watch 3D videos from the Bloggie using a normal TV or monitor and traditional red/blue 3D glasses.
Best Mainstream Experience Improvement: Intel 2nd Generation Core i Processor Family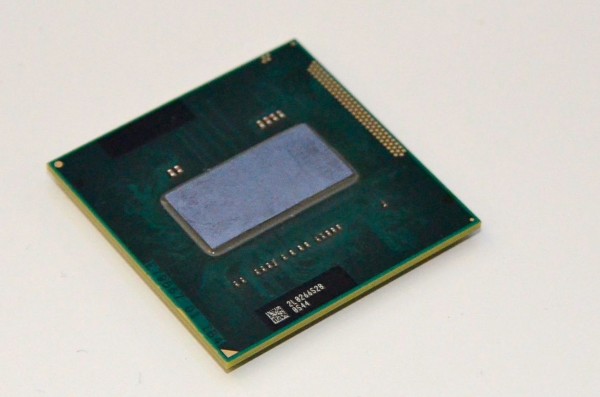 Intel's second generation of Core i Processors is a nice advancement for computer hardware with the "biggest impact on how consumers use their computers in 2011" according to our editor, Josh Smith. It comes with integrated graphics and processor on a single chip. Add Intel's WiDi 2.0 to the mix and you get a nice bump in HD video wireless streaming from a notebook to an external display like a TV.
Best Mobile Productivity Accessory: Fujitsu ScanSnap S1100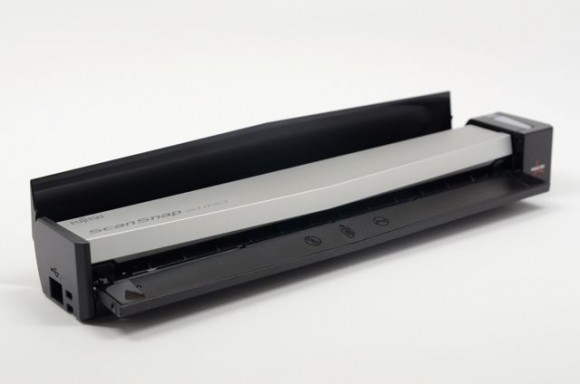 The Fujitsu ScanSnap S1100 is a portable scanner with dimensions of 10.74″ x 1.87″ x 1.33″ and weighs 12.3 ounces. This makes it no bigger than a can of soda. Despite its size, the feature set is extensive making it a bargain and a useful mobile scanning tool for under $200.
Best 4G Network Speeds & Rollout: Verizon Wireless LTE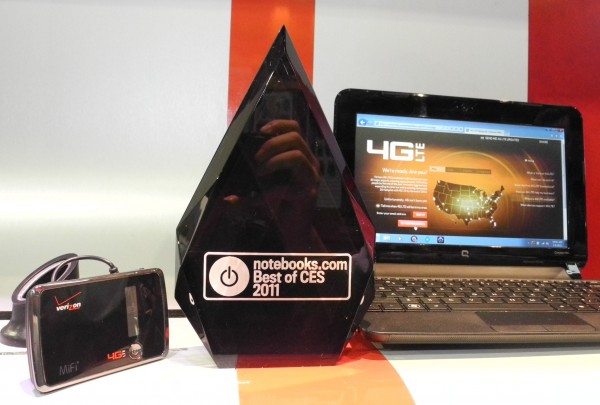 With a fast download and upload speed, reliability in the face of a horde of users at CES and a rollout that will bring 4G to a large number of users in 2011 we chose Verizon Wireless's new LTE 4G network as our top pick for network speed and rollout.
Best Notebook Accessory: Novatel 4G MiFi from Sprint/Verizon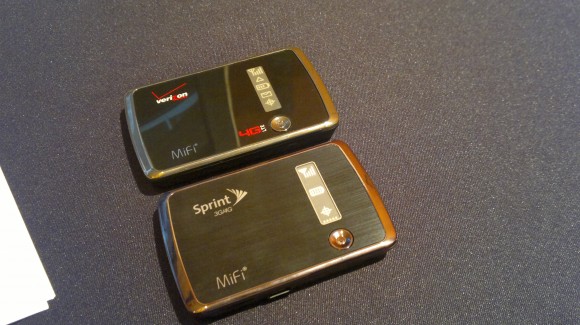 In conjunction with Verizon's new LTE network rollout (see previous award), Novatel announced new MiFi Mobile Hotspots taking advantage of big red's faster network. There is also one coming to Sprint. These are fast, mobile hotspots, which share a network connection with up to five other devices or via USB with a single device.
Best Storage and Sharing Solution: PogoPlug Video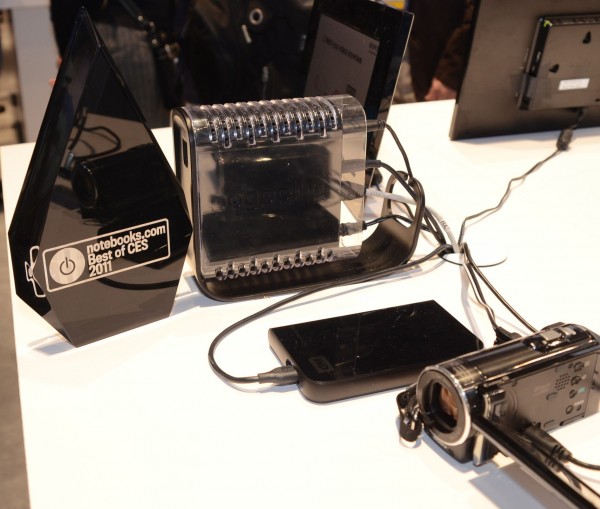 PogoPlug makes great network attached storage devices. Their new PogoPlug Video, which shares and streams video content over a network and even over the Internet — transcoding hard to stream video formats to a format your device can play, from your computer to the iPhone and more. The PogoPlug Video is our pick for Best Storage and Sharing Solution.
Best Phone of CES: Motorola Atrix 4G and Laptop Dock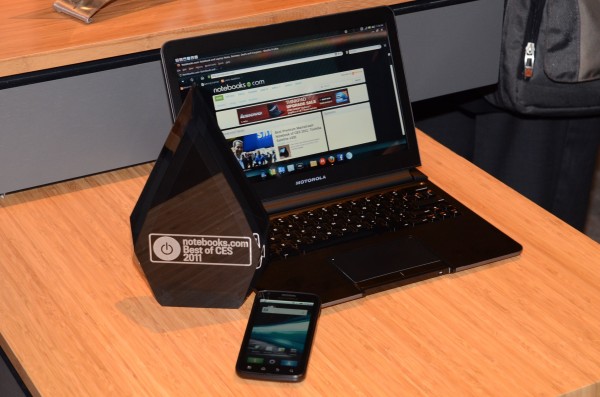 Among the slew of new phones announced at this year's CES the Motorola Atrix 4G stood out in part because of it's 1GB of DDR2 RAM, 16GB of storage and 960×540 qHD display. But what really grabs attention is the laptop-like dock which accepts the phone and allows the user to work on it as if they had a small "webtop", as Motorola calls it, with a browser to get online. There is also a desktop dock. This could replace a notebook.
Best Mobile Lifestyle Accessory of CES 2011: ContourGPS Cam & Contour Mobile App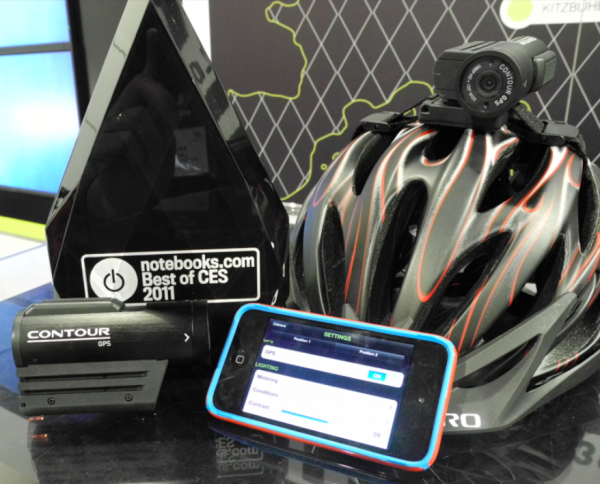 When it comes to capturing your life on the go it's hard to find a solution that's more versatile than the ContourGPS Camera which comes with an app that allows you to use your iPod or iPhone as a viewfinder and to adjust settings on the fly. Wether you're a geek, an athlete or a little of each you'll be impressed with the ability to attach the ContourGPS camera to almost anything and to record HD video and GPS coordinates.
Advertisement