During the Microsoft CES 2011 Keynote Steve Ballmer and others from Microsoft announced some interesting improvements to the Xbox including Kinect control of both Netflix and hulu coming this spring.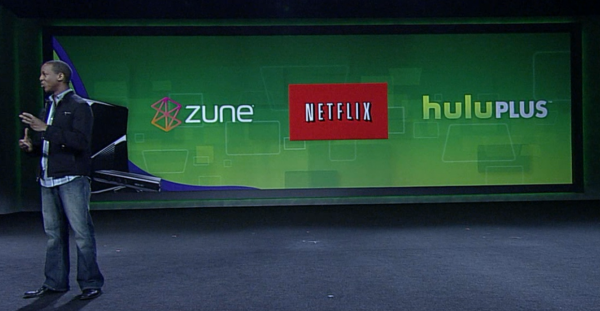 Kinect is the new add-on for Xbox 360. The idea is "you are the controller".  As a resuilt, using gestures and voice, the Xbox Kinect lets users control the games and interface of the system. Now they are going to have full control of the Netflix and hulu PLUS applications running on the Xbox 360 coming this Spring.
Also coming in conjunction with their partnership with ESPN is live interaction while enjoying sporting events. One of the first major sports events will be the NCAA National Football championship game between Auburn and Oregon, next week. Users will be able to interact, post their comments, and predict a winner while seeing other viewers inputs as well. This will be available to Xbox Live Gold members. It is called College Bowl Showdown.
In the early days of Windows Microsoft released an avatar based chat system called Microsoft Chat. Now with the Xbox Live there will be what they call Avatar Kinect which will be able to use the Kinect sensor to recognize things like facial expressions as people chat in a 3D environment on their Xbox 360 with Kinect. This will interface with online social sites like Facebook.
During the Xbox portion of the Microsoft Keynote they bragged about the Xbox now being a decade old and having the most popular platform for the last 6 months. They now have 30 Million Xbox Live users and have sold 50 Million unites worldwide. They predicted they would sell 5 Million Kinect units during the holiday season and beat that estimate by over 3 Million worldwide making it the fastest selling new technology project ever.
Below is a demo of the Kinect:
Advertisement