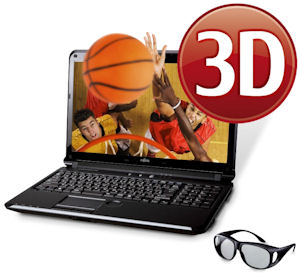 Fujitsu had just taken the wraps off its LifeBook AH575, which the company is touting as delivering 3D realism on a laptop PC. The Core i5-2410M processor not only can display 3D content, with the included 3D glasses, but can also record 3D content with dual integrated camera. The 15.6-inch widescreen display can be used to watch 2D content as well if 3D isn't available. Wireless connectivity to TV is done via Intel Wireless display technology. The laptop will be available beginning February with the latest Intel Core chip for a starting price of $999.
From Fujitsu's press release:
Notebooks
LIFEBOOK AH572 Notebook: Enjoy 3D realism on a notebook
• Intel® Core™ i5-2410M Processor
• Dual-function 15.6″ widescreen for outstanding 2D and 3D viewing
• 3D glasses included
• Records in 3D through dual integrated cameras
• Wirelessly connect to TV with Intel Wireless Display
• Priced starting at $999(1). Available February through the Fujitsu website (www.shopfujitsu.com) and select retailers/etailers(2).
Advertisement