Depending on what type of graphics solution you have installed in your computer, you are able to adjust the look of your display settings or what is called your screen resolution. You can adjust it so you can have more space on your screen for multiple windows, or to make things bigger on screen for you to see. Changing your screen resolution in Windows is a very simple task.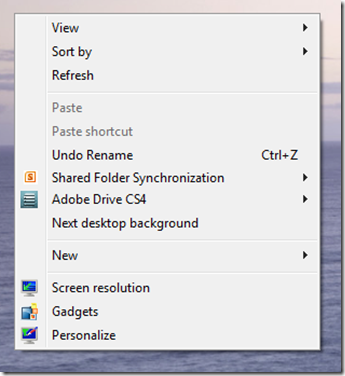 Right click your desktop and click Screen resolution. Alternatively, you can click Start, type: screen resolution and hit Enter on your keyboard.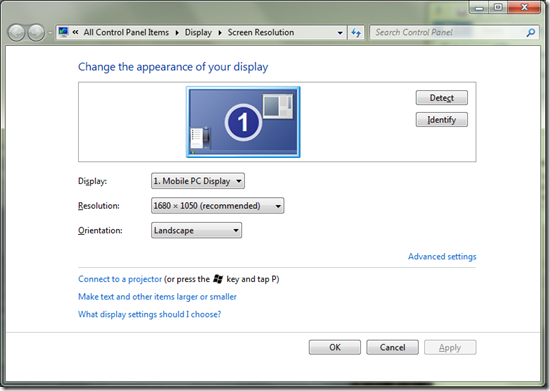 This will open the Screen Resolution item. Here you will see information about your Display, the current Resolution along with the orientation (normally Landscape).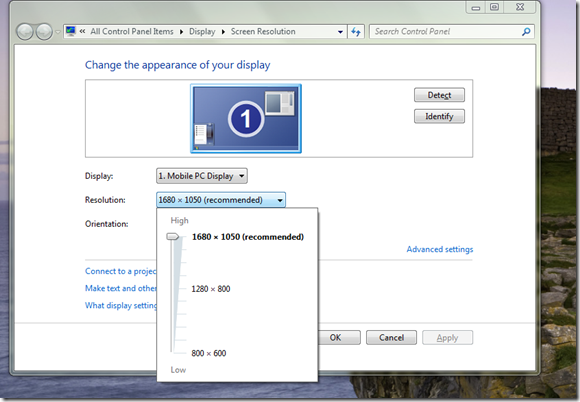 If you would like to change the screen resolution, simply click in the resolutions available, as you can see, mine is set to 1680 x 1050 (recommended) highest, while lowest supported is 800 x 600. The higher, the better quality, most displays or graphics card only support a certain resolution, so yours might only stop at 1280 x 800 for instance. If you want to lower the resolution, simply drag the knob anywhere along the vertical line and Windows will adjust the display to support.

If you are satisfied with the results, click Apply and OK to confirm changes.
If you are sure your graphics card can power a much higher resolution and you are not seeing it as an available option, you may need to install updated drivers for the graphics card.
Also, some computers use something called shared graphics, which means the graphics in your system uses some of the main memory to help render the interface. So, if you have 2 GBs of RAM in your computer, some of it might allocated to graphics. Sometimes the manufacturer of your computer might be conservative and allocate just the bare minimum. If you would like to adjust this, consult the documentation that came with your computer, this often requires going into the BIOS settings for your computer.
If your computer has what is called a discrete graphics card or what is known as a dedicated video card from a known vendor such as AMD or Nvidia then you probably need to download the latest driver which can enable additional capabilities.
Intel's Driver Update Utility helps you get latest drivers for graphics, audio, network, other components:

https://is.gd/jQGR7
To find out more about your graphics card:

Click Start, type: dxdiag

Hit Enter on your keyboard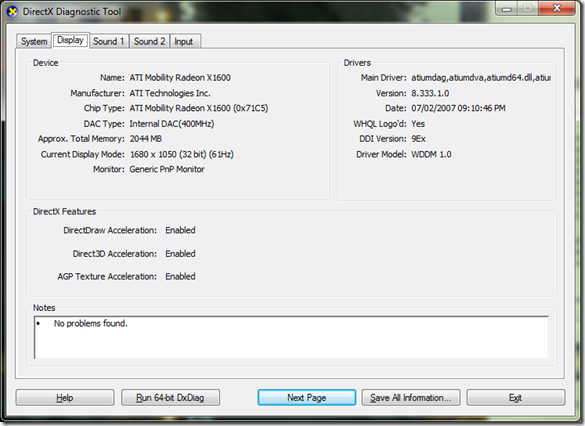 This will open the DirectX Diagnostics Tool window. Go to the Display tab, there you will see under Device information about graphics device you have installed in your system, such as the name, manufacturer, chip type. This information can be used to help find make and model on the manufacturer's website. You will also notice under Drivers, the version installed, along with the last time it was updated and Driver model support. DirectX Features displays information about the capabilities of the card.
Advertisement