At the Microsoft CES 2011 Keynote Mike Angiulo was invited by CEO Steve Ballmer to show off Windows running on a wide array of different form factors including laptop, tablets, and single chip systems of the future. The most interesting was probably the Tablet from ASUS or the new version of Windows which will be compatible with single chip computers called System on a Chip or SOC.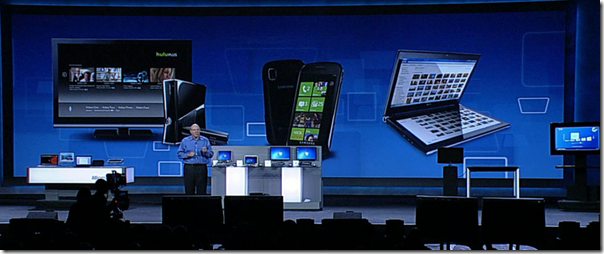 Intel and AMD Next Generation Processors
The first two systems demonstrated were all about how well Windows 7 performs on Intel and AMD's new architecture, both also announced by those companies at this year's CES. The Intel Sandy Bridge architecture is an Intel Core iX processor with Intel graphics built-into the system. The result, according to Angiulo, are that systems can achieve better battery life and more power. He showed an unnamed HP system (on the left below) that had a 6-cell battery which should provide up to 6.5 hours of life on a single charge.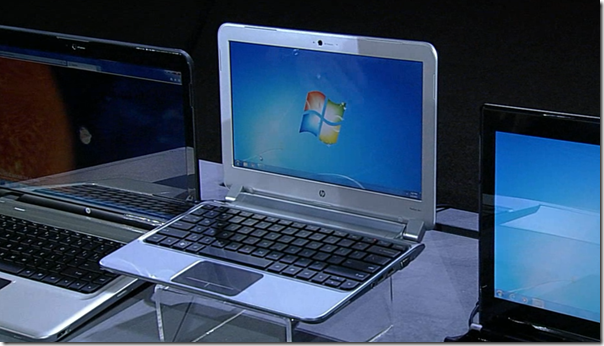 The AMD fusion laptop from HP (center above) will cost less than $500 and has a 9-hour battery thanks to AMD's Fusion technology, which also puts the CPU and GPU on a single chip. Although they didn't specify it looks like it is the notebook our own Xavier Lanier showed off earlier on video. It is the HP Pavilion dm1. It has an 11.6-inch display and is less than an inch thick. The Fusion technology will offer much better graphics than most notebooks at the price point. It will retail for $449. It should go on sale next week. Below is Lanier's video hands-on.
Acer Dual Screen Tablet/Laptop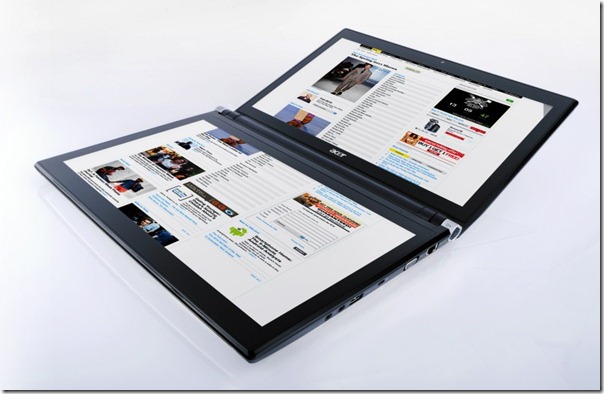 One of the most unique devices displayed during the keynote was from ACER. It is a dual screen computer with a display replacing the keyboard portion of the system. The two 14-inch displays are multi-touch. To bring up a keyboard on the lower screen, just tap with all ten fingers and it appears ready for input.
The machine was previously announced back in November. It comes with an Intel Core i5 processor, up to 4GB of RAM, Intel HD graphics with HDMI and VGA outputs. The resolution of the displays is 1366×768.
ASUS Tablet
ASUS now selling a new 12-inch tablet that is very light, runs a full powered Intel Core i5 processor and will also come with an external keyboard.  The tablet has both a capacitive touch screen and a digitizer for inking, although they did not say what kind of digitizer.
The great thing about the inking experience is that it has palm rejection to allow for smooth inking while resting your hand on the screen. The is made of tough Gorilla Glass. The screen is unique compared with current and older displays with both touch and active digitizers. Instead of multiple layers covered by a protective surface, they are all one single layer. That way there is no space between the part of the screen that is touch and the part that accepts the input as there is with current screens of this kind.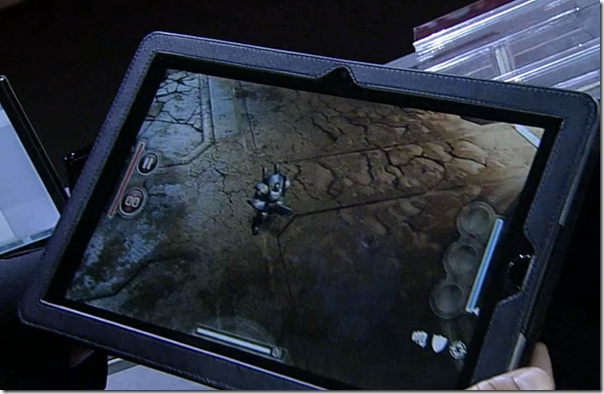 The viewing angle was an impressive 175-degrees. It also has Wireless N and Bluetooth 3.0 built-in.
We were told that the system would be available now. There is an ASUS Eee Slate listed at the Microsoft store for $1099 but it is only listed as a pre-order.
While it looks to be a nice improvement over previous Windows Tablet PCs, it is hampered by a price that will make it a niche product that cannot really compete with the iPad except with people who need a Tablet that can run Windows software.
Microsoft Surface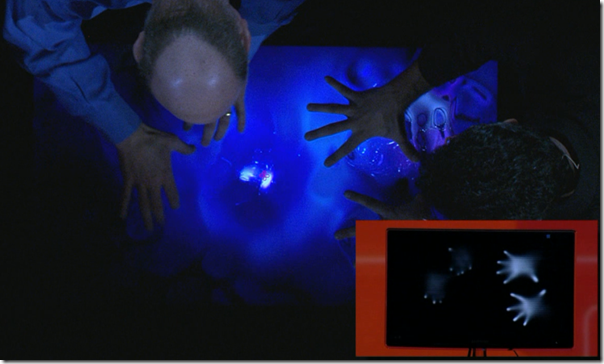 While Surface is not technically a Windows 7 PC it does run a version of Windows. The demo showed off how thin the new version of surface is. Instead of looking like a huge Arcade game from the 80s, it looks more like a table with a 4-inch thick PC laying on top of four legs.
The machine was from Samsung and had a dual core AMD processor inside. The surface of the Surface was made of Gorilla Glass and was said to be the largest piece of Gorilla Glass manufactured.
The previous surface sensed touch via cameras built into the large box. The reason the new version is so thin is that the cameras are replaced with a bunch of infrared sensors. And it not  only recognizes human touch but also objects. Angiulo was able to place a piece of paper with writing on it and the Surface recognized it and could display what was written the paper. This technology is called Pixel Sense, taking its name from the thousands of pixels that sense the touch and objects placed on the Surface.
They said that some customers plant to hang the surface on a wall and use them as kiosks. This is now possible thanks to the new Pixel Sense technology that makes it so thin.
System on a Chip
The last thing that was demonstrated is what Microsoft calls Windows designed for an SOC or System on a Chip. This is an entire computer system on a single chip embedded into a motherboard the size of something slightly bigger than a credit card. The actual system chip is about the size of a stamp. The result is that Windows will run on these tiny computers and can have a full system in something the size of an Apple TV.
Microsoft believes this will usher in a new class of hardware with tiny computers being included in all kinds of electronic devices. The demonstration of how fast and smooth windows ran on these system was impressive.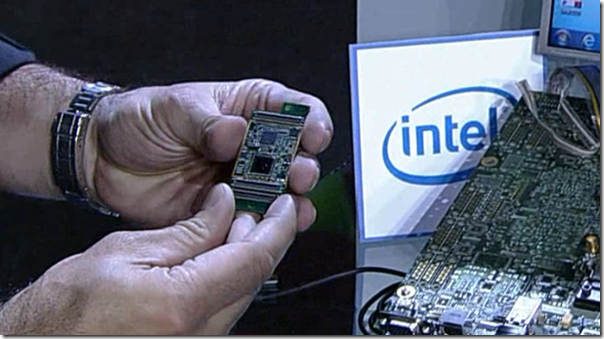 The Intel version was compatible with all current software and hardware. They had a version of the next Windows OS (possible Windows 8) running on the SOC suing the current version of Windows 7 user interface. In fact off the shelf software ran perfectly. The key to all of these SOCs was compatibility and speed.The Qualcomm Snapdragon version of the Windows SOC was a full version of Windows running for the first time on an ARM processor, something not possible with current and past versions of the OS. Texas Instruments also had one with an ARM processor and could run current Windows software and print to an off-the-shelf Epson printer.
The final SOC demonstrated from NVIDIA used their Tegra platform and also had an ARM processor. The graphics engine and the processor are together on the single postage stamp sized chip running some impressive 3D graphics inside the next version of Internet Explorer. The HTML 5 application ran smoothly and quickly. Video was advanced instantly to a place many minutes into the movie. This means that a PC could be hooked up to a TV and used as a gaming and video entertainment platform and would only need to be the size of an external hard drive.
As Steve Ballmer said, they were showing off the present and future capabilities of Windows running on hardware "from the small screen to the big screen."
Advertisement