Lenovo showed off another slate tablet at CES 2011. This slate is a Windows 7 tablet which we saw in the Lenovo suite in addition to the IdeaPad U1 Hybrid which has been grabbing much fo the attention. Unlike the its hybrid brother which runs Android 3.0 in slate mode and Windows 7 only while docked the yet un-named IdeaPad Windows 7 Slate runs Windows 7 in slate mode without the need to dock.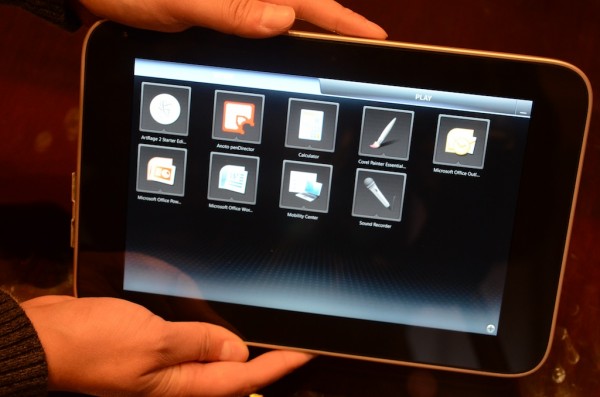 The IdeaPad WIndows 7 Slate is designed for both work and play with a custom Windows 7 interface that includes finger friendly shortcuts. On the business side you'll find productivity apps such as Outlook and on the other end you can get access to your Kindle books with the Windows 7 Kindle program and more.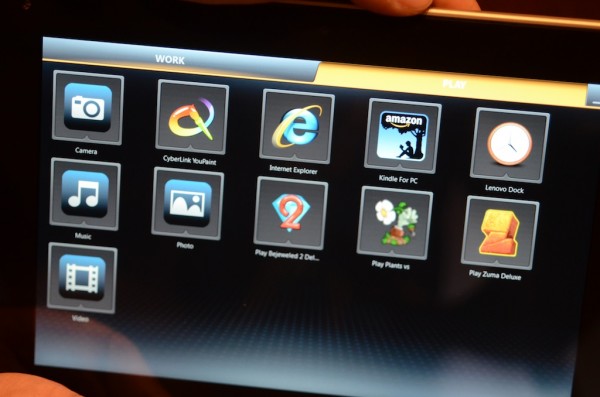 With all this focus on the finger friendly UI you might be concerned that Lenovo has forgotten those of us who like to take notes and draw on our tablets; but fear not stylus lovers, the Windows 7 slate has a digitizer which is pressure sensitive,  which you can see in our hands on video below.
Powering the device is an Oak Trail Atom processor which allows for fanless operation of the slate for a quiet user experience. The IdeaPad Windows 7 Slate device was displayed in both silver and a nice looking shade of orange which Lenovo calls "Clementine".
Lenovo was quiet on when we might see this device available for sale, or at what price it might eventually arrive, but we'll definitely keep our eyes on this device in the coming months.
Advertisement