Today at CES 2011 Toshiba announced a refresh of many of their higher end laptops including the Toshiba Qosmio X505 series. These new models will include new technoloy from Intel, namely their second generation of the Intel Core family of processors and Intel WiDi 2.0 wireless display technology.
The Qosmio X505 is a powerhouse of a computer at just over 10 pounds. It is a desktop replacement system with an option of the new 2nd generation Intel Core i5 dual-core or i7 quad-core processors. These are much more power efficient processors meaning that despite it's large 18.4-inch display it should get better battery life than the previous versions.
The graphics system is powered by an NVIDIA GeForce GTX 460M with a massive 1.5TB of DDR5 graphics memory. That is a huge amount of room for handling almost anything you through at this system. Crunching massive video and pictures should be pretty snappy on this machine. The screen resolution is 1680×945.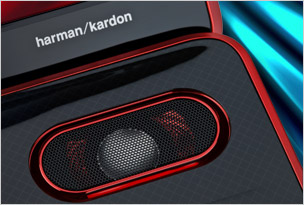 The system will also have up to 8GB of RAM and an adaptive Hybrid Drive Technology storage. This is the marriage of SSD and traditionally spinning optical drives. The drives will rotate at 7200 rpm which is decent. But add the flash memory to the drive and it gives the user the best of both kinds of storage, speed with the flash memory and volume with traditional hard drives. Most used files will be cached on the flash memory.
The sound is an 7.1 Dolby Home Theater surround capable. The harmon/kardon speakers will combine with the Dobly to produce good sound for gaming and movies.
Below is a video which will give you a look at the older version which won't look that much different from the new ones.
You will notice from the image above and the video that the keyboard is of course a full size keyboard with a dedicated number pad. It also has full complement of multimedia control buttons.
Ports include an HDMI, 3 USB ports and one combo USB/eSATA. We believe those USB ports will be USB 3.0 ports based on the company's announcement, but they did not specify. For audio there is a S/P DIF output that is shared with the headphone jack, a mic jack, and a Firewire port. It comes with a single ExpressCard slot and a flash card reader.
These models should be available this month at will start at $1,299.99.
Advertisement