The Toshiba Portege R705 is a consumer model of the Toshiba R700 series of notebooks available exclusively from Best Buy as the Toshiba Portege R705-P25. This ultra-light notebook manages to pack a lot of power into a very small and lightweight package, even adding in Intel Wireless Display, and keeps the cost around $800.
Toshiba R705 Quick Specs:
The Toshiba R705 comes with a standard voltage Intel Core i3 processor, 4GB RAM and a 500GB hard drive. This is in addition to a multitouch mousepad, Intel Wireless Display for connecting wirelessly to your HDTV and an optical drive. The R705 is also thin at one inch and weighs only 3.2 pounds.
Toshiba Portege R705 Hands on and Unboxing video:
Who is this Notebook For?
The Portege R705 is a rather unique notebook in that it would do just as well for a student as a frequent traveler. Thanks to the powerful processor, small size and adequate battery life the R705 proved capable for use in an office and classroom setting as well as on the road during our Great American Road Trip 2.0. Business users may be better served by one of the business oriented Portege R700 models that trades in Wireless Display for a Docking station.
Build and Design:
The look of the Portege R705 is one of understated elegance. There is no splashy lid graphic or imprint and the body is one of businesslike edges but rather than combining to form a dull notebook the elements all come together to form a very elegant design that can easily transition between work and play. The metal alloy cover adds to the durability of the notebook and doesn't attract fingerprints like many glossy competitors.
When it comes to durability the R705 makes use of a magnesium alloy case and a honeycomb design to add to the durability. While the display has a small amount of give when pressure is applied the case felt extremely strong; especially when held by the palmrest as many users do when carrying the notebook while open. The lower portion of the case has practically no flex, even under pressure which should provide long life when combined with the spill resistant keyboard and hard drive impact sensors.
Screen
The 13.3″ screen on the Toshiba Portege R705 is of the glossy variety, but still usable in brighter settings and in a car. The ability to tilt the screen back farther than many consumer notebooks helps you find a usable angle when dealing with the sun or nasty fluorescent lighting.
The screen offers decent viewing angles for sharing the screen with others so long as you don't have to deal with a bright light source. The R705 has a very bright display when turned to full brightness; in fact even on the eco-mode that set the screen at one-third brightness the display was very usable for reading and writing.
Mouse and Keyboard
The keyboard on the R705 was incredibly usable with an even spacing and a friendly key layout. The island style keys offer an alright amount of feedback and there is no bowing or flex to be found in any area of the keyboard. One thing to note is that the keys do give a "clack" or a "click" when struck with any sort of force which was not an issue in our tests but may earn you some glares if used in the library for extended periods of time. The keys themselves are also OK, but they are flat which takes away from the overall typing experience somewhat. In all it is a very usable keyboard, for such a lightweight and compact machine, but it still falls short of the keyboard experience you would find on a ThinkPad or HP business notebook.
The multi-touch mousepad was generously sized and thankfully came with two separate metallic buttons that were easy to find and click. There is a button to turn off the mousepad located directly above it but in our tests we didn't find a need to turn it off even when typing for extended periods at high-speed.
Processor and Performance
The full power Intel Core i3 processor that powers the Toshiba Portege R705 is proving in multiple systems, including this one, to be the Swiss Army Knife of processors. That is to say that it is a great all-purpose processor that can handle a little of everything we asked it to do. From video editing to mild photo retouching and entertaining with Hulu or YouTube there were no issues to be found. Sure, if you were going to be editing a lot of HD video on a daily basis you would want to go with a more powerful processor, but the  R705 has enough power to tackle almost nay consumer task; except modern gaming.
As far as sound goes, the R705 isn't a powerhouse but it is able to fill a small room with music or a movie without distorting. Turning the volume all the way up, however, will result in some tinniness so you may want to invest in a pair of speakers for your desk.
Heat and Noise
The R705 did not present any noise issues thanks to its innovative cooling system, but it did get very toasty when held on your lap for extended periods; specifically in the left corner where the vent is located. The base of the unit did remain cool enough to keep the notebook on your lap while surfing the web and doing standard office work. If you are doing heavy CPU tasks like video editing or watching streaming HD content the notebook will heat up significantly more, including the base of the unit so you'll want to find a desk.
When used on a desk or flat surface heat was not an issue as the small fan located on bottom of the notebook (front left side) was able to function and keep the notebook cooler. In tests holding the notebook on a lap, if you positioned it to give this small and quiet fan room to work the overall heat of the system dropped considerably.
Battery
The R705 makes a bold claim of up to 8 hours of battery life and unfortunately doesn't live up to the promised 8 hour battery life but all things considered did provide a usable battery life given the full core processor and the size. With the screen set on eco mode. one-third brightness and various other power settings to dial down brightness we were able to achieve between 4 to 5 hours of battery life in a standard web browsing experience. With Windows Media Player pumping some tunes to our headphones, Google Chrome and Tweetdeck open we were able to consistently get close to 5 hours of battery life.
Connectivity
The Toshiba Portege R705 has a plethora of ports to keep you connected.
Left (left to right): Power, vent, VGA, eSATA/USB 2.0, USB 2.0, HDMI
Right (left to right): SD card reader, DVD Drive, headphone, microphone, USB 2.0 (Sleep and Charge), Ethernet, Kensington
Front
Back
Software and Extras
The Portege R705 doesn't come loaded with much software which is great for getting up to speed right out of the box. One piece of software that it does come with is Reel Time. This small, Toshiba new notebook exclusive, tool keeps a visual record of everything you have been working on for easy access to your recently used documents. Most users will be able to get similar functionality from looking at their recently used documents, but it is a new and user-friendly way to view your recent documents.
The Toshiba Portege R705 also comes equipped with Intel Wireless Display which, with the push of a button and a $99 adapter, can wirelessly stream 720P HD content to your HDTV. It can't handle DRM'd DVD's but for Hulu or local media files it is a convenient way to use your HDTV as a monitor.
Value
There's no question that the Toshiba Portege R705 delivers an incredible value for students, mobile professionals and home users.
Conclusion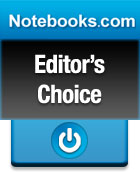 While the battery life may not have lived up to the 8 hour claim, the Portege R705 as a whole is an impressive notebook that includes a durable body, light weight and thin body as well as enough power to satisfy most users at an equally impressive price point. For these reasons we are giving the Toshiba Portege R705 a Notebooks.com Editor's Choice award in the ultra-portable category.
Pros:
Light Weight and Small Size
Price
Sturdy case and spill resistant keyboard
Decent Keyboard
Cons:
Heat when doing intense tasks
Less than advertised battery life
Toshiba Portege R705-P25 Detailed Specs:
Brand
Toshiba
Model
Portege R705-P25 (R700 Series)
Operating system
Windows 7 Home Premium 64 Bit
Processor / Graphics
2.26GHz Intel Core i3 processor

Intel HD integrated graphics with Intel Wireless Display

Memory
4 GB DDR3 RAM
Hard drive
500 GB HDD 7200 rpm
Display / Resolution
13.3-inch HD 1366×768 High-definition LED-backlit
Removable Storage
DVD±RW – 8x
Wireless Support
Wireless-B+G+N
Input Devices
Full-size keyboard, Multitouch mousepad
Power
6-cell battery
Memory card reader
Yes
Ports
Headphone/speaker/line-out jack, Microphone-in jack, DC-in jack for AC adapter, Ethernet, 2 USB 2.0, eSATA USB 2.0 combo, HDMI
Audio
Built-in speakers
Weight
3.2 lbs.
Dimensions
12.5 in x 1 in x 8.9 in
Webcam
Yes
Warranty
1-Yr Parts and Labor
Advertisement