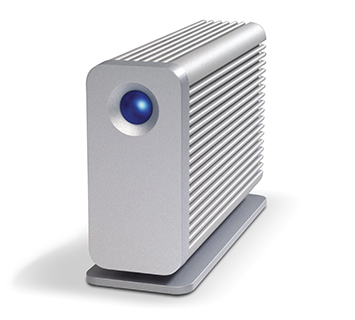 Intel just announced Thunderbolt, the high speed interconnectivity technology that aims to replace USB, Firewire, and almost every other cabling technology. Already we are hearing of compatible solutions from LaCie and Promise.
The LaCie Little Big Disk is a storage device that is capable of sending many streams of video and transfer gigabytes of data in incredibly short times to computers with Intel's new technology built in, like the new Apple MacBook Pros announced February 24th.
Thanks to the Thunderbolt technology, users will be able to daisy chain multiple devices together. A Little Big Disk can be connected to a computer. Then other devices with the new solution can connect in a series to the Little Big Disk. The computer only has one cable coming out of it to connect to multiple devices.
One of the other devices one might connect is from Promise. The Promise Pegasus Array is a four or six bay storage device coming this spring with the ability to send 800MB/sec of video across the Thunderbolt connection. It operates as a RAID array which connects multiple disks for both faster input/output (called I/O) and for safer mirroring of data or a combination of the two.
The array is designed for media companies and people who work with lots of video or need to backup and serve vast amounts of data quickly. For example, a movie maker using a high-powered MacBook Pro working with Final Cut Pro could use it to both store and work on the video for the movie.

With Apple squarely behind this new Intel technology, expect to see a lot of these kinds of devices in the future. We can imagine monitors, printers, scanners and of course data storage devices all running with Thunderbolt.
The greatest benefit of the new technology, besides simpler connections, is speed. Imagine backing up an entire 1TB drive in minutes instead of hours. That is the benefit of Intel's new solution formerly called Light Peak.
Engadget explains the new technology well and demonstrates it in the video below:
Advertisement